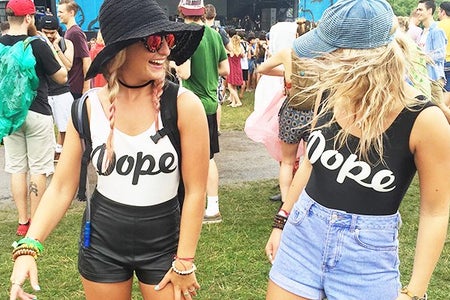 Lexi Tokarski / Her Campus
7 of the Cutest Halloween Costumes
1. Devil and Angel
There's nothing better than a classic good vs. evil duo. This costume is perfect for bestfriends and most of what you need is already in your closet. All you need now are devil horns, pitchfork, wings, and halo!
2. The 7 Dwarves 
You and six of your friends will slay in this Snow White inspired costume. This group costume is easy to DIY. All you need to do is paint some white letters on a few colorful t-shirts. 
3. Lifeguard
You can make this one as modest or as revealing as you want. No matter if you channel your inner Baywatch and go for a swimsuit or stick with a t-shirt, you're sure to stop some heartbeats in this costume (AED care optional).
4. Scooby-Doo Mystery Team
This is my favorite group costume idea! Dress up as Scooby, Shaggy, Fred, Velma, Daphne and your squad will be the ultimate mystery solving team. Bonus points if you roll up to the party in a Mystery Machine.
5. Cute Aliens
No one found aliens in the Area 51 raid, but that doesn't mean you can't be one! With a holographic crop top and skirt set, space buns, and some glitter, you'll be the cutest aliens on the planet. 
6. Riverdale Vixens
After binge watching countless episodes of Riverdale on Netflix, you can't help but be a little jealous of the Riverdale Vixens' adorable practice uniforms. Become Cheryl, Veronica, or Betty with the help of some knee-high socks, black shorts, and a yellow raglan shirt. Grabbing some milkshakes at your local Pop's Diner after the night's over is a must.
7. Rachel Green
Keep your apron on after your day job serving lattes at Central Perk! All you need is a nametag, colorful mug, and a Rachel Green attitude to complete the look.
For more Halloween ideas check out my Pinterest board https://pin.it/un4bgl5rlnsw3i