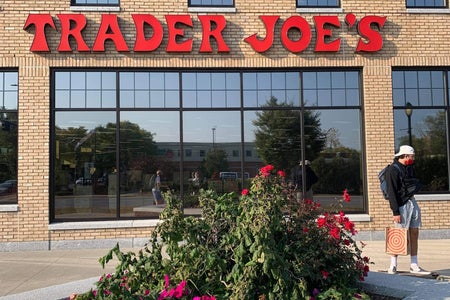 Original photo by Caroline Beach Lewis
Trader Joe's Essentials You Need to Try
Everyone knows Trader Joe's is the place to go for all of your snacking needs. Since I love Trader Joe's so much, I've compiled a list of snacks that will satisfy all of your cravings. From salty to sweet to spicy, you can't leave the store without at least one of these snacks!
1.

  Chile Lime Rolled Corn Tortilla Chips

These hot and zesty rolled chips will leave your mouth on fire—in the best way possible. They are so addicting you'll probably eat the whole bag in one sitting. You might need to buy multiple bags at a time, they're just so good!

2.

Dark Chocolate Peanut Butter Cups

These little sweet and salty peanut butter cups are a classic. The dark chocolate mixed with the smooth peanut butter is truly a match made in heaven.

3.

Baked Cheese Crunchies

These are the perfect snack for when you're craving Cheetos or something salty and cheesy. They're the perfect ratio of crunchiness and airiness.

4.

Chocolate-Covered Banana Slices

Even if you're not a banana fan, these frozen chocolate-covered banana slices are a perfect bite-size of sweetness. Trader Joe's also has frozen chocolate covered strawberry slices, which are really good as well.

5.

Sparkling Black Tea with Peach Juice

I would recommend this drink to anyone—it's so good anytime, anywhere! It also makes a good mixer too, so you should give that a try. 

6.

Strawberry Licorice Twists

These are a new favorite of mine. They don't have an overpowering sweetness, and they taste like natural strawberry flavor with the perfect amount of chewiness. 

This coffee is delicious in the mornings with a little creamer. Can't go wrong with this cold brew coffee!

8.

  Hand Crafted Beef Tamales  

These make a perfect lunch or snack. They taste so good with a little hot sauce over them. They also come in packs of two, so it's the perfect amount.

9.

 Mini "Hold the Cone" Ice Cream Cones

Besides these mini cones being the cutest things you'll ever see, they're also really yummy. They come in a few flavors, which are all good. I love how they are dipped in chocolate, it's a nice touch.

10.

Gnocchi al Gorgonzola

If you're a cheese lover, this gnocchi is a game changer. It is insanely cheesy and doughy. Sometimes it tastes more like mac and cheese than mac and cheese tastes like mac and cheese, which says a lot.
I hope you try these Trader Joe's Snacks and enjoy them! 
Xoxo, 
Rose
Edited by: Alicia Tebeau-Sherry