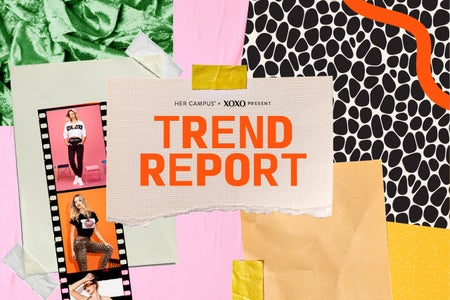 Local Sustainable Fashion Advocates Urge for a Consumer Driven Change
Fast fashion has exploded, dominating the market for almost two decades now. However, as mega corporations such as Forever 21 file for bankruptcy, it looks like there may be light at the end of the tunnel. Increased coverage has exposed the ugly truths of fast fashion that encompasses water pollution, sweatshop labor, and excessive waste.
In turn, this has led to a consumer driven push in the right direction regarding the fashion industry. Today, in the world the fashion industry is the second most polluting industry according to the United Nations Conference on Trade and Development. This model of producing quick and cheap clothing will not endure on a planet with finite resources.
The industry also aids in the growing levels of CO2 in the atmosphere, due to their methods of production and choice of materials. They are not slowing down either; the fashion industry's levels of atmospheric CO2 is only going to increase, projecting that by 2030 there could be a 60% increase, which would result in 2.8 billion tons of atmospheric CO2.
If we truly are striving to keep those numbers down we have to turn to a new model, sustainable fashion. Sustainable fashion is about producing fashion goods in an environmentally and socioeconomically responsible way. It also fosters conscious consumers and works to shift how individuals look at clothing and change behaviors.
I was lucky enough to speak with Kelly McDowell, who earned her degree in Product Management Textiles, at the Fashion Institute for Technology. She agrees with this mindset of longevity after working for almost a decade in New York City's Corporate Fashion Industry and witnessing the detrimental effects firsthand. 
"The water waste from dyeing is really bad. Once this factory worker from China calls me and says, 'Yeah, unfortunately we aren't going to be able to get your 10,000 yards of fabric because all the water from the dye backs (large dyeing tanks) leaked into our water system and our village won't have water for three weeks,'" McDowell shared. "Basically I realized how horrible it was, it's really bad, and I didn't want to be a part of it anymore."
Now, a sustainable fashion advocate and instructor of sustainable fashion at the University of Vermont she adds that consumers need to face the facts. "What I found to be is that people need to be educated at this point on what is going on. That is the first step, fast fashion is a horrible thing."
While it may seem impossible to escape the takeover that is fast fashion, there are many companies out there who do have a mission of sustainability. "My clothes are all certified and digitally printed so there is no water waste, and it's not harmful for your skin. Some of the stuff you get from China goes in the sun and gives you a chemical sunburn on your skin," warns Amelia Leme, the owner of Mana Threads.
Mana Threads is an active lifestyle sustainable clothing brand that is located in Burlington, Vermont with a clear goal. "Our mission is to continue to do good work, it's not about making more, it's about continuing to do great work with sustainable products, connecting the community, and helping to promote sustainability," Leme explains. 
While sitting in her store, I couldn't keep my eyes off her display beaming of her new line with vibrant colors and patterns inspired by her ties to Brazil. Not only are her clothes soft and beautiful, this new line is completely biodegradable. "To be able to have the feeling that I am responsible for the end of my product felt pretty good," Leme beamed.
The average American throws away 81 pounds of clothing a year. Meanwhile, there are many strategies consumers can partake in to reduce our waste. "Their (consumer's) money has power, and they have the choice to choose something that is doing so much good for everybody," Leme emphasized.
McDowell also drives this point home, in 2016 she stopped buying new clothes for a year. "My thing is, with second-hand you're reducing one end and understanding the principles of zero-waste because there is so much waste on earth from textiles." She recommends second hand stores such as Goodwill and Plato's Closet as great strategies to avoid buying new merchandise.
She also recommends mending and repairing the items you have at home, "I taught my class how to sew, you don't know how to mend your stuff if you can't thread a needle, so let's thread a needle," McDowell explains.
While sustainable fashion often is associated with being expensive or out of reach, the experts have to disagree. Sustainable fashion has never been easier with the endless information at our fingertips. It really boils down to the consumer so let's make sustainability a lifestyle starting with what we choose to wear. Recognizing the individual responsibilities we all have, will lead to an improvement in the industry and help our planet endure.
HCXO
Alex Rosenberger
Edited by Cat Bates