Exploring Pre-Health Routes
"I will follow that system of regimen which, according to my ability and judgment, I consider for the benefit of my patients, and abstain from whatever is deleterious and mischievous."
         — Hippocratic Oath
Are you considering a career in healthcare? First, check yourself: have you been taking the pandemic seriously? If not, find a different career path. I cannot stress this enough. As a doctor, you are reminded to "do no harm." As someone on a pre-health career path, you should be embarrassed if you've been acting like nothing's been going on. I certainly wouldn't want my doctor to act like they're invincible. Even if COVID-19 hasn't personally affected you or anyone you know, millions of lives have already been lost. There is absolutely no justification for acting like other people's lives don't matter. As a healthcare professional, your job is to help people, not contribute to the problem.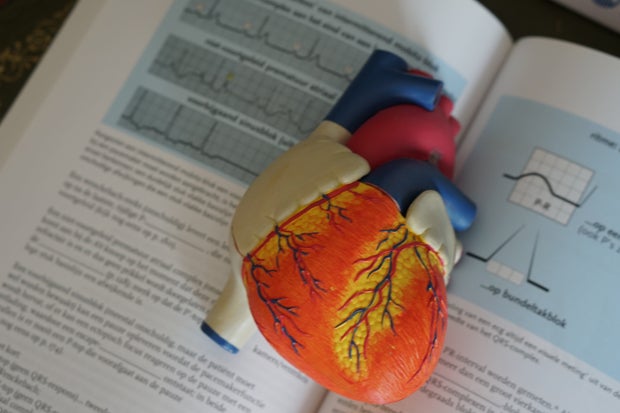 Photo by Robina Weermeijer from Unsplash Getting into it, UVA offers 9 pre-health paths. These include medicine, dentistry, occupational therapy, optometry, pharmacy, physical therapy, physician assistant, podiatry, and veterinary.  There are certainly more options than this, but the pre-health advising team is best at helping with these tracks in particular. If you have a specific question on another field, they can assist in getting you into contact with the right person to ask. Here is the pre-health advising website: https://career.virginia.edu/pre-health. Don't forget to subscribe to the pre-health newsletter! There are so many opportunities available that they make special note of. 
If you're just getting started, I would recommend going to an advising session (see their website for more information). They offer a tentative course schedule that can help you plan out your 4 years of undergrad. To save you time, this is the schedule they gave to me. The pre-med track is the most comprehensive, meaning if you don't want to be pre-med anymore and want to switch into another field, it's easier because they all follow the same course load (often with less requirements).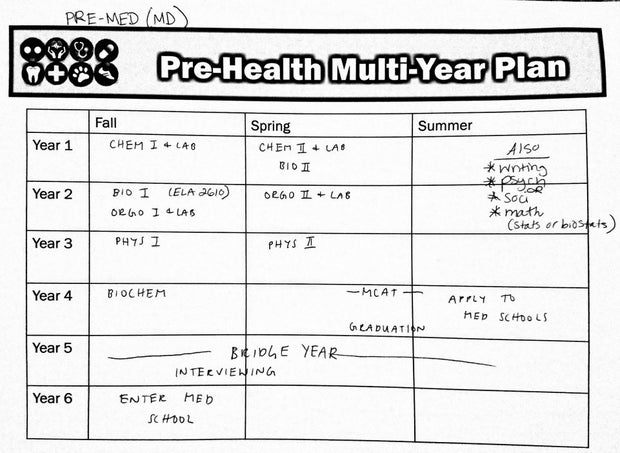 Original photo by Ariel Liu
The pre-health tracks are no joke, make sure this is actually something you want to put your time and effort into. Here's a quick rundown of what you might be getting into:
Pre-med is pretty straightforward. You can major in anything you want as long as you've taken all the med school required classes. Word of advice: don't major in something because you think "it'll look good for med school." Major in something you actually like! Med schools get so many bio and chem majors every year, and it's better to set yourself apart by showing your other interests. Also, be sure to show extracurricular activities that aren't necessarily med based (ex. being a tutor in something). You can take the MCAT (which is like an 8-hour long test) at the end of your third year and start applying to med schools then without taking a gap or bridge year. Most people take a gap year after they graduate just to get more shadowing experience and other hands-on work (which is what is shown in the picture)
Pre-physician assistant (PA) follows the same course layout as pre-med but with fewer required classes for PA school. Unlike four years of med school (plus residency and fellowship), PA school is only two years. The biggest deterrent from becoming a PA is the number of required clinical hours. Before you can even apply to PA, you have to complete at least 1000 hours. However, most people do 2000 hours just to stay competitive. Some ways of getting your hours are becoming an EMT or a medical scribe. It is very common for those applying to PA school to take a year or even two years off in order to fulfill the hours requirement. You also have to take the GRE (graduate record exam), which is the PA form of the MCAT in a way.
Pre-dentistry is often considered a "back-up" for people who don't get into med school, but that's not necessarily true. While pre-dentistry does follow a similar track, there are also other requirements you have to fulfill. It is true that it's easy to switch from pre-med to pre-dentistry since the undergrad coursework is the same, but there are shadowing hours you must fulfill (I think it's around 80ish? but it is significantly less than that required of PAs). The unique part of pre-dentistry is that dental schools during the application process look for evidence of manual dexterity. Be sure to do some of these activities like being able to play an instrument, knit, draw, etc. The DAT (dental admission test) can be taken at any time. Most people take it the summer of their second year after they've taken organic chemistry. Once you actually start the application, your scores will be sent to the schools you want. 
Pre-occupational therapy (OT) requires a lot less required classes with a bigger focus on psychology rather than the hard sciences like chemistry. I don't know much about OT, but they also have to take the GRE.
Pre-optometry follows almost the exact same course work as pre-meds, and the only real main difference is that they take the OAT (optometry admission test) instead. Optometry school is also four years of formal instruction followed by a board certification test. 
Pre-pharmacy also follows the same course work as pre-meds with the addition of a public speaking course. After graduating from pharmacy school (including an internship), students must pass a licensing exam to practice in all 50 states. But before even getting to this point, you have to take PCAT (pharmacy college admission test). UVA has like 80% of their students accepted, but recently there have been 20 applicants a year.
Pre-physical therapy (PT) has the same course requirements as pre-meds. The only difference is that they take the GRE. UVA has a pretty good track record of students getting accepted in PT school (an average of ~70% acceptances), but aren't typically that many applicants (around like 50 a year).
Pre-podiatry has the same course requirements as pre-meds, and they're the only other pre-health profession that requires the MCAT. Everything for pre-podiatry is more or less the exact same as pre-meds, but it'd be good to do your own research.
Pre-veterinary also follows the same strict course requirements as pre-meds, but you take the GRE. Some programs may also accept the MCAT though. There aren't typically that many UVA applicants (around 10 per year).
All pre-health tracks and admission processes require some sort of entrance exam, letters of recommendation, personal statement, and interview. Regardless of whichever track you're interested in, it's important to find a community that you can rely on. These are tough careers, and it's nice to have people you can turn to for help. Specific organizations are listed on the webpage for each track. Good luck future doctors and health-professionals!