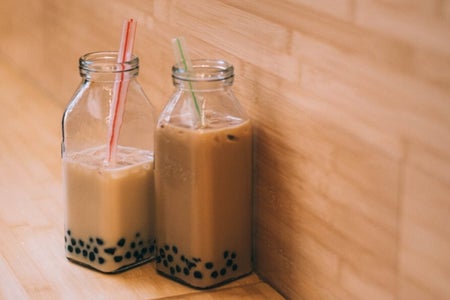 Photo by Rosalind Chang on Unsplash
A Brief History of Boba Tea
Boba tea is a lovely combination of tea, sugar, syrup, dairy, and tapioca pearls. The drink comes in all different flavors including orange yuzu with aloe, kale, lemon wintermelon, matcha, and taro. Boba tea can come in both hot and cold forms, appropriate for every occasion and season. 
Boba tea originated in Taiwan, but the creator of boba tea still remains undetermined to this day. Traditionally, its creation has been claimed by two different figures in the 1980s: Tu Tsong of the Hanlin Tea Room, and Liu Han-Chieh of the Chun Shui Tang tearoom. Simultaneously around the same period, desserts featuring shaved ice and tapioca pearls, as well as milk tea were gaining attraction. Boba tea emerged as the ultimate beverage that encompassed all three trends. Boba tea's popularity spread from Taiwan to neighboring Asian countries and eventually, in the 1990s, the first boba tea shop opened in Los Angeles; many of the early stores were owned by Taiwanese immigrants. As of now, boba tea has transformed into an international phenomenon. Thanks to the advent of social media, boba tea has exploded in popularity, particularly amongst younger demographics.      
Want to read more about this cool drink? Check out these awesome articles from LA Weekly and Food and Wine!