Fall is here!! You know what that means: coffee shops all around fall (hehe pun) further into the hands of capitalism to sell more drinks under the guise of it being "seasonal" and "limited". Since there is no ethical consumption under capitalism, you might as well enjoy what it has to offer. Here are some fall coffee drinks that can be good to treat yourself with (I've included some drinks that aren't as coffee heavy/ bitter too).
**Disclaimer, I'm not endorsing any of these products; I'm just giving suggestions:)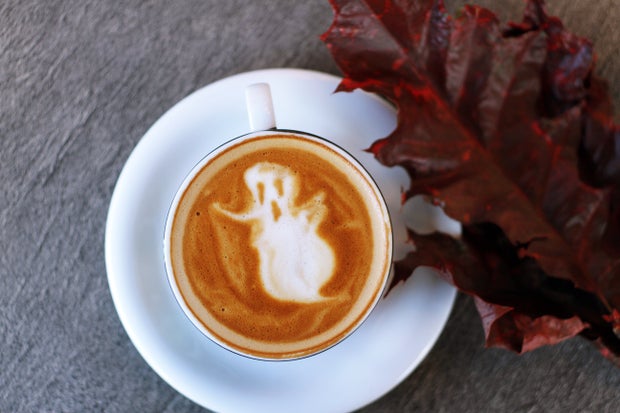 Photo by Toa Heftiba from Unsplash
Of course, I have to start with this ever-famous drink. When Starbucks pulls this out, you know fall is among us. Made with espresso and steamed milk, blended with pumpkin and other fall flavors for some pizzazz, then finished with whipped cream and more pumpkin spice, this drink is 380 calories (for a grande). As an icon of fall seasonal drinks, it's definitely worth a try! If you want one with less coffee, try the pumpkin spice crème!

A personal favorite of mine is the frappe version of the one above. At a sweeter taste and served cold, it comes at a whopping 420 calories (for a grande). I have a sweet tooth and absolutely love crème, so this is great. 10/10 would recommend.

For a less calorie-intensive pumpkin fall drink, try this one! At 250 calories, this cold brew is sweetened with vanilla and finished with pumpkin foam and spice. It's a great creamy drink with some of that much sought-after seasonal taste.

At 170 calories (for a small), this iced pumpkin latte is exactly what the name implies. It is made with espresso and steamed milk (of your choice), coupled with a rich pumpkin pie flavor. It is topped with a bit of baking spice for the fall flair, and the drink served over ice. You can also just get the pumpkin latte if you want it hot!

This seasonal drink is only 150 calories (for a small). The maple and baking spice come together in a smooth blend with oat milk and cold brew. If you don't like oat milk, you can substitute it with other options including, almond, soy, whole, etc. If you like the maple flavor, be sure to check out the maple latte (iced or hot)!

This one isn't coffee (though it kinda tastes like a chai latte), but it's so good that I had to include it in the spirit of fall seasonal drinks. This milk tea is infused with a touch of warm fall spices. Since it contains non-dairy milk, it tastes lighter and less sweet than you'd expect. You can also add boba and other toppings that you can't normally get at other coffee shops!

It's 340 calories, but this isn't surprising since it's literally topped with whipped cream, drizzle, AND sprinkles. It falls into the seasonal drink theme though since it's pumpkin spice flavored. The body of the drink is made with frothy milk (unfortunately only skim or whole) and blended with that signature Dunkin' Donuts espresso. You can also get it iced!

Surprised that McDonald's was on this list? Yea, me too. At 240 calories for a small, this drink is a nice competitor to other pumpkin spice lattes joining the seasonal trend.

This drink at 490 calories for a small is a pumpkin and salted caramel breve with whipped cream, pumpkin drizzle, and raw sugar. You can get this drink hot or iced. You can also get the caramel pumpkin brulee as chai, dutch freeze, or cold brew.

This drink is made of real chocolate melted into steam milk and coupled with espresso and real pumpkin. It is then topped with whipped cream and white chocolate chips. You can also get it iced! Some other pumpkin-flavored alternatives from this coffee chain are the pumpkin white mocha cooler, nitro pumpkin latte/ white mocha, and pumpkin chai.
Hope you guys enjoy trying these fall seasonal drinks!