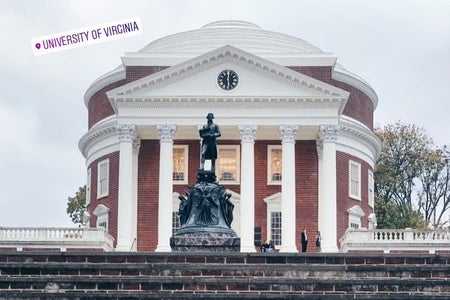 Original photo by Ariel Liu
5 Things To Do When It Snows
I've always loved the snow. I've always thought that if it was cold, it might as well be snowing too, right? Although we're in strange times where gatherings are limited and there doesn't seem to be much of a reason to be outdoors in the cold, here are some things that will make you want to be:
This one is definitely basic, but grab your roommates and head outdoors to build one. It'll give you a reason to procrastinate on your homework and it'll definitely give you more of a workout than you think (if you're like me and haven't been to the gym in ages).

If you have a sled, you know what to do: grab some friends and head out to a nearby hill. If you're a first year or don't have a car, OHill or the Dell (right by the Castle and the Dell basketball courts) are good options. I've also heard McIntire Park and Washington Park are great places to sled! Don't have a sled? Don't worry! You can use the tops to storage containers or make your own using cardboard, a trash bag, and duct tape. Be careful out there!

This one is my personal favorite to start. My friends always hate me for it at first, but we always end up having a blast. So really they should be thanking me for pelting them with a snowball.

 

4.

Go out and grab some Starbucks

If it's one of those snow days that's less icy, grabbing a coffee to-go, or my personal favorite, a Peppermint White Hot Chocolate, can help you get out for a little bit while also keeping you warm. Personally, I love seeing people out and about and seeing the snow in action on my walk over to the Starbucks, so this is my favorite idea.

 

5.

Stay in, drink some hot chocolate, and curl up to a good movie while watching the snowfall

Okay, okay, I know. This isn't a reason to be outside and doesn't involve being outside at all, but it's definitely a vibe and works on those days that you just need a rest break. The snow can really bring you some peace when you're stressed.