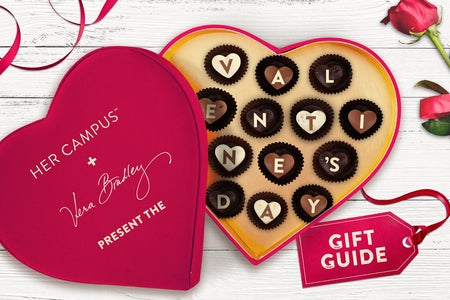 Valentines Gift Ideas That Are Thoughtful and Won't Kill Your Wallet
If you're anything like me, a typical broke college girl still recovering from the financial burdens of Christmas, then this list will surely help you. Have you found the love of your life in the midst of a global pandemic? Have you and your partner been together for many years, and you feel like you've given them every possible thoughtful gift you could think of? If either of those is the case, I've got your back. Here are five gift ideas that you can make personal to yourself and your significant other.
These have been a Tik Tok trend for quite some time, and if you don't already have one, maybe it's time to take the plunge. Stars are something that my boyfriend and I love to enjoy together. On a night where it's rainy or too cold, you can bring the stars to your home and enjoy a nice movie night with a glass of wine under the stars without ever having to leave your house.

2.

Anything Involving Homemade Sweets.

Chocolates aren't just for the ladies! Make your significant other something from scratch that they will be sure to love and devour. My personal favorites are oreo truffles, chocolate-covered strawberries, homemade brownies, or a breakable chocolate heart (stuffed with a note or pictures for a fun surprise).

A photo album would be a fun way for the both of you to revisit old memories. If the two of you have lots of pictures and memories together, or if you've had the opportunity to travel with your significant other, this would be a fun way to compile those memories. Be sure to leave extra room for the adventures to come!

Another take on a photo album is a View-Master. You can customize your View-Master to have seven photos and one photo in the center with captions. This is a fun way to revisit old memories in a nostalgic way.

5.

Heart on your Sleeve T-Shirt.

We've all been trying to live our best Blair Waldorf lives since 2007, and even though we can't all be Upper East Siders, we can make our boyfriends cute T-Shirts to remind them that they have our hearts on their sleeves. If you don't know what I'm talking about, there is a scene in Gossip Girl where Nate is wearing a sweater that Blair sewed a small heart charm onto the sleeve. This is another easy DIY that is both thoughtful and adorable. You can get any shirt, sweater, or jacket, and sew a heart charm on the inside of the sleeve so that your heart will always be with your bae.