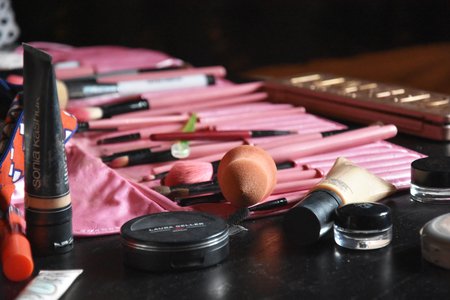 Anna Thetard / Her Campus
Throughout my years in college, I have gotten less and less sleep. This has caused me to develop some dark raccoon looking eye bags. I have also developed a bad habit of waking up thirty minutes before class (if I didn't live on campus I would be screwed). The one good thing that came out of my horrible sleeping schedule is that I learned how to do my makeup quickly. It used to take me an hour and now it takes about twenty minutes. Keep reading to find out how I manage to get to class on time without looking like a zombie!
Since I'm always in a rush, I stick to the minimalistic makeup look. I skip foundation and go straight to concealer. I use the E.l.f 16 Hour Camo Concealer ($6). I love it because it lasts all day and doesn't crease!

I fill in my brows with the E.l.f Wow Brow Gel ($4). Their brow gel is super helpful because it gives that full brow effect without taking the time to actually fill them in!

To bronze my face I use the Hoola bronzer from Benefit (the mini one because I'm a broke college student).

If I have time to spare I'll put some highlight on. I use the Wet n Wild Highlighting Powder in the shade Golden Flower Crown ($6). Protip! Add highlight to the inner corner of your eyes to make you look more awake.
You too can fool the entire campus and pretend like you get enough sleep!