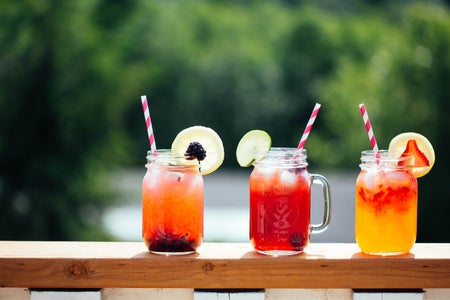 Breanna Coon / Her Campus
As a college student, we all enjoy a night out. Although alcohol isn't needed to have fun, it sure helps! Here are some of my favorite drink recipes. 
Put this all into your *shaker*: Combine a scoop of ice, 1 and a half shots of Pink Whitney, 1 shot of Triple Sec, 1 a shot of cranberry juice, half a shot of lemon juice. Then shake and strain. Lastly, top with Smirnoff Ice!

2.

Vodka Cran- A College Staple

Literally just put this in a solo cup: 2 shots of vodka and top with cranberry juice!

3.

Spiked Cherry Limeade- Refreshing Summer Drink

Put this in your cup of choice! 1 and a half shots of vodka, 3 shots of limeade, and a splash of grenadine.

4.

Long Island Iced Tea- Knock You Out

In your shaker: Combine Vodka, Gin, Tequila, Rum, Triple Sec Sour Mix, and then shake it up! Fill your cup with a splash of coke, then strain into your cup.

In your cup of choice add 2 shots of vodka, half a shot of triple sec, and 1 shot of lemon juice. This one can also be made as a shot!

Come on, you know what it is, another college staple! Add 2 shots of rum and a splash of coke in a cup with ice!

In a cup of your choice add sprite, grenadine, and as much vodka as you desire!

8.

Vodka Soda/ Vodka Tonic

2 shots of vodka

Splash of either soda or tonic water

In your glass top it off with a lime, lemon, or orange

9.

The screwdriver- The hair of the dog as they say

The morning after drinking, why not keep in going at brunch!

Vodka

Orange Juice

Or my personal favorite...

2 shots of vodka

1 shot of blue curacao

Top with lemonade

Garnish with a lemon wedge
These are some of my favorites and I hope you guys get the chance to try them! Happy SAFE drinking!