What It's Like to Go Through Sorority Recruitment When You're Not a Freshman
"You? In a sorority?"
The words were spoken by my best friend from high school over a belated 21st birthday dinner. We were about two weeks into fall semester, both starting our third years of college, and I had signed up for sorority recruitment just three days earlier.
As a college junior, I really knew the ropes when it came to signing up for classes, picking the right professors, and choosing a good apartment. But when it came to joining a sorority, I was definitely more scared than the average 18-year-old potential member. Going through sorority recruitment is easily the scariest thing I have ever done, and I used to run 5Ks for fun. In spite of my fears, joining a sorority has also been one of the most valuable aspects of my college experience, even though I joined as an older member. Read on to learn more about what you can expect if you choose to go through sorority recruitment as an older student this fall.
You Already Have College Experience…
Unlike many of the other students going through recruitment, as a junior, you can already talk about things you have done in college during your recruitment conversations at each house. This was super-comforting because having other extracurricular experiences makes it easier to answer the many "Why are you looking to join a sorority now?" questions that you'll receive during recruitment (i.e., you can lead with "Though I have loved participating in X, I was really looking for more of a community on campus"). 
…Which Can Make it Hard to Connect With Your Pledge Class
Most of the girls going through recruitment are freshmen, many of them having the same dorm experience you already lived through during your first year of college. As an older student, you've already experienced living down the hall from your crush and had complaints about meal plan food. This can make it a little difficult to connect with your fellow new members — which only leaves time for you to connect with the older members in your house!
Your First Few Weeks Might be Overwhelming
Your phone will be blowing up with GroupMe notifications from your chapter's leaders, Instagram follow requests, and new messages from your sisters during the first few weeks after Bid Day. I had, like, maybe three good friends in college before sorority recruitment, and I was ABSOLUTELY overwhelmed. The good news, though, is that this craziness does calm down within the first few weeks. Most of the messages in your new group chats will be to inform you and your fellow members of basic things, like when to stop by the house for chapter dinner or what to bring to a paint-fight sisterhood. Within a couple of months, you'll be up to speed on day-to-day chapter life, and the notifications will die down. 
Adjusting to the Calendar Takes Time…
You're probably already pretty busy with upper division classes and other campus involvement, maybe even a part-time job, without adding a handful of sisterhoods and date nights to your schedule. Early on in my sorority experience, a friend from another house advised me to not stress about making it to every single sorority event and to just go to what I could manage. That being said, you joined this organization for a reason. Make sure you save time in your schedule to hang out with your sisters, even if it's just weekly at chapter meeting.
…But Sorority Life Will Likely Improve Your Grades
Our chapter president once mentioned that she didn't know anyone whose grades didn't improve after they joined a sorority. Crazy, right? With chapter meeting every week, sisterhoods, and date nights, you will likely be much busier after joining a sorority than you were before. However, being more involved on your campus will also boost your mental health, which, at least in my experience, boosted my drive to excel in my classes. Also, knowing a sister or two or four who already took your class schedule definitely can help when it comes to passing the more challenging classes in your major!
Your Real Friends Will Support You Through Recruitment

Since you've already been a college student for at least a year, you probably have a group of friends who each have a preconceived notion of what it means to participate in Greek life. I was nervous to tell each and every single one of my friends that I was going through sorority recruitment. However, with the exception of the interaction I described at the beginning of this article (which was really more surprise than anything else), all of my friends were very supportive of my decision to go through sorority recruitment. I was most afraid to tell my best guy friend, and he ended up being the first person I texted when I got my bid from my top house. If you explain to your friends why you might be thinking about going through sorority recruitment, they're likely to understand your desire to enrich your college experience and try something new.  
Sorority Life Will Change Your College Experience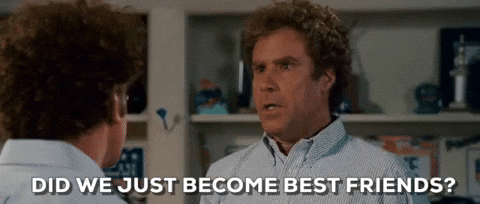 Before I even signed up for recruitment, I read this blog post (from a HC Utah grad!) about her experience going through recruitment as a junior. She noted that while she didn't immediately meet her BFFs after joining her organization, she found a group of girls that supported her and cared about her happiness. I am happy to say that I've experienced the same. When you go through recruitment, especially as an older member, you likely won't meet your bridesmaids at Bid Day or even within your first semester. However, you will find a space where you can go once a week to enjoy a meal and be surrounded by other motivated, academic women who care about your well-being. Some of my best memories from this year are times I spent just hanging out with my sorority sisters and getting to know them, whether while hanging out at our chapter house or while participating in a service project. In college life, which is already chock-full of stress from classes, work, and other extracurriculars, having your sorority to fall back on can make all of the difference.
In conclusion, I am so glad I went through recruitment, even though I chose to pursue Greek life as an older student. Discovering a new community on campus has given me the support I have needed to excel during my last two years of college. If you choose to go through recruitment as an older student, know that while your Greek life experience will be different, it will still be valuable. Go Utes and go Greek!