Original photo by Emily Pellegrino
What it's Like to Attend a VP Debate on Your College Campus
It's 11pm on Tuesday night. T-minus 8 hours until the day that I've been waiting for since the announcement came a year ago that my university would be hosting the 2020 Vice Presidential Debate. Of course, at the time I had no idea that we would be in the midst of a pandemic, recovering from a series of crazy weather and natural disasters, or perhaps the most unexpected, that I would actually be in attendance at the event. In fact, before three weeks ago, I still wasn't sure I'd be able to go.
As you can imagine, getting the email that Her Campus Utah would be given one media credential and press pass left us feeling on top of the world. This was the hottest ticket in town, possibly in the country, and we just scored one. It was like being invited to Wonka's Chocolate Factory. The evening was filled with lots of excitement for our CC's and entire team, and by lots of preparation the days after that. We prepared social media content, talked to our team about article ideas and information we wanted to gather, kept up with constant updates from the University, and kept an eye on the political climate in general. After the display that was the first presidential debate, we weren't quite sure what the evening was going to bring us.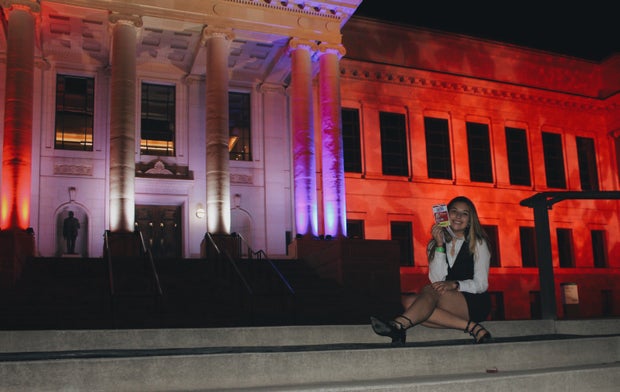 Original photo by Emily Pellegrino
Now of course, I could simply recount all the glamorous parts of the day, people I got to meet, and sights I got to see that not many were privileged to. But honestly, I feel like it would be doing a disservice to everyone to act like I breezed through everything seamlessly and with confidence. To put it simply, the week leading up to the debate was filled with my heart and nerves pulling me in three different directions. 
On the one hand, there were the daily tasks and stressors that I had to be concerned with. All of us at the University of Utah are experiencing midterms, assignments, and exams, during a week that we are accustomed to having off for fall break. As much as I wanted to focus solely on the debate, there was no way I could ignore the immediate deadlines in front of me. On the other hand, I was so overwhelmingly excited. To have something of this scale held at my university during my senior year AND to be invited is nothing short of a once-in-a-lifetime opportunity. Combine this with my studies and passion for political science and writing, and it was just about the best thing that could be happening. Last came the anxiety. Not only was this the first event I have ever had a press pass to, but it was also the biggest thing that has happened for our university in its history next to the Olympics in 2002. Out of four women from our chapter who applied, it was me who was getting the chance to go. But what if I wasn't good enough? What if I missed something in the course of the night? How was I going to be in the same playing field as world-class journalists from around the country?
Due to the nature of the event and how many moving parts were involved, there was minimal information given to student media groups – which only added to the anxious feelings. Thankfully, I was able to find the contact of the Editor-in-Chief of our school newspaper who would also be in attendance. As I rode the shuttle from the football stadium parking lot to the secure perimeter of the event, I was introduced to a woman from our university's communications department and a gentleman who worked security for CNN. After our brief conversation, he offered me advice that would stick with me throughout the rest of the time I was there, 
"You are here for a reason whether you believe it or not. Use this opportunity to the fullest and take as much advantage of this as you can. There are people here tonight that you otherwise may have never met, so take any chance you can to introduce yourself and learn from them."
Original photo by Emily Pellegrino
From there, everything seemed to just fall into place. Before the debate, we were able to wander around freely within the perimeter. I got to meet student volunteers, local and national journalists, University faculty, and even saw Pete Buttigieg at one point! (Even though I only have one blurry photo of him walking towards the debate hall to prove it) On a usual year, about 900 individuals would be allowed inside the debate hall. This number was limited to less than 300 this year in order to follow local and state guidelines. The University of Utah held a raffle earlier in the week where 60 lucky students won tickets to go to the debate. I also got the chance to speak with a few of those students. "I was waiting the whole day to get an email and thinking 'oh, I didn't get it' … and then I checked the website and my number was pulled and I screamed," stated student Joy Kavapalu.
We made our final rounds of the area and then were seated in the media tent directly across the way from Kingsbury Hall where the debate was held. Complete with 300 tables, each with their own individual power strips, air conditioning, WiFi, and about 100-150 TV monitors throughout, this was no run of the mill tent. As we watched, I saw the student body president and two vice presidents take the stage alongside our university's president. Let me just say, there is not much to prepare for how surreal it is to see your friends and colleagues on CSPAN. The rest of the night was filled with debate bingo, live-tweeting on the HC Utah Twitter account, drafting up notes and article ideas, and of course, listening to the candidates' debate performances.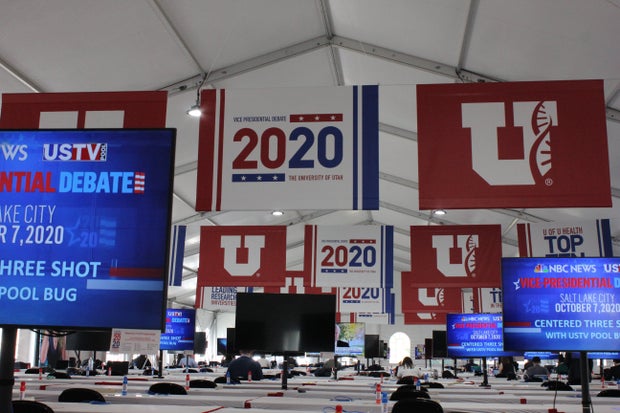 Original photo by Emily Pellegrino
As the night wrapped up, and I took my last golf-cart Uber around the area, it almost felt like the day after Christmas. After waiting for something so long, experiencing all the excitement and buildup that comes with it, it's all over in a flash. It didn't help that I still had a homework assignment due on Canvas waiting for me once I arrived home – because nothing quite brings you back down to earth like classwork that you've been putting off. 
As I lay in my bed, trying so hard to fight off sleep and not make this day end, I couldn't help but laugh at the crazy journey it had been to get to this point. It's a fine line to walk being both a student and a member of the media. You want to appear confident and bold, but you still feel that you have so much to learn. But, if you never step out of your comfort zone and never push yourself to get involved in these opportunities in any way possible, you will never grow and create the memories that you will carry with you for the rest of your life. I finally accepted that after a 19-hour day running on three hours of sleep from the night before, I actually needed to rest. But I hoped that the man from the bus knew how much of a difference on my day, a day that will stick with me for a very long time.
Image credit: Personal Images