Things You Need To Do When In New York City
New York City has been my favorite city ever since I was 15! I highly romanticized it (still do) and compared it to every rom-com I've ever seen. This year I decided to drag one of my friends there with me since the last time I went was as a sophomore in high school. I've always been one to fall in love with big cities and crowded streets. I created a list of all the things one should do when visiting the city, as there is so much to do sometimes it can feel overwhelming. 
1. Top of the Rock
Seeing the Top of the Rock might be touristy but it is so incredible. You take an elevator up to the top of Rockefeller Center where you can look down on the whole city. You are 70 floors high from the streets so you have the best view in the city! You can walk around to each side of the building so you can see the side facing Central Park and the side that is facing the Empire State Building. The scenic view almost doesn't feel real, it feels as if you are looking at a 3D picture of it. The view is worth feeling like an A-class tourist.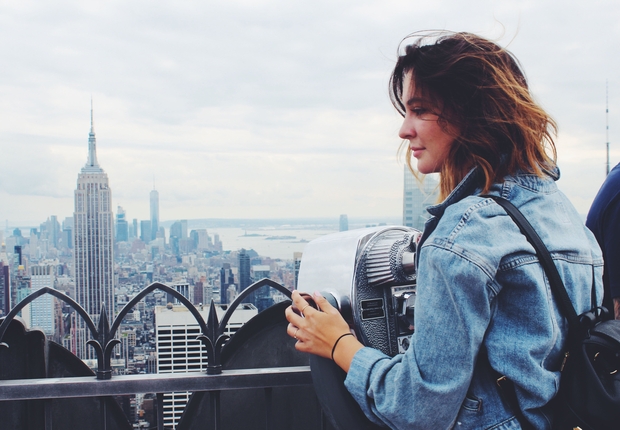 2. Dumbo Brooklyn (Find a cute boy from Tinder to take you on a romantic date)
So if you can it might be in your best interest to go on Tinder and find the cutest boy ever from Brooklyn and have him take you to Dumbo where you can look at the whole city from underneath the Brooklyn Bridge. I may or may not be speaking from experience. But in all honesty, I went on Tinder just looking for someone to show me the city and found the most beautiful boy. We went on one date to a bar and the next day I asked if he'd show me around Brooklyn where he's from. He transited all the way from Brooklyn to midtown where I was staying and we took the subway back to Brooklyn. I felt like I was in a literal rom-com. The ones I would watch as a teenager and think it was going to be my life. We stayed out looking at the city from Brooklyn until 3 am, as I was well aware I had to be up at 8 the next day. I don't know if it was because it was New York or that we were looking at the city from Brooklyn or that he was the sweetest boy ever, but it was definitely a night I'll never forget in this lifetime. 
3. Washington Square Park
On NYU's campus, there's Washington Square Park where they have a replica of the Arch De Triumph from Paris. It's oobviously much smaller but still a really cool landmark to go check out. You can find a big fountain in front of the arch where people go to sit and hangout. 
4. Beauty Bar
Not too far from Washington Square Park, you can find a cute little place called Beauty Bar. It used to be a beauty parlor but has turned into a bar. They kept the theme though so when you walk in it feels like you might be in a salon. It's a fun retro night club with DJs and a dance floor. The best thing about Beauty Bar is between 6-11 pm Mon-Friday and Saturday-Sunday from 3-11 you can get a manicure and drink for $10! That's the best deal I've ever heard of!
5. The Met
As we know from Gossip Girl, the steps of the Met are where Blair Waldorf and her clan sat to eat lunch every day. Well beyond that if you go inside The Met it's filled with beautiful and classic artwork! They have Van Gogh, Monet, Degas, etc. For a limited time once a year they also feature The Met fashion collection. This year they had a display for CAMP's Met Gala. They had everyone from facts and history of CAMP to the fashion.
6. Carrie Bradshaw's Apartment
If you happen to venture to 66 Perry St. you might stumble upon our New York queen; Carrie Bradshaw's apartment! If you've very submersed in the SATC life then maybe sign up for a SATC sightseeing tour! But if you don't have the time or money for that (me) feel free to wander to her apartment by yourself and get a look at where the glamorous Carrie lived.
7. Columbus Circle/ Hotel Empire
Just in front of the entrance to Central Park, you will find Columbus Circle which you've probably seen in movies and are familiar with. In the middle of the traffic circle, you'll see a monument of Columbus (ew) and a giant world structure. The architecture and buildings surrounding it are very beautiful. Just down the street, you can also see a sign for the Hotel Empire. Back to the Gossip Girl fans, those of you will know it as the Hotel owned by Chuck Bass. If you're a fan you should certainly stop and check it out!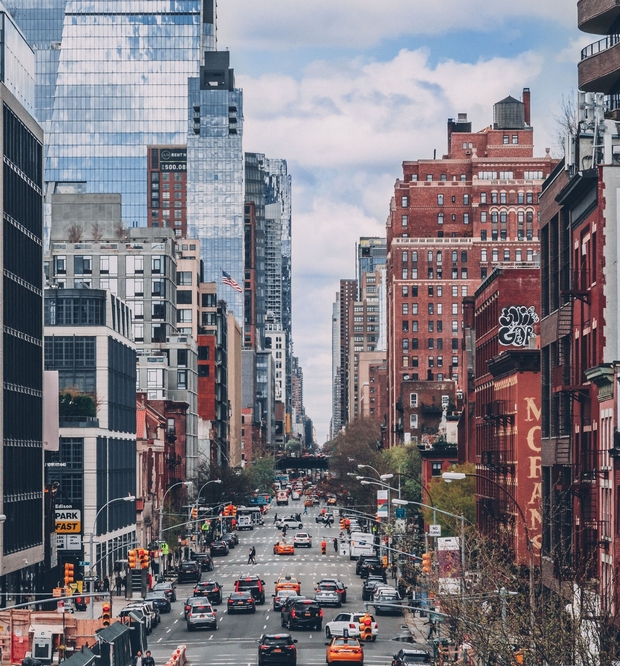 8. Central Park (duh)
Yes, another touristy thing, but worth it. Central Park is huge and if you wanted to see every bit of it I'd probably set aside a good day. There are many fun attractions you can find hiding in there such as Shakespeare Garden, The Boathouse, Belvedere Castle, Central Park Zoo, Bethesda Terrace, and the Conservatory Garden. You won't get bored in Central Park as there is so much to do! Do make sure you wear good walking shoes. 
9. Serendipity 3
Back to my hopeless romantic New York rom-com obsession. If any of you have seen the classic movie 'Serendipity' with John Cusack and Kate Beckinsale than you have to go to Serendipity 3! Even if you haven't still gone, they have the cutest little cafe where you can order the best and biggest frozen hot chocolate! 
10. New York Library
The place where Carrie and Big "attempted" to have their wedding until Big left (eye roll). The New York Library is quite beautiful though, I'd want to have my wedding there too. They have big staircases leading up into the public library entrance where people go to do homework and work. It would be hard to focus there with the miraculous ceilings and murals. 
So the lesson here to go to New York City, don't feel bad doing touristy things and most definitely find yourself a cute date and have a cheesy rom-com worthy evening with. It's New York: anything is possible!