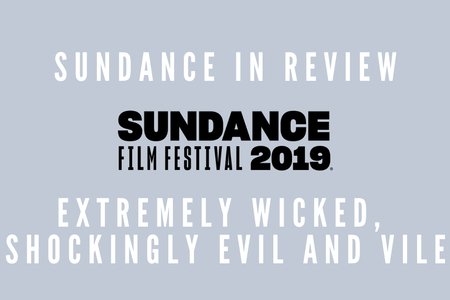 Sundance in Review: Extremely Wicked, Shockingly Evil and Vile
It'd be hard to believe one hasn't heard all about the year's arguably most anticipated Sundance film, Extremely Wicked, Shockingly Evil and Vile which highlights the life and crimes of serial killer Ted Bundy. Serial killers have always been a point of fascination in American media, but Ted Bundy redefined an era; Bundy was everything a serial killer shouldn't be: charming, well-mannered, charismatic, and handsome…making him dangerous beyond words. 
Many haved argued Director Joe Berlinger's film as toxic, as a major motion picture with himself as the focal point would've been a dream come true for Bundy. Making a film about a notorious serial killer is a difficult task; you risk minimizing the evil behind a monster. But Berlinger is no stranger to the subject, as he is also behind the four-part documentary series Conversations with a Killer: The Ted Bundy Tapes. If you haven't fallen into the Netflix documentary hole, you make have seen the backlash on social media due to many believing the film would wrongfully glorify Bundy and his killings after the film's trailer was released. 
The film follows Bundy's multiple arrests and escapes from prison, but this isn't just about Bundy's crimes and death; it's Elizabeth Kloepfer's story of survival. The film was written by Michael Werwie, who based the script off of Kloepfer's book The Phantom Prince: My Life with Ted Bundy. The film begins through the eyes of single mother Liz Kendall (Lily Collins), who was in a six-year relationship with Bundy during his killing spree in the 70s. Understandably, Liz had trouble believing Bundy to be guilty as he was a picture-perfect man in both her and her daughter's lives. Collins provides a phenomenal performance, making the audience truly feel Elizabeth's pain, confusion, and guilt.
Notably, the film doesn't show any of Bundy's killings until a final flashback scene in the film, putting the audience in Liz's headspace and how she only could see Bundy as a gentle, loving man. One who is oblivious to the Bundy murders may even believe Bundy is innocent when first viewing the film, even finding themselves rooting for Bundy until the film's conclusion…then feeling completely guilty and stupid for falling for his charm- just as Liz did. Without informed knowledge on the subject, one would slip through the cracks, missing the hints to Bundy's animosity (mostly because one wouldn't want to believe they were there). It would be assumed if one viewed the film without knowing the history, they would be completely floored by the ending- meaning the film did its job to translate Bundy's chilling legacy. 
In Efron's best performance to date (sorry, High School Musical 3: Senior Year), he nails the smooth-spoken serial killer while giving the audience small indications everything is not what he seems. And no, you do not leave the theater thinking about how hot Zac Efron is; instead, hours later, you catch a glimpse of him on social media and feel uneasy. The film firmly paints Bundy as the he deserves to be painted as and how he will always be remembered: an unforgiveable monster. 
Efron's worldwide likeable persona was key in the casting of Ted Bundy, as Berlinger told Variety, "Because Bundy's character is so wrapped up in his sex appeal and charm, I loved the idea of subverting Zac's sex appeal and charm."
Efron continued, "I feel a responsibility to make sure that this movie is not a celebration of Ted Bundy or a glorification of him. But, definitely, a psychological study of who this person was. In that, there's honesty." 
The film focuses less on Bundy's crimes, but more so on the relationship between Bundy and Elizabeth. It's thought provoking and frustrating to wonder whether Bundy could have ever loved Liz when he was doing unspeakable things to other women. It raises questions tied closely to both crime and close relationships, and what happens when the two mix. Sadly, most questions remain unanswered. 
Though the film loses some momentum in the second half, and more exploration on the dynamics of Liza and Ted's relationship wouldn't have hurt, it was overall excellent. The film is about true humanity and a twisted love story, told through remarkable editing and a fantastic cast making the film succeed. 
It's no secret the film hits close to home for Utah, as it is confirmed at least five of Bundy's victims were from the state. Many were in tears as the film ended with a tribute to the victims, who's names appeared on-screen during you-could-hear-a-pin-drop silence within the theatre. Though the actual count is believed to be much more, Bundy has been confirmed in killing at least 30 victims. Remember them. Say their names. 
Anne Marie Burr, Lonnie Trumbell, Lisa Wick, Joni Lenz, Lynda Ann Healy, Donna Gail Manson, Susan Elaine Rancourt, Brenda Baker, Roberta Kathleen Parks, Brenda Carol Ball, Georgeann Hawkins, Janice Ott, Denise Naslund, Caryn Campbell, Julie Cunningham, Denise Lynn Oliverson, Melanie Cooley, Shelly Robertson, Nancy Wilcox, Melissa Smith, Laura Aime, Debby Kent, Carol DaRonch, Nancy Baird, Sue Curtis, Debbie Smith, Roberta Kathleen Parks, Rita Lorraine Jolly, Vicki Lynn Hollar, Karen Chandler, Kathy Kleiner, Lisa Levy, Margaret Bowman, Cheryl Thomas, Kimberly Leach, Lynette Culver, and Rita Curran.