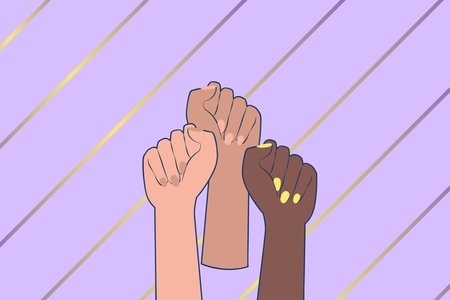 Original Illustration by Gina Escandon for Her Campus Media
With International Women's Day on March 8th, I thought this would be a great time to look at a few amazing women to look up to! As the patriarchal society of the United States is slowly starting to unfold, more and more women are able to come to the forefront and become leaders and role models for everyone too look up to.
Many of us know Maya Angelou from her book I Know Why the Caged Bird Sings and her poem "And Still I Rise". Angelou was not only an American poet, memoirist, and singer, but also a civil rights activist. She spent the early part of her career becoming friends with Malcolm X and organizing marches for Martin Luther King Jr. Even though Angelou did not have any formal higher education, she was honored with over 50 honorary doctorate degrees. Angelou has paved the way for women of color, writers, and black activists.

Ruth Bader Ginsburg is a current judge for the United States Supreme Court. During her career, she has fought tirelessly for women's rights in the workplace, rights for those with mental disabilities in the workplace, and women's reproductive rights. Ginsburg was and is a strong advocate for working mothers. During her time at Cornell, Harvard, and Columbia University, she juggled both her family and academic life.

We all know Emma Watson from her role in Harry Potter as Hermoine Granger. However, Watson is also an activist for women's rights. She has promoted education for girls, particularly in Bangladesh and Zambia. She has worked for the United Nations as a Goodwill Ambassador and as a speaker at many campaigns. While being such a strong advocate for women's rights, she also helped launch a legal advice line for those who have suffered from sexual harassment in the workplace.

Not many people know this, but Patrisse Cullors was a co-founder of the Black Lives Matter Global Network and movement. Cullors has been a prominent figure for criminal justice reform for the past 20 years. She is currently leading the Reform LA Jails ballot which will be voted on in March 2020. Similar to Angelou, Cullors is creating a new dialogue around black activists and women activists, especially when it comes to racism and reform in the jail systems.

Laverne Cox is widely known for her character on Orange is the New Black (OITNB), Sophia Burset. Nonetheless, she is also known for her support and activism in the LGBTQ+ community. Cox became the first openly transgender person to be nominated for a Primetime Emmy Award for her character on OITNB. She has particularly led the conversation about transgender culture and how transgender may bisect in one's culture/race.
These women have endured times of sexism, racism, and misogyny. However, they have been able to take these hard times and have learned to grow from them. This International Women's Day, think of these women and other women in your life that have helped find a way for you and your goals.