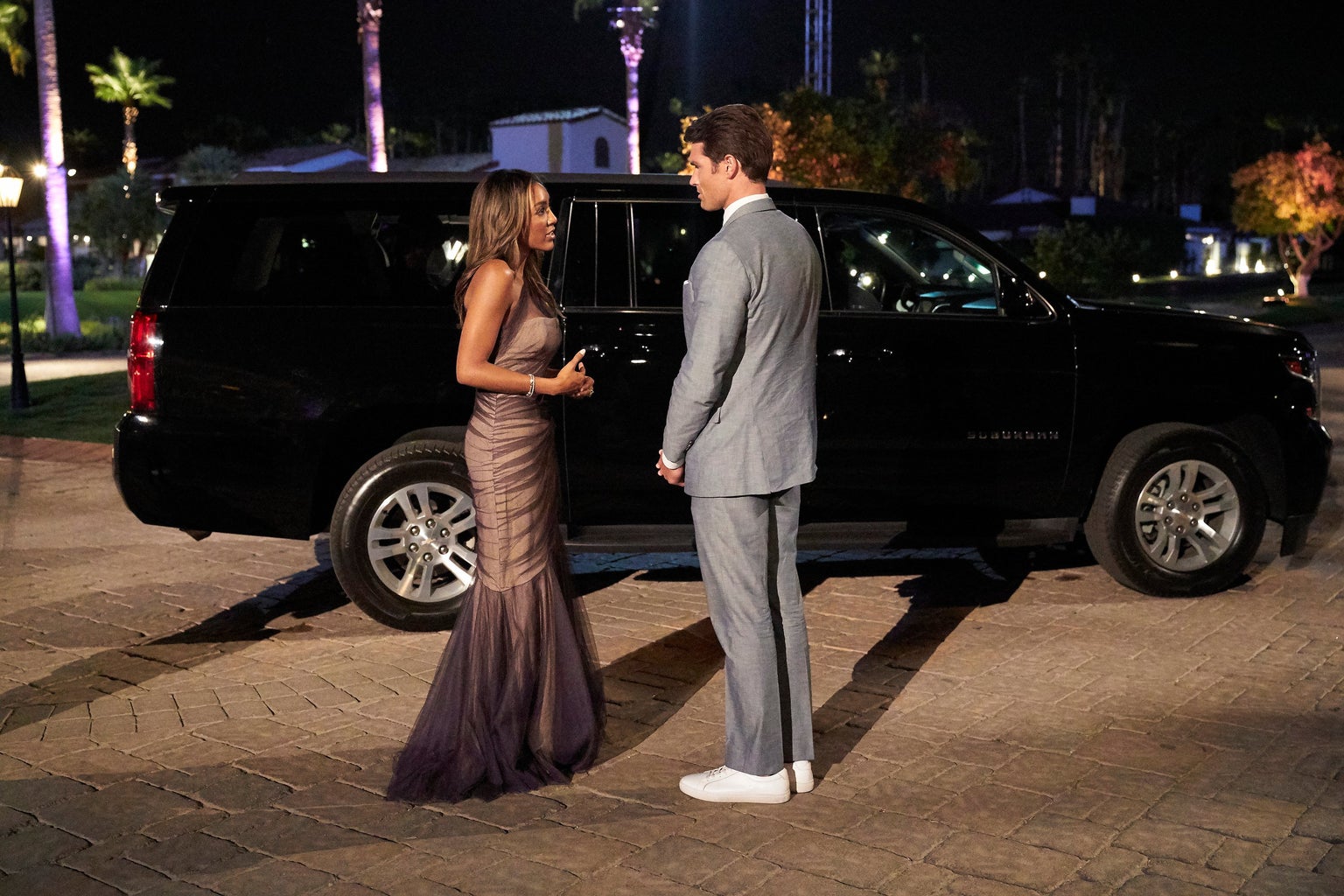 As much as I'd like to be done talking about Bennett, I'm afraid that is impossible. We all thought that he'd be gone from our screens, leaving us nothing but good vibes and the ability to focus on something other than petty drama. For a while, we had the chance to get to know the other guys even more through Zac's cheating story, Riley's name mystery, and Ben's struggle with his mental health. It was everything we'd been waiting for, but alas, it could not last. 
The episode opens with that conversation. We were left with a cliffhanger last week and boy was I anxious to see who Tayshia sent home. I predicted that she would send them both home because they were both too dramatic and it didn't seem like her connections with them were anywhere near those she has with Zac, Riley, Ben, and Brendan. She also seemed to have more concerns with them than she did with any of the other guys (even Blake.) And just as it looked like she was getting ready to get rid of them both, she made the decision to only send Bennett home (which was still relieving.) Bennett was on a downward spiral and nobody was enjoying his presence, least of all Noah.  
With Bennett out of the way, we moved on to the one-on-one date with Ben, who continued to open up to Tayshia about his mental health, this time revealing that he attempted suicide twice. It's important to note that conversations of this magnitude and subject matter are new to the franchise. We hear sob stories every season about contestant's struggles, but never have we seen such raw intimacy revolving around topics that are normally taboo and unspoken of on the show. The fact that Ben's discussion of his eating disorder and other mental struggles along with Ivan's previous discussion of the criminal justice system and BLM are being broadcasted on a reality show with such a conservative fan base is a huge step in the right direction. The show and the men are normalizing these important conversations, exposing viewers to topics they might not be talking about with their friends and families.  
The conversations continue to reveal more about the men during their group-date activity — a lie detector test. As cliché as this was, it did reveal what headspace the men were in regarding hometowns and where they were at in their relationships with Tayshia. With the group trending on the older side, we saw many of them feeling hesitant about family meetings, a refreshing change. It was nice to see the men acknowledge how fast the process was and really consider the weight of introducing Tayshia to their families. You could tell that this weighed heavier on them than it seems to with the younger contestants in the franchise. It was easier to relate to. As a viewer, I know the rushed process makes for good television, but it's never been something that I see myself doing. Seeing the concern and hesitation the guys had this season, despite their strong feelings for Tayshia, is something I'm sure a lot of viewers could relate to.  
Still riding the high of the group date, I continued watching and enjoying such a stress-free episode. I was excited to see the next rose ceremony and I had spent the entire episode predicting her final four (which I believe will be Ben, Zac, Brendan, and Riley.) And then my sleep paralysis demon appeared. The La Quinta ghost revealed itself to Tayshia, not as William Morgan, but as Bennett. I said from the beginning that Bennett has the vibe of somebody that committed murder and kept the body in his shed. I could dismiss it if he had just taken no for an answer and respected Tayshia's decision, but he has exposed himself as a full-fledged Bachelor villain and came back for Tayshia because he "loves her." I have to say, he simultaneously has strong Colton vibes as well as Joe from You vibes. Needless to say, this is not a great combination and I hope somebody patted him down before he entered the premises.   
Somehow, we are left with the same cliffhanger as we were last week: will Bennett return as a semi-permanent fixture on the show? Again, my hopes are the exact same —I hope Tayshia sends him home for good so that she can focus on her drama-free relationships.