The Male Brain on Porn: More Addictive than Juice Boxes
You know that scene in every 90s film where the tween brother is caught with a Playboy magazine under his bed? The mother shames him and the father kind of blows it off behind his wife's back, and then the son is left feeling guilty and eats soap for a punishment. This circumstance is something that is not too common on paper anymore, but is shared digitally on a global level. The guilt that is felt, as shown in those 90s films, is healthy. Disconnection in intimacy, unrealistic expectations, and isolation are common characteristics within a committed romantic relationship when one partner regularly views pornography. Studies show that about 66% of men and 41% of women in the United States watch pornography regularly, but for now I am interested in the 66%. In the book Wired for Intimacy: How Pornography Hijacks the Male Brain by William Strutlers, he explains the ways pornography "cheats reality". There are not only issues with how pornography can result in unrealistic expectations from sexual partners in a committed relationship, but it also diminishes commitment. Women are automatically undressed and evaluated as a potential sex partner because of the neurological pathways engraved in the brain from regularly exposing one's brain to arousing material that enforces this perception. Women, therefore, are seen as pleasurable objects instead of human beings because of how the brain has trained itself to understand a man's relationship with a woman. 
Although this sounds sickening, and I'm not saying it isn't, this desire is a part of our natural tendencies and animal instincts. This can be demonstrated with some of our closest relatives: monkeys. In an article titled "Brain Structure and Functional Connectivity Associated With Pornography Consumption: The Brain on Porn", Simone Kuhn used a study involving Macaque monkeys, sponsored by the National Institute of Mental Health, to expand on this point. Male Macaque monkeys (say that ten times fast) gave up the rewards they received (juice) in order to see pictures of female Macaque bottoms. Like Lizzo, these monkeys can blame their bootylious tendencies on the juice, baby. These monkeys were paying to see images of females they had never connected with physically or emotionally before. Does giving up a delicious beverage to view monkey bums seem strange to anyone else? What's so different from humans giving their rewards, such as time, money, and/or emotional connections, in exchange to see some booty they will never meet off-screen?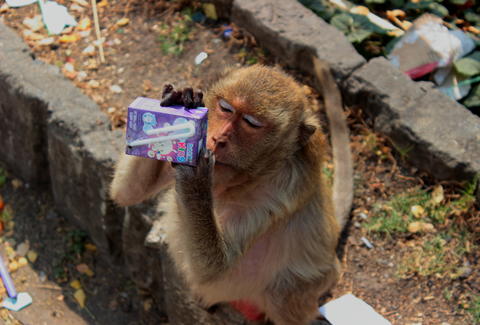 The release of dopamine that results when watching porn is what causes addiction, similar to alcohol and drug addictions. When males view porn, testosterone is released from the testes into the blood stream, and makes its way to the brain; this can result in sexual anticipation and further sexual stimulation. This sexual stimulation is long-lasting, so even if the laptop is off, the mental fixation of sex is on. Strutlers explains that the more pornography someone interacts with, the less freedom they will have in other aspects of their life. Like a substance addiction, one's thoughts can be consumed by the idea of it until the desired release is met. At this point, this addiction costs significantly more than a plentiful display of juice boxes at Costco. 
Unfortunately, there is no way to turn the clock back to a time where porn was only available through Playboy magazines and posters, because that would mean all technological advancements from the past decade and more would no longer exist either. Instead, it is time to see how pornography can negatively affect committed relationships and work to minimize that. A large contributor to sex is emotional intimacy, and emotional intimacy is nearly eliminated when pornography is a priority. Pornography is a major factor in half of the divorce rates in the United States, so there is obviously a problem that is worth discussing within committed relationships. Maybe next time, keep the juice box.