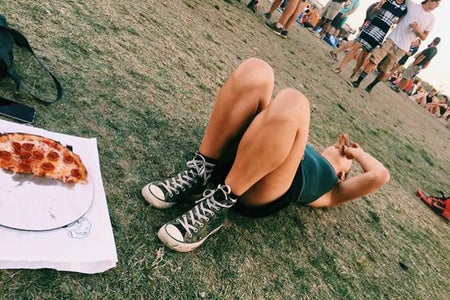 Charlotte Reader / Her Campus
Life is Beautiful 2019 Recap
Life is Beautiful Music & Art Festival debuted in 2013 as a three-day festival, and hasn't stopped growing since. This year, the festival boasted an impressive lineup, bringing thousands to the heart of Las Vegas for a weekend of food, comedy, music, and art. The festival runs through Fremont Street, taking up 18 blocks of downtown Las Vegas September 20th-22nd. Attendees spend each day running between the four stages, Downtown, Bacardi, Fremont, and Huntridge, decked out in their often over-the-top yet undoubtedly fun outfits. There isn't an inch within the festival you could be and not be surrounded by captivating art pieces, from towering wall murals to a giant praying mantis breathing fire (yes, actual fire).
Day one of the festival began with my friends and I frantically running off the plane to catch Jonathan Van Ness's comedy set. Tragically, we didn't make it (please forgive us, JVN), but we were reassured a good weekend was ahead of us after catching Madison Beer, Portugal. The Man, Chance the Rapper, and Billie Eilish's sets throughout the evening. It was clear the buzz for the day was centered around Eilish, the 17-year-old pop phenomenon. Her performance kept the audience on her toes, and even brought attention to climate change, something the singer has proved to be passionate about as she consistently posts about the topic over social media.
It was a little hard to wake up the next morning considering the previous night's events, but a cheap casino brunch revived us and the gang was ready to take on day two. The schedule was filled with fan favorites, such as The Black Keys, Rufus Du Sol, Maggie Rogers, and BANKS. An unfortunate cancellation from Lil Wayne (let be honest, we all saw that coming) sent us back to the hotel room a little early, and somehow we got a of full eight hours of sleep that night, something unheard of in the festival world. 
Day three is always bittersweet: you're aching to be back in your own bed back home, but also dreading the three days of festival fun ending. It was easy to prolong the thought of a plane ride home when names like ZEDD, Phantogram, Rae Sremmurd, Sheck Wes, and Oliver Tree were on the agenda for the day, and of course an incredibly thankful Post Malone. Post gave Life is Beautiful 2019 the closing it deserved, giving an electrifying performance to an extremely energetic audience.