Here's the Podcast You Need to Listen to Right Now
The world of podcasts seems limitless in 2018, but look no further, here is the newest podcast to binge in between your fall semester classes. Ologies by Alie Ward  is a fairly new podcast that is extremely interesting, and is absolutely the podcast that everyone should be listening to. With this podcast, you will learn countless new facts about a variety of topics. And trust me when I say that, before you know it, you will be faithfully hooked on the series.
Summarized briefly Ologies is about "asking smart people dumb questions." Every week, the podcast focuses on one area of study or "ology" and Alie Ward (the podcast's incredible host) interviews an ologist about their professional obsessions. The episodes explore many different kinds of study that range from beauty standards, to beer, to dogs, to sex, to snails, to death, and to so much more. The best part of this podcast (besides its host) is the fact that even if you have zero interest in the topic of the week's episode, by the time you are done listening to it, you'll find yourself with a strange love for that topic. For example, when the Teuthology (study of squids) episode came out I thought to myself, "sure I will listen to this, I guess squids might be interesting," but now, because of this podcast, squids are definitely one of my favorite animals.
Alie Ward is an American writer, painter, actress, and television and podcast host. In her past, she ran one other podcast (in addition to Ologies) with her friend Georgia Hardstark called Slumber Party with Alie & Georgia which is also fantastic. Alie is a stellar interviewer who often gets very swept up in and inspired by every topic she discusses. She keeps her audience hooked with her unique quirkiness and lovable anecdotes, and definitely lives by her mantra of "asking smart people dumb questions." Ward is constantly asking her interviewees questions that an audience member may want to ask, but might be too afraid to. Her main priority is informing her listeners, and she does a very good job at it. Alie is also a very relatable person, and I promise that if you listen to this podcast, you will absolutely adore her.
This podcast is phenomenal and I can't really do it justice in such a short article. Every episode is amazing, and will teach you thousands of new things effortlessly, without leaving you feeling bogged down by information. Not only that, but this podcast makes you look at the world in a completely different way. Ologies will have you fascinated with things you never even thought of like hair, sharks, trains, and so much more. This podcast will also make you a better conversationalist and an all around more worldly person. You will constantly find yourself talking about the fascinating topics Alie discusses, and you may even find that your social media feeds become full of pictures and messages from the various ologists that appear on the podcast. All in all, this podcast is sure to make your life more interesting and entertaining, and you will definitely feel smarter after every episode. The best parts of this podcast are the newfound fascination that you will discover in your life, the countless information you will learn, and the host. Alie Ward will have you laughing and interested for each and every hour-long episode.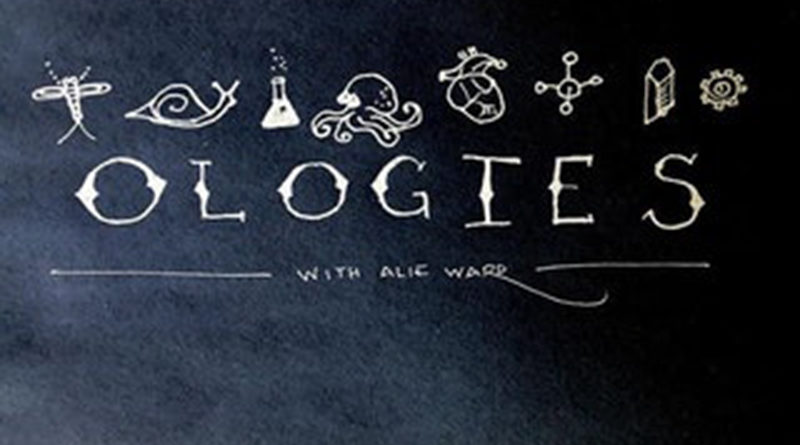 Ologies turns one year old this week, and I want to congratulate Alie Ward on her success by writing this article about her and her podcast and by encouraging you all to listen to some of her awesome episodes. You can't really go wrong when choosing an episode to start with, but I highly recommend the Ornithology (birds), Teuthology (squids), Cynology (dogs), and Ophthalmology (eyes) episodes. This podcast is truly incredible and it will probably ruin other podcasts for you (because it is just that good), but I promise it is totally worth it, so give it a try. You can find it on iTunes, the Podcast app, or wherever you typically listen to podcasts.