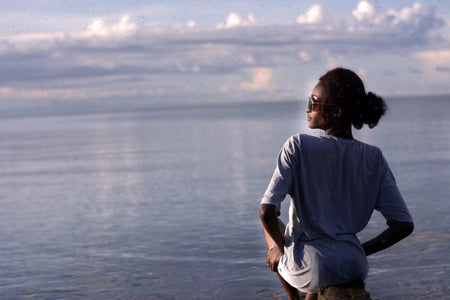 The Do's and Don'ts of Sex Toys
Let's clear something up. I am nowhere near an expert. This might be even be a blind leading the blind scenario. But, after igniting a rather recent passion for sex toys, and realizing that my bank statement had paid the price for my newfound "hobby," I desperately wished someone had drafted up an instruction manual that would have saved me hundreds of dollars, and a few embarrassing moments. Though my first steps into the world of sexual experimentation has been a bumpy ride (no pun intended), here's my beginners guide to all things sex toys—the manual I wish I had—and it's my gift to you.
1. Ladies, start with a vibrator!
Think about yourself as a battery. You can't give energy out, if you're not putting energy in (energy being a vibrator). You need to feel sexually-fulfilled before you can feel sexually confident, just like you need to know what you like, before you can ever tell your partner about what you like. So, with that in mind, a vibrator should absolutely be your first purchase. I made the mistake of buying toys that were for my partner's pleasure, before I ever bought toys that were just for me. Know that phrase "love yourself first," well, surprise, they were talking about sex. As for what vibrator to buy, I've heard around the block that a wand is the best place to start. And while I haven't delved into the world of bullets, and rabbits, and g spot vibrators (oh my), I absolutely love my wand. It's user friendly, has multiple speed settings, and always finishes the job (me--I"m the job). 
2. Invest in a good quality vibrator 
Buy generic face wash. Buy off-brand cereal. Do not spend less than 30 dollars on a vibrator. I learned this the hard way when four months into use, my vibrator burnt out during a very...crucial moment. If you're using your vibrator often, it will be well worth the 50 bucks you spend on it. And after all, wouldn't you rather buy a $50 dollar vibrator once, then a $20 vibrator three times?
3. Buy the fur handcuffs, no matter how embarrassing it is. 
When I originally went shopping for my first pair of handcuffs, I thought to myself "I can't buy the fur handcuffs, I have to buy the big girl handcuffs." So I purchased a $20 pair of metal handcuffs, and I've had regrets ever since. Let's just say every use of them has been a stop-and-go sort of experience, where we've had to readjust the handcuffs because the metal was so (sexily) cutting off their circulation and causing intense pain. So, fight your ego, buy the hot pink furry handcuffs, you'll be glad you did. 
4. Beware of the C-Ring
Of all the sex toys, the C-Ring was the most highly recommended to me. So I thought, why not? Pleasure for me, pleasure for him--a win, win scenario right? Well, being the broke college student that I am, when I went shopping for this highly reputable gadget, I chose the cheapest option (naturally), and boy, was that a mistake. After an hour of B+ fun, my beloved C-ring tragically died (after one use no less). And let's just say, I'm not working with a budget that allows me to replace my C-ring's batteries every time I use it--especially if I'm having sex 3 times a week. If you're interested: SPLURGE. It's worth the investment. 
5. Don't feel ashamed to go sex toy shopping alone 
If you're shopping for sex toys, chances are you'd identify yourself as sex-positive. However, if you really are sex-positive, you won't think twice about walking into a sex shop alone on a Wednesday afternoon. You don't need a friend, or your partner, or even your sexual playmate to go with you. Go alone! Take your time. Look around! The first time will inevitably, be painfully uncomfortable, but soon enough you'll feel comfortable enough to ask the employees what they would recommend. Though feeling comfortable in a sex shop might feel like a small success, it will be a big step in feeling confident in your own sexuality--which is an investment in and of itself. 
Though these are only some of the many toys on the playground, these tips are the basics that any one who wants to survive in the world of sex toys needs to know. But don't worry, you can (and should) make mistakes, and learn the hard way. Mess up. Buy toys you aren't sure about, because they could just become your new favorites. Happy Humping, y'all!