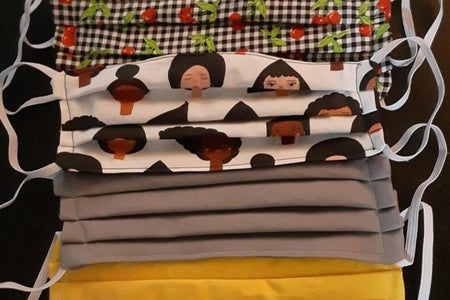 Photo Courtesy of Alexcea Monaye
The COVID-19 pandemic was unprecedented in so many ways. We're all trying to do our part for the world by masking up and keeping our distance, but there are some negative consequences caused by the sudden influx of disposable masks. If you're looking for small and impactful ways to be sustainable, buying a few reusable masks instead of boxes of the disposable kind is a great way to help out the environment.
1.

The Problem with Disposable Masks

People worldwide have been wearing masks daily, leading to a huge increase in production and waste of the disposable masks. There is a huge issue with mask littering as people do not properly throw them away after use, and instead toss them on the ground or into the ocean. These disposable masks contain a lot of plastic that may eventually break down to become microplastics in the ocean over time. Animals can get trapped in or eat the masks, causing them a lot of damage. If enough of the animals in the sea eat the masks, the problem may make its way into the human diet. One study found that if every person that lived in the U.K. wore a disposable mask a day, this would lead to 128,000 tonnes of plastic waste. This is just one country in the world that could potentially produce this much waste if everyone only used the disposable surgical masks.

2.

The Benefits of Reusable Masks

Many clothing retail stores now sell versions of reusable cloth masks as an alternative to the disposable boxes of masks. Over time, this is is also a more cost-effective way of buying masks. Instead of buying masks that you have to throw away after every use and then repurchase more, you can buy two or three cloth masks to wash after each use and reuse the next day. These masks are also much more customizable and are available in so many different colors and patterns to add a cute (and safe!) accessory to your outfit. Cloth masks come in different sizes too, so you can choose your style and fit as it is recommended to find one that fits snug around the nose and mouth. 

3.

Proper Disposal of Masks

If you have a lot of disposable masks on hand and want to finish them before purchasing a more sustainable option, it's important to properly dispose of them. Disposable masks are made out of materials that can really damage the environment, especially when the waste makes it into oceans and forests. At this time, there are no guidelines for recycling masks, so a lot of them have to be disposed of as solid waste. Make sure that when you're done with the mask that it actually makes it into a trashcan and not loose in the world.To prevent some of the animal dangers that come from masks, you can cut off the mask straps so no creatures get tangled up in them. Some organizations recommend bagging all of your PPE into a seperate bag from the rest of your trash and tying it up tight to prevent litter.
We all want to do our part to prevent transmission of COVID-19, and wearing masks is one of the best ways to do that. However, mask litter has become an increasingly dire problem throughout the world and it's also important to do our part in preventing that damage. If you're able, I urge you to switch from single-use masks to a more sustainable and reusable cloth version. Together, we can make a difference in the world just by changing a small part of our safety routines!