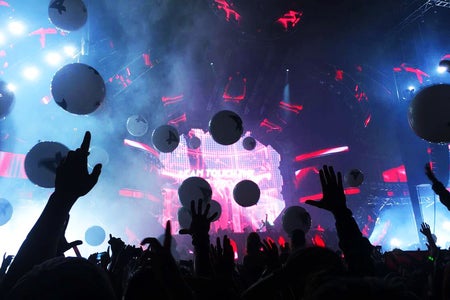 Lindsay Thompson / Her Campus
Concerts To Look Forward To This Year
In my personal opinion, concerts work for any occasion. Wanting a date night with your significant other? Go to a concert. A birthday gift for your best friend? Buy a couple tickets and celebrate! While some of the venues in Salt Lake have not released their lineups for 2020 yet, here are a few that are upcoming this year. 
Giphy
Post Malone - March 21st @ Vivint Smart Home Arena 
Post Malone is claimed to be a rapper, but is famously known for dabbling in multiple genres such as pop, hip hop, rock, and country. In the past couple of years, he has moved to Utah and has performed numerous times in the past few years. Catch him this spring at Vivint Smart Home Arena. 
Coin – April 1st @ Complex
One of my personal favorites, Coin is known for their indie pop style music. Their songs are easy to dance to and are filled with good feels. 
Oh Wonder – April 18th  @ The Depot
Oh Wonder is a duo based in London, and they are categorized in the alternative pop genre. They are most famously known for their song "Ultralife".
Milky Chance – April 27th @ The Depot 
Milky Chance is best known for their song "Stolen Dance," which became popular in 2013. They are a German folk band.
Journey – May 21st @ USANA
Journey was most popular in the 1980's. Their hits include "Don't Stop Believing" and "Any Way You Want it". Definitely old school vibes, but very much worth it. 
Local Natives – May 26th  @The Union Event Center
An indie rock band that is based in California, Local Natives has all the chill music you could want. 
Justin Bieber (with Kehlani) – June 9th @ Vivint Smart Home Arena
Justin Bieber comes to Salt Lake on his new album tour which is yet to be released. His latest release "Yummy" has been on the Billboard charts since its release. 
The Lightning Riders Tour (AWOLNATION, Andrew McMahon in the Wilderness, the Beaches, and Bleeker)- June 17th @ The Complex
This tour is filled with a mix of different genres, which should make for an interesting show! This includes rock, indie pop, and alternative rock.
Trampled by Turtles and CAAMP – July 18th @ Sandy Amphitheater 
These two folk bands join forces to give us the warm summer vibes at Sandy Amphitheater this coming July. 
Halsey (with Blackbear and Pvris) – July 30th @ USANA
Halsey is known for her unique music, which tends to fall under alternative pop. Her newest album "Manic" brings her back to Salt Lake with Blackbear and Pvris. 
Tame Impala – August 1st @ Vivint Smart Home Arena
Tame Impala is defined as psychedelic rock and is well known for their unique use of different beats to create music unlike any other.
Lauv – August 19th @ The Complex
The one man show, Lauv is most widely known for his song "I like me better" -- bet it's stuck in your head now. Join him at The Complex to sing your heart out all night. 
Dan + Shay- October 16th @ Vivint Smart Home Arena 
The Country Duo is coming to Salt Lake this October. Known for their songs "Speechless" "10,000 hours"  and "Tequila", join them for a night with your pals and good times to celebrate the spooky season. 
Whatever genre of music you may like, find a concert buddy and head to one of these shows this year. I promise it will be an adventure!