This past week, I spent my fall break in Italy. Now, I'm sure you can imagine the look on my mother's face when I proposed the idea of me traveling to the opposite side of the world by myself instead of coming home. But somehow I managed to convince her, and before I knew it I was packing my bags for my fall break.
While my trip was absolutely amazing (and I have the pictures to prove it), there were definitely some things I wish I would have known prior to my trip.
PACKING
The flight which I had booked allowed me one carry-on item and one personal item. I used both of these to their maximum capacity with almost no hiccups. However, there are a few things to keep your eyes out for. Since I flew a domestic airline for my first flight, they did not weigh my carry-on luggage, so the only restriction was the size itself. This was the standard 9x14x22, which is any carry-on without using the expander.
I will say this much: I love clothes. With Italy being one of the most stylish places in the world, I wanted to wear the best things I had. And, packing with just these two bags for a 10 day trip, I made outfits I was proud of showcasing. So, trust me when I say, it's possible. On the way there, I didn't need to use any kind of cubes or space bags, but I took one along which I used packing to come home.
The two things I would have done differently though would be to leave more room to bring items home, and to pay to check the bag home before arriving at the airport. In terms of space, mine being limited helped me to budget better and not buy as many items while there. But, if you know you want to bring home lots of souvenirs or clothes leave more room than you think. In terms of baggage, there was a huge issue involving the weight of my carry on which almost caused me to miss my flight home. Long story short, don't be me. If you're getting on a discount international flight, they will weigh your carry-on, so budget accordingly because it's almost double the price to check a bag at the airport as it is to do it online beforehand.
AIRLINES
Since I go to school across the country from my hometown, I fly pretty frequently and consider myself a fairly experience traveler. That being said, international travel is a completely different experience with its own set of challenges and hurdles.
Before solidifying any plans, I used a third-party flight tracker known as Hopper to find cheap flights over the summer. I was pretty certain I wanted to use a discount airline since this was going to be the bulk of my spending for the trip, and honestly, I just needed something to get me across the ocean in one piece – it didn't need to be glamorous. In the end, I flew from Salt Lake City to LAX via Alaska airlines, and then had a 12-hour flight from LAX to Milan. While this was definitely worth saving the money in my eyes, it definitely took its toll on me because of the long travel days. To get there, I spent about 35 hours straight of traveling, and to get home it ended at around 26 hours. If this doesn't sound appealing to you, then my recommendation would be to spend the extra money here to get you there faster.
If you are unfamiliar with the airports you will be flying through, arrive 2-2.5 hours before your flight departs instead of the standard 1.5 hours. Milan is an absolutely massive airport and the flight that I was on involved a shuttle bus out to the plane itself where we boarded from the tarmac instead of a jet bridge. If you miss this shuttle, you will miss your flight. Additionally, if you have a connecting domestic flight following an international one, remember that you will need to go through baggage, customs, and most likely go through security again before boarding your next flight. While booking, make sure that your layover allows enough time to do all of these things.
TRAINS
While I flew into Milan Malpensa airport because it was the largest and cheapest, I was splitting my time between Rome and Florence. On top of this, the airport itself is about an hour train ride from the Milan central station. Most trains to the major cities in Italy will be out of this station and not the airport train station.
Originally, I wanted to get an Italian rail pass that would allow me 3 days of trains during the month for one flat fee. In hindsight, I wish I would have gotten this because it worked the best with my schedule and type of trip and saved me quite a bit of money. If you also find this appealing, make sure to purchase this pass with plenty of time before your trip. The company must have an address to mail you a physical copy of the pass, not an electronic one. Therefore, you have to order at the very least a week before you are scheduled to depart. If this is not the route you want to go, still be sure to purchase your tickets online a day or two before you plan on taking a train. This reduces a lot of stress and hassle for the days when you're traveling. If you are unsure of the timing of your trip though, the nice thing is that you can always just buy tickets at the station whenever works best for you. The whole process is very flexible which is super nice.
Because I waited too long, I just bought individual tickets for the days when I needed trains. Each time, I went through the Italo train company which features a range of high-speed trains. I also spent the extra 2-3 euro each time to upgrade to either the Comfort or Prima seats – something that I would highly recommend. With carry-on sized luggage, there are overhead shelves to place them on, and for larger luggage there are storage lockers between cars. Just be sure to have a lock on your suitcases if you plan on leaving them in the lockers. This worked out well in terms of timing, but as I mentioned before, it cost me more than it would have if I would've gotten the rail pass initially. My other piece of advice would be that even if you don't want to have a very laid out plan for your trip, still plan the first day pretty carefully. After about 25 hours on planes and in airports, it was extremely stressful to try and figure out what trains I needed to take, buy the tickets, find the platforms, hope there were still open seats, and know where I needed to go once I got off the train all while I was in a non-English speaking country, alone, and late at night. Once again, don't be me. Plan your first day and night out to a tee.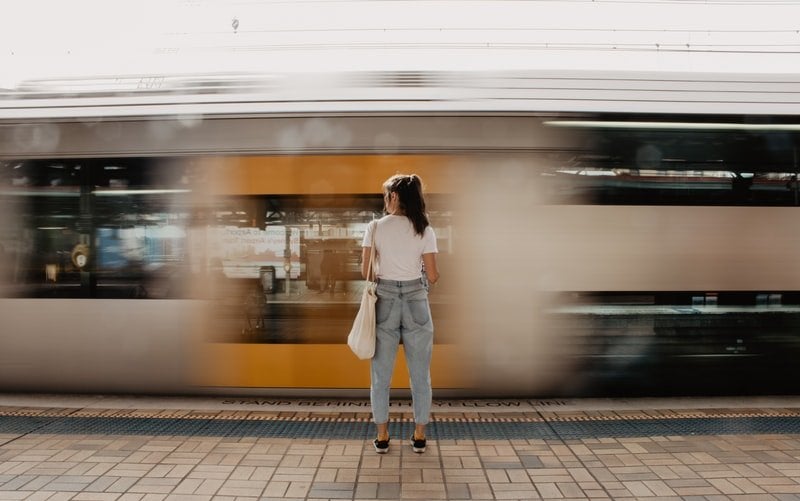 In the next article, I will discuss more about lodging, traveling by yourself, and general tips for going to Italy.