5 Important Life Lessons I Learned From Reality TV
Reality TV may be filled with staged scenes, fake storylines, and crazy moments, but this genre has actually taught me some valuable life lessons that have helped me maneuver this crazy thing we call life. 
Family is everything (Keeping Up With The Kardashians)
I think it's safe to say that, when it comes to powerful and united families, most think about the Kardashians/Jenners. Sure, they go through scandals every other week, but they always seem to stick together and defend each other when bad things are said about them in the media. Like when the whole Jordyn and Khloe drama happened, all of the sisters spoke up for Khloe while she was heartbroken. I mean, the father of her child cheated on her with her younger sister's best friend, she needed all the support she could get at that time.
Learn to forgive and don't be so stubborn (Jersey Shore)
This iconic group of friends show what forgiveness is really about in almost every episode. A fight is bound to happen when friends go out and get absolutely wasted; mistakes will be made, and fights will result from them. The next morning allows them to reconcile and have a good time the next night they decide to go out. Like when Snooki exposed Ronnie for cheating on Sam with another girl, they set the drama aside and became friends again.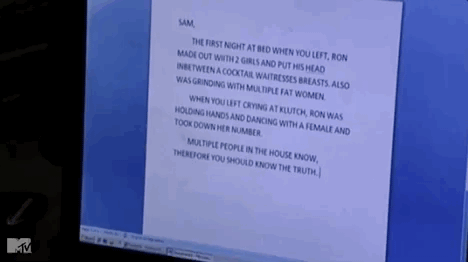 Don't be a gossip, it'll come back to get you (America's Next Top Model)
Growing up and watching reruns of America's Next Top Model taught me so many important life lessons. On a list of advice ranging from smizing to showing your neck as much as you can in photos, steering clear of gossip was number one for Tyra Banks. This was obvious in Cycle 4 when Keenyah Hill had something bad to say about almost every girl, thought highly of herself and tore every other contestant down when they performed better than her. That was until she was eliminated for being labeled as "too arrogant" by all the judges, Tyra included. 
Choose carefully between love and work/education (The Hills)
The Hills showed us how not to make choices, most importantly when it's between a trustless boyfriend and an internship with Vogue in Europe. In the season one finale of The Hills, LC has the difficult decision of choosing between spending her summer in Malibu with her on-and-off boyfriend Jason or going on an all-expense paid trip to Paris, France. Unsurprisingly, she chooses her bf over the trip and ends up breaking up with him a month later. She regretted her choice and said yes when she was offered the same position a year later, like so many of us would have the first time.
Things happen for a reason (The Bachelorette)
In season 13 of The Bachelorette, Rachel and the rest of the world were met with one of the biggest heartbreaks ever. Peter surprised Bachelor Nation by telling Rachel he wasn't ready for marriage. For Rachel, this was bad news because she had fallen in love with him and was sure she wanted to spend the rest of her life with him. They broke up that night due to wanting different things and unresolved issues. She might have gone through a bad breakup, but Rachel ended up marrying the man of her dreams. Bryan, her other choice, proposed to her and they recently got married this year in August. 
This genre may seem like a joke, but under all the drama, fights, and scandals, there is great advice that can be used for anything. Since reality shows depict people living different lives, it can be easy to relate your problems to theirs. No, it's probably not realistic to date 30 men all at the same time, but taking little pieces from their lives and reflecting them to yours can be helpful. Expanding upon a reality TV problem can lead you to learn life lessons you would have never thought of any other way.