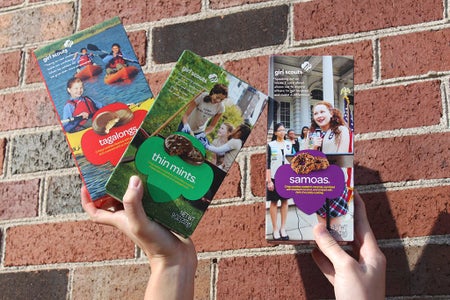 If You Give a Mouse a (Girl Scout) Cookie
If you give a mouse a Girl Scout cookie, she will want some milk to wash it down. After she washes it down, she will want another one. And another one. And another one. 
Admit it. Everybody loves Girl Scout Cookies and with the season coming up, what better way to kick it off by ranking all of the cookie flavors? 
One of my favorite college memories is walking up to the Caf after a long day of classes (hello Bio labs) and seeing a little girl and her dad standing outside with a wagon full of Girl Scout cookies. When I left campus, her cart was completely sold out. Not only did I get my yearly Girl Scout cookies, but that little girl's ingenuity still stands out in my mind. 
For simplicity's sake (and because I haven't tried the new ones yet), I will only be ranking the 2019 roster of Girl Scout cookies.  
Did you know that depending on where you are in the US, you may have a different version of the same Girl Scout cookie? Since I am writing for the San Francisco chapter of Her Campus, I will be referencing the Little Brownie Bakers cookies. One of my friends in high school was a Girl Scout (bless her soul) and since we were in Monterey, California, our cookies were under the ABC Bakery jurisdiction. Yes, they do taste different. Imagine my confusion. In my (humble) opinion, Little Brownie Bakers have the better tasting cookies. 
Click here for a comprehensive guide to distinguishing between the two bakeries and here for a map showing ABC Bakers and Little Brownie Bakers regions.
And now on with the rankings!
My absolute favorite Girl Scout Cookie, Thin Mints are simply perfect. I love chocolate and I love mint and by deductive reasoning, I love Thin Mints. They're just the right amount of sweet, with that outside chocolate coating and perfectly crunchy. These are my go-to!

Strangely reminiscent of Nutter Butters, Do-si-dos, also called Peanut Butter Sandwiches, are the cookie sandwich dream team of the Girl Scout cookies. While I am firmly team Little Brownie Bakers, ABC Bakers had the right idea when naming these. Peanut butter cookies are so underrated and it's nice to see Girls Scouts putting a twist on traditional hash-marked peanut butter cookies. 

I love lemon cookies! Not only are Savannah Smiles, also known as Lemonades, bright and zesty, they also look different, which is a refreshing break from the chocolate covered monotony that Girl Scout cookies can have. Due to their size and powdered sugar dusting, they also remind me of mini donuts. Unfortunately, they were discontinued in 2019 but not to worry, there are many recipes for Savannah Smiles dupes.

Also called Caramel deLites, Samoas are the best of both worlds. Crisp coconut and chewy caramel on shortbread and a chocolate drizzle. I find that Samoas run a little sweet, but this only means they are perfect with some coffee in the morning. PS: Keebler Coconut Dreams cookies are a pretty accurate dupe! :)

I freaking love toffee and I was pleasantly surprised by this cookie. It's crisp, buttery and the toffee flavor really comes through. These kind of remind me of the pre-made cookies you buy at the grocery store. 

I love peanut butter and these are basically a Reese's cup in cookie form. These are also called peanut butter patties, again point to ABC Bakery with their straightforward naming. I'm not sure why Girl Scouts decided to have two different versions of a peanut butter cookie and with two separate bakeries, four versions of a peanut butter cookie makes my head hurt.  

Another cookie sandwich, Girl Scout S'mores are like the classic treat they are named after. Like s'mores, these cookies are fun to eat but there is such a thing as too many s'mores. Note: the ABC Bakery version features a graham cracker cookie with marshmallow creme and a chocolate coating. Of all the cookies, Girl Scout S'mores have the most distinct differences between the two bakeries. 

Not to be confused with the discontinued Savannah Smiles, or Lemonades in some regions of the United States, Lemon-Ups are your classic crunchy lemon flavored cookies. Sometimes simple is better. I love lemon cookies but between being salty about the discontinuity of Savannah Smiles and the striking similarities with Lemonades (not to mention the name confusion), these cookies are not my favorite. 

The only cookie I haven't tried yet because they debut this upcoming Girl Scout cookie season, Toast-Yays are toast shaped and French toast flavored. It's an interesting concept and I'm excited to try them next year. Now if Girl Scouts came out with a cinnamon cookie...