"Once Upon a Time in...Hollywood" Review
I just watched Once Upon a Time in...Hollywood, the ninth film directed by Quentin Tarantino, and I'm here to review it. Technically, this is his tenth film, but he insists that it's his ninth out of his ten film goal. Tarantino has made nine because he views Kill Bill 1 and 2 as one whole movie. But his latest film has won awards and was nominated for several Academy Awards, including Best Picture.
Brad Pitt won the award for "Best Actor in a Supporting Role" for his character, Cliff Booth, who plays Leonardo DiCaprio's character's stunt double and driver. Brad Pitt's performance was convincing, but I was most blown away by Leonardo DiCaprio's performance as actor Rick Dalton. Leo was even nominated for the "Best Actor in a Leading Role" Oscar. I think if Leo was not up against Joaquin Phoenix for his amazing role in the Joker, he would have won the award. Rick Dalton is an actor whose claim to fame was starring in a 1950's western that struggles to find meaningful work in Hollywood. My mouth dropped when DiCaprio was acting on another western set, holding a young girl hostage; the monologue he delivers as an actor playing an actor is just amazing.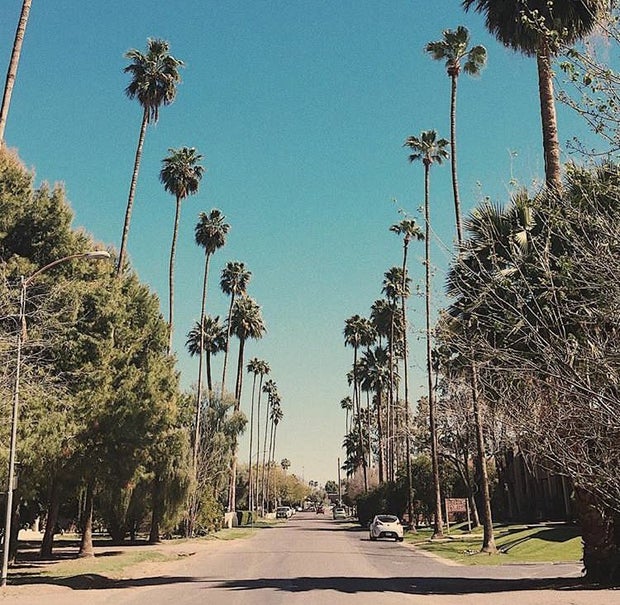 Tessa Pesicka / Her Campus
The film takes place in 1969, and what's most interesting about this film is how Tarantino weaves the storyline of Charles Manson's murders of Roman Polanski and Sharon Tate into the film by making Dalton live next door to Tate and Polanski. Interestingly, Margot Robbie plays the role of Sharon Tate. The tensest scene is when Cliff Booth goes to Charles Manson's compound with all of the hippie girls who live there too. Tarantino builds so much tension in this scene because it's hard to predict what will happen to Cliff as he's at this murderer's compound. Cliff doesn't know that this property belongs to Charles Manson, so it becomes increasingly frustrating when he beats up one of the men at the compound. 
The color yellow is everywhere in this film. It's the color of Cliff's car, wardrobe, props, etc. I analyze this use of color to symbolize Hollywood's Golden Age of Film. On the outside, people in the industry are bright and happy but are really struggling internally. The use of gold in the film could also symbolize everyone's desire to become rich and famous in Hollywood. Nancy Haigh and Barbara Ling won the Academy Award for "Best Production Design" and they really earned it. Quentin leaves the film on a cliffhanger and let's history fill in the rest of the story about the murders of Polanski and Tate. I recommend this film; I definitely was not disappointed. I mean, how could you be disappointed with that ensemble cast and legendary Tarantino?
Felicity Warner / HCM