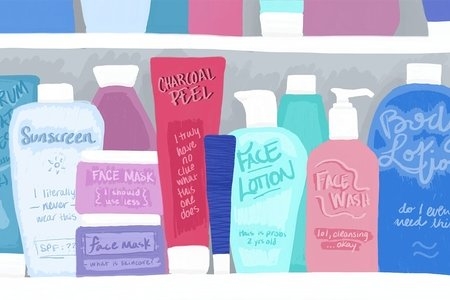 Her Campus / Megan Charles
Ditch Your Makeup Wipes! Use These Eco-Friendly Alternatives Instead
We all know the struggle of coming home late, being tired, and having to go through the trouble of removing your makeup. Although the only thing you want to do is go to bed, you decide to be responsible and grab a makeup wipe to get it over with as quickly as possible. The thing is, while they're quick to use and seemingly convenient, makeup wipes can actually cause a lot of damage to your skin from allergic reactions to acne. On top of that, they produce tons of waste that harm the environment. 
If you're the type of person that wipes their makeup off and goes on without even rinsing with water, I have really bad news for you! Dermatologist Joshua Zeichner said that makeup removing wipes essentially move makeup around and catch whatever they can. They also leave tons of makeup residue behind along with remnants of harsh chemicals. If you don't believe me, test it out: use a makeup wipe, and then dry off your face with a white towel. See all the makeup that was still on your skin?
Not only are they ineffective at removing makeup, but the vast majority of makeup wipes are harsh enough to be considered mechanical exfoliants, which are also a skincare no-no and can cause micro-tears on your skin. While using them once or twice may not cause any inflammation, using them constantly definitely can. 
If this still isn't enough to convince you, did you know that 20 million pounds of single-use wipes are disposed of every day in the US? While it's a composition of multiple types of wipes, toxicologist Diana Felton MD agrees there's a huge volume of makeup wipes in the mix, and not even the ones that claim to be biodegradable are good enough to keep landfills from filling up. 
The good news is that you don't have to use makeup removing wipes anymore because there are tons of alternatives on the market that remove your makeup well, protect your skin from harsh and harmful ingredients, and don't produce excessive waste.
One of the first and most popular choices is the MakeUp Eraser. You can get a thousand uses out of a single towel, maybe even more if you wash by hand instead of machine-washing it. The selling point for this product is that it doesn't require any additional soaps, just water (but remember to cleanse afterward!). 
These machine-washable makeup removing pads are made out of bamboo! The brand linked above is super affordable and it comes with 15 different pads, so they can last you a few uses between wash days. It also comes with a laundry bag, so you never lose any. If you need help deciding what to use them with, Simple's Kind to Skin Micellar Cleansing Water is a great, affordable option.
While it is a lot pricier than the previous ones, this silicone brush it's a wonderful option if you prefer using brushes that give a deep-clean feel. Plus, it's only the same price as 20 packs of makeup wipes! With proper care, this brush can last for multiple years, which makes it a long-term investment. 
If you prefer an oil-based product that doesn't necessarily require a tool to use, cleansing oils are the way to go. When your face needs a break from the towels, pads, and scrubbing, oil cleansers are life-savers. There are tons of options out there for any skin type, so don't be afraid to try it even if you have oily skin. 
Remember that taking off your makeup is not the same as cleansing your skin. Therefore,  always double-cleanse with an actual face wash afterwards to make sure you get rid of all the residue. Happy cleansing!