How could we forget the iconic fashion choices made during Joe Biden's presidential inauguration ceremony? We should remember how fashion can also be political, so let's take a look back at the support shown towards the Black community during this event. 
We can find symbols and messages behind the details in the attires that the attendees chose to wear. Kamala Harris, Michelle Obama, and Jennifer Lopez showed support to Black designers through their outfits.
The Colors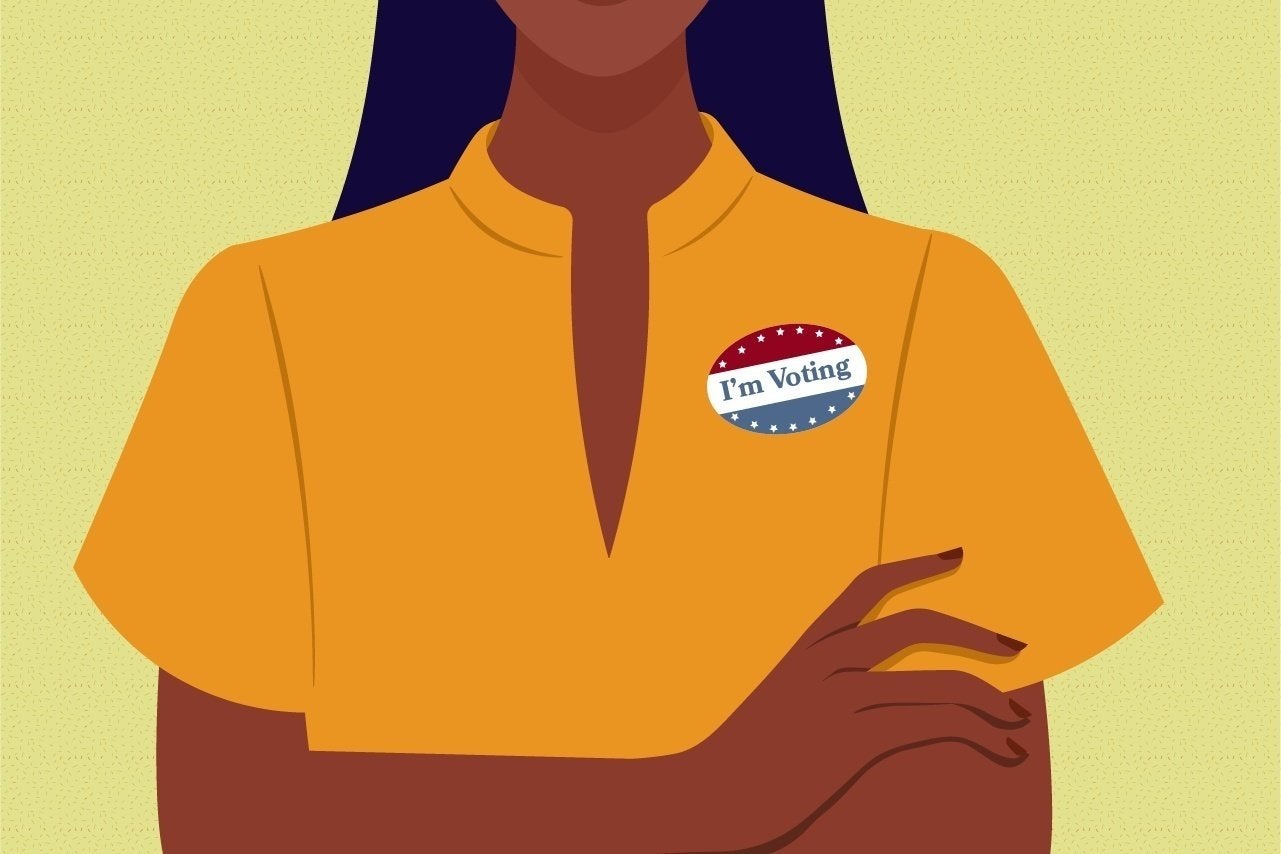 The highlighted colors in the ceremony were purple and suffragette white, which have been used as symbols in the long history of women's empowerment.
Kamala Harris, Michelle Obama, Jill Biden, and Hillary Clinton all sported purple. The color is also a mix of Democrat blue and Republican red, which has been used to represent bipartisanship, apart from also representing the women's suffrage movement.
On the other hand, suffragette white, worn by Jennifer Lopez in a Chanel pantsuit, is also known to have been used by the suffragettes who fought for their right to vote. Along with purple and yellow, these groups of women back in the 1900s would use these colors in their marches to represent loyalty, virtue, and purity. White was a color everyone could afford, giving many women an opportunity to participate. It was also a clever choice of color, since pictures were printed in black and white at the time, so wearing white made them stand out in the newspaper.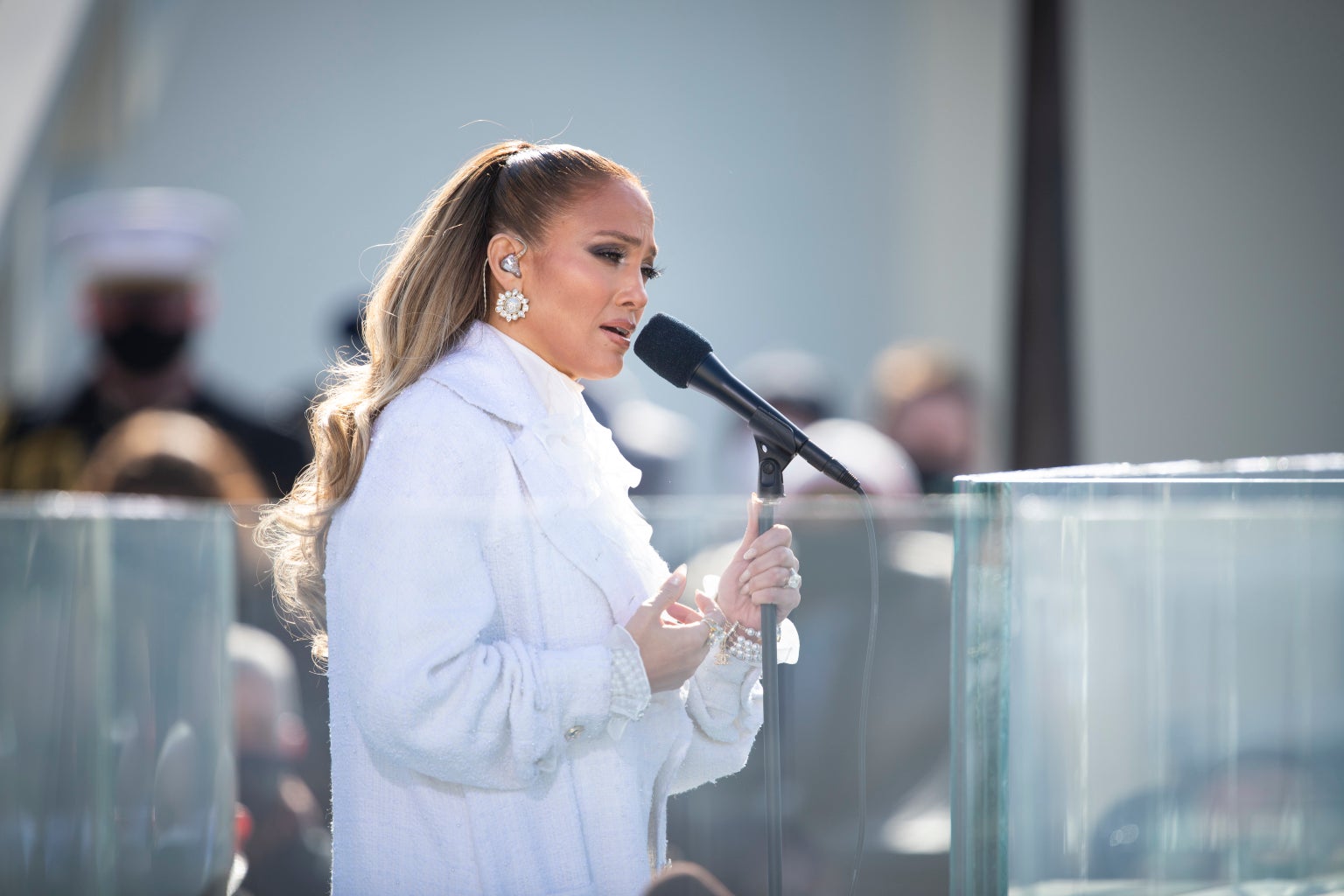 Yellow was also a popular color at the activity, displayed by the poet Amanda Gorman. She commented that she wore this color to honor Jill Biden, who recommended her to recite as National Youth Poet Laureate at the inauguration ceremony.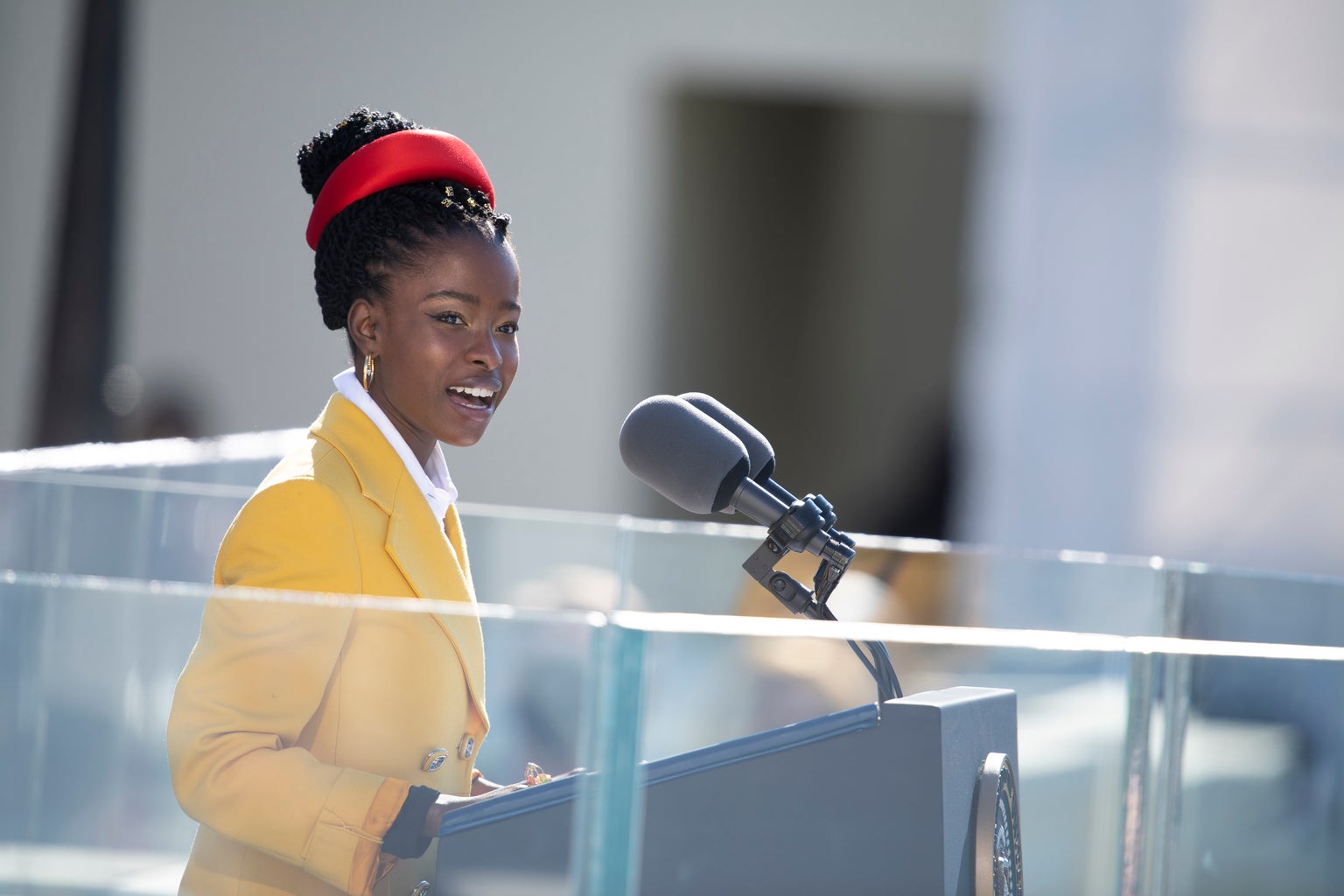 The Designers
Kerby Jean-Raymond
The camel coat Kamala Harris wore for the memorial in honor of all the people that have lost their lives due to COVID-19 was made by Kerby Jean-Raymond, creator of Pyer Moss. Jean-Raymond stood out when he turned his New York office into a distribution site for COVID-19 protective accessories. He also helped BIPOC and small businesses owned by women who were affected by the pandemic.
Sergio Hudson
The plum-colored suit worn by Michelle Obama, along with most of the outfits worn by Harris, were made and styled by Sergio Hudson, an Afro-descendant designer based in Los Angeles. Hudson also designed the black dress and tuxedo-lookalike coat that Harris wore for the "Celebrating America" event after the presidential inauguration.
Christopher John Rogers
Christopher John Rogers was in charge of Harris's purple coat and matching dress. The African American designer is from Louisiana and won the 2020 CFDA American Designer of the Year award. Rogers has worked before with Michelle Obama, Beyoncé, and Rihanna. Even though Harris wore a monochromatic look, the designer is known for his use of bold colors and interesting silhouettes.
The Vice-President's sworn-in outfit was also accompanied by a pearl necklace made by the Puerto Rican designer Wilfredo Rosado. She normally uses pearls to honor her sorority Alpha Kappa Alpha, the first Black Greek-letter sorority.
Meanwhile, Jill Biden's outfit for the inauguration was made by Alexandra O'Neill, the Markarian label designer. With her luxury brand based in New York, the designer is currently working towards using more eco-friendly and sustainable fabrics in her collections.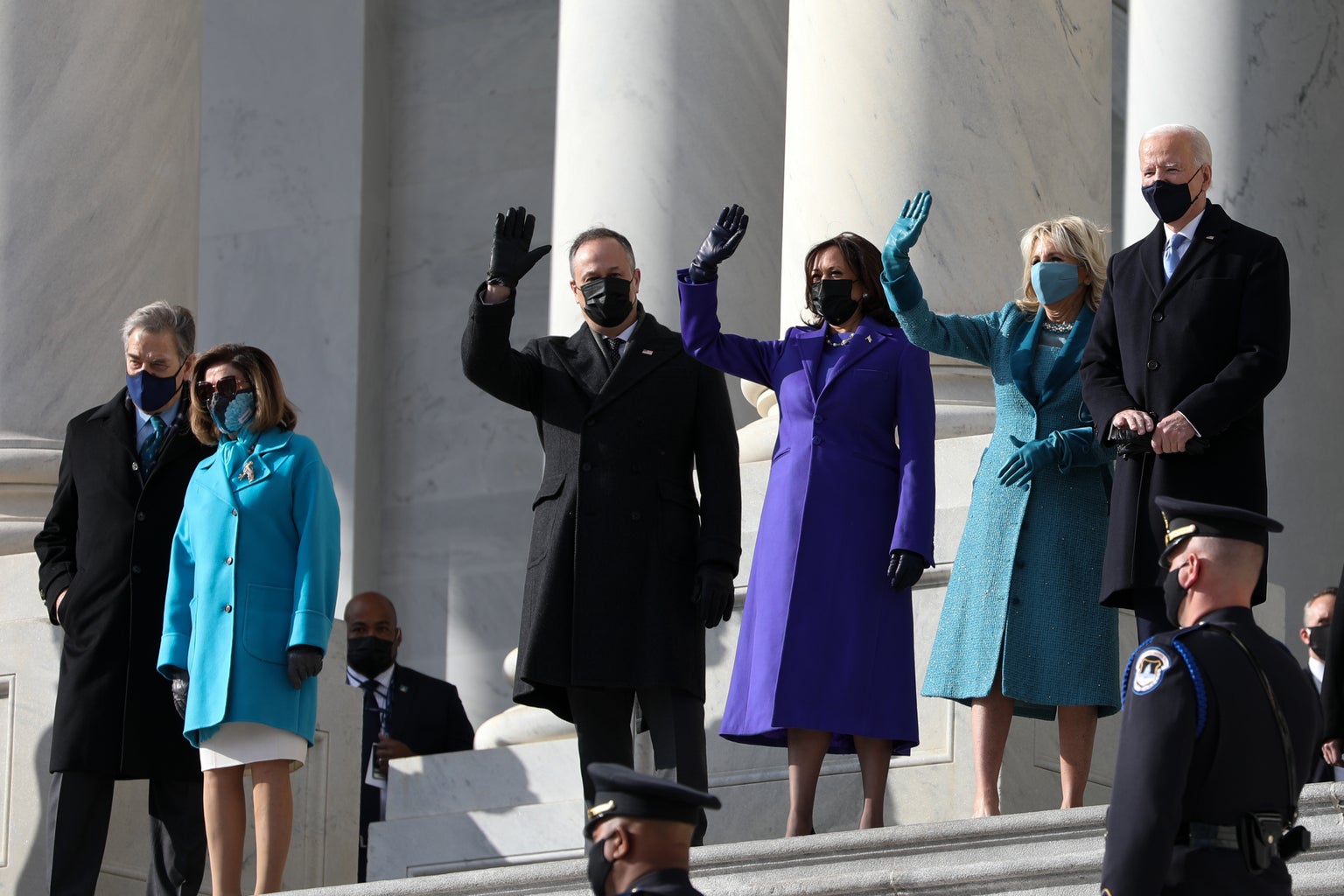 These details are significant, as they symbolize a stylistic and political transformation in contrast with the former first lady, Melania Trump, who used to exclusively wear European brands.
Back in 2019 some of the Democratic women from the House and Senate, such as Alexandria Ocasio-Cortez and Nancy Pelosi, wore white at the 2019 State of the Union to demonstrate solidarity among women and as a reminder of their battle throughout the years for gender equality.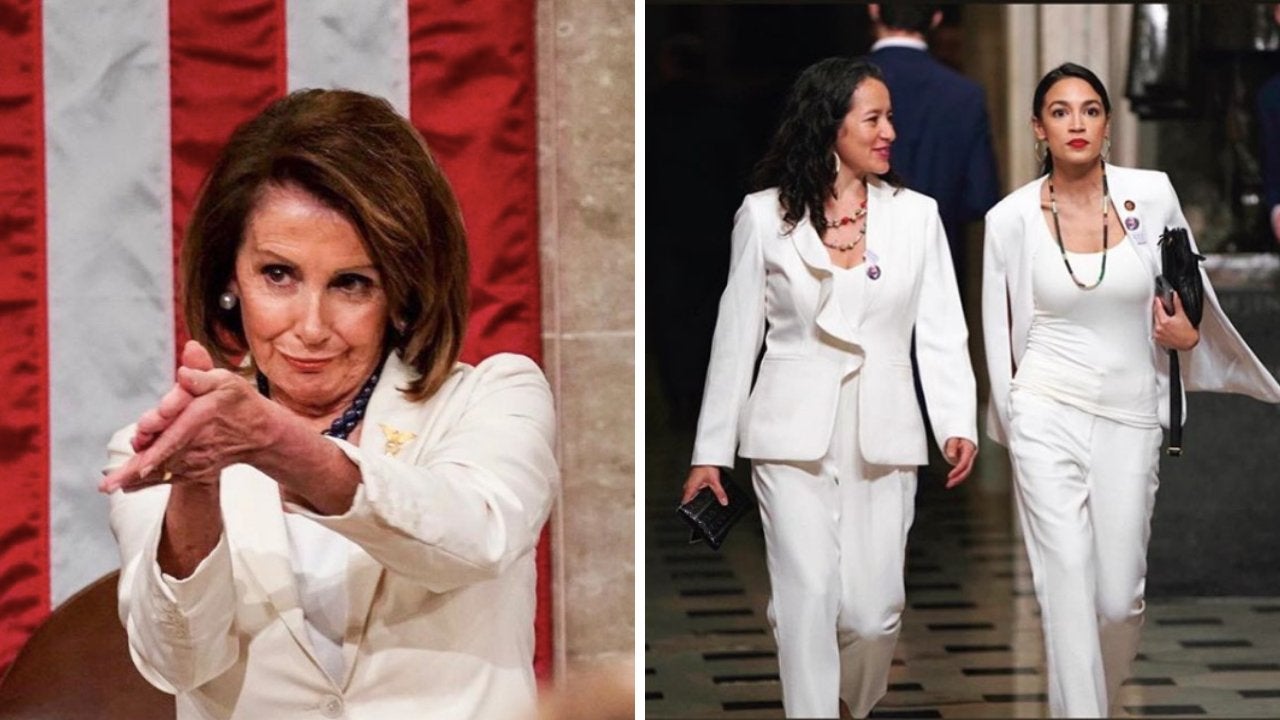 The intention behind outfits in politics is, mostly, to send a subtle, yet deeply symbolic message. During Biden's presidential inauguration, it can be acknowledged as a way to point out three important things: support towards the Black community, to the country's people, and as a demonstration that the United States may be, once again, united.