Movie Monday: A Definitive Ranking of Keanu Reeves' Filmography by Someone Who's Totally Not Obsessed With Him
This summer was a much-needed break from uni. It's time to celebrate the freedom that comes with not having to worry about studying for exams and handing in assignments. While most people might spend their summer hanging out with friends, traveling, or working, there's me who decided to spend her summer watching Keanu Reeves' filmography. Basically what happened is that John Wick Chapter 3: Parabellum was released in May 2019 and I went and saw it in theaters and after witnessing that spectacular film, I decided to take a look at what else Keanu had done outside the John Wick franchise and The Matrix trilogy. 
And so, a very interesting dive into his works began and I am going to be mentioning some of the best and the worst movies that he has done. I will not be listing all of the movies I saw, because there's simply too many and this article would be extremely long. 
BEST 
1. A Walk In The Clouds (1995)
This film was directed by Alfonso Arau and it follows Paul Sutton a WWII veteran who poses as the husband of Victoria Aragon, a graduate student and the daughter of the wealthy owners of the biggest California vineyard, to face her traditional family after she finds out she is pregnant out of wedlock. This movie features a truly classic trope: there's only one bed and they have to share it. If that isn't enough to get you to watch this, I don't know what will ever convince you to. It's beautiful and full of cliches, but there are times when we need those in life. 
2. My Own Private Idaho (1991)
Directed by Gus Van Sant, this movie is a loose adaptation of Shakespeare's Henry IV. It follows Mike Waters, a gay hustler, who struggles with narcolepsy, and his best friend, Scott Favor, who is the mayor's son. Together, they decide to travel to Idaho and eventually Italy to find Mike's mother. You think that this movie will go in a certain direction and then it doesn't. Super important: remember to have tissues at hand. 
3. Point Break (1991)
This movie is directed by none other than Kathryn Bigelow! The plot centers on FBI Agent Johnny Utah who infiltrates a group of surfers led by Bodhi, when he suspects that they are the masterminds behind a series of bank robberies. The action is this movie is unbelievable, and the character interactions are just as great. It's a fantastic action movie that has a good story and character development. Please ignore the 2015 remake.
4. A Scanner Darkly (2006)
Directed by Richard Linklater (and based on Phillip K. Dick's novel of the same name!), this is an animated movie using interpolated rotoscope. This animation style using live-action film and then the animators trace over the footage frame by frame. Naturally, this movie looks amazing. Police officer Bob Arctor lives in a dystopia where 20% of the world is addicted to substance D. To make things worse, the government has developed a high tech invasive surveillance system to try to control it. Bob Arctor is an undercover agent in charge of trying to find out who is in charge of the supply chain and to try to stop them. Not many people know about this movie, which is sad because the animation is incredible and it features a star-studded cast. Animated films deserve more love.
5. The Lake House (2006)
Directed by Alejandro Agresti, the film follows Dr. Kate Forster the owner of a lakehouse who begins exchanging letters with the former owner, Alex Wyler, who turns out to be living in 2004 while Kate is in 2006. Naturally, the two fall in love and must find their way to each other before it's too late. It sounds wacky, and it probably is, but I was living for it. It's not perfect, don't try to make sense of the whole time travel thing, just roll with it and have tissues ready. Regardless, this movie is just beautiful.
WORST
1. Replicas (2019)
This film was directed by Jeffrey Nachmanoff. William Foster is a scientist whose family dies in a car accident. He uses his cloning technology to bring them back and keep the truth hidden from everyone. Do you know what's the sad part about this movie? It was filmed here in Puerto Rico and the film's setting is in Puerto Rico. The movie is so boring, it felt like two completely different movies that were duck taped together. It had potential, but it wasn't developed well.
2. Knock Knock (2015)
Directed by Eli Roth, this movie follows architect Evan Webber, a devoted husband, and father, who is left home alone by his family during a long weekend. As he is working on his project, two young women knock on his door asking for his help. The young women turn on him and his kind gesture turns into a night of abuse and torment from the women. I hated this movie with a passion. So many things are wrong with it. I won't get into the ridiculously long list because this article will never end. Skip this movie completely, there are no redeeming factors to it.
3. Exposed (2016)
Directed by Gee Malik Linton, Detective Scott Galban tries to find out the truth about his partner's murder Detective Joey Cullen. This happens while Isabel De La Cruz experiences paranormal events. This movie was heavily edited and it was released as something that was not supposed to be and it shows. This movie is a mess. Through its cracks, you notice that it could've been an interesting story that was sadly ruined. 
4. Generation Um… (2012)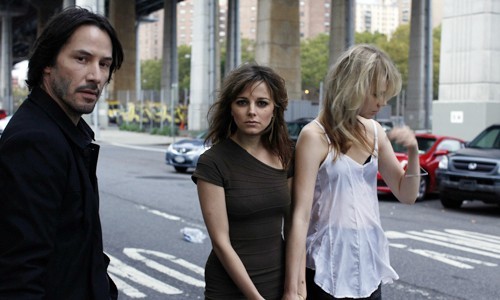 Directed by Mark Mann, it follows John, Mia, and Violet as they spend an entire day driving around, partying, doing drugs, and having sex. That's it. The title is fitting because I saw this entire movie and was going "um" by the time it ended because nothing happened in this movie. Skip, you'll be bored to tears.
5. Siberia (2018)
Directed by Matthew Ross, Lucas, a diamond trader who travels to St. Petersburg, to sell (drumroll, please) diamonds. When he arrives, his contact is missing. This forces him to travel to Siberia to find him. There, he begins an affair with a Russian woman. I like to describe this movie as "John Wick without any action or excitement". The movie could've been a cool thriller, but then the movie stops and focuses on the forbidden affair. Nothing ends up happening until the last thirty minutes, but by that time you don't even care anymore. What made this movie bearable for me was somehow connecting it to John Wick by saying how Siberia was a prequel to it and how Lucas changed his name to John after the events that happened in Siberia. Yeah, it's a boring movie and not much that makes it enjoyable or a fun time. 
And there you have it! These are some of the best and worst movies that Keanu Reeves has done. I learned a lot from this mission, mostly how to get through bad movies, but it was a fun time. Even if my soul left my body during some of these movies, it was still an experience. 
And there you have it! These are some of the best and worst movies that Keanu Reeves has done. I learned a lot from this mission, mostly how to get through bad movies, but it was a fun time. Even if my soul left my body during some of these movies, it was still an experience.