A Journey Through the Coppola Universe
Following the premiere of her seventh (7th) film, "On The Rocks", film student Ricardo Santana explores Sofia Coppola's filmography as director and screenwriter. This article is part of Santana's All I Know Is Absolutely More Than Nothing series.
Forging her own path towards the film industry, Sofia Coppola has made a name for herself. The now 49-year-old director has worked her way to the top, perfecting her skill behind the camera and setting her structure-and-pace landmarks in filmmaking.
Although this isn't a ranking list, examining Coppola's filmography is necessary to understand how her films have delightfully progressed.  From the downright presentation of teen angst within the privileged (The Virgin Suicides) to her upcoming film exploring a father-and-daughter bond once more (On The Rocks), the female director has laid the field to disseminate her groundbreaking work.
Her seventh film, On The Rocks, premiered on the Apple TV streaming service on October 23rd, almost 22 years since her debut feature. After premiering at the 58th New York Film Festival (NYFF) on September 22nd, the film received overwhelmingly positive reviews but was instantly compared to the hard-knocking realities of Coppola's previous works. What does this mean?
As a (struggling) film student, details aren't always as perceptible as they should be. The only film I had watched before starting this marathon was The Bling Ring, a star-studded 2013 length-feature film about the reckless lives of middle/high-class teens. Coming from an academic point of view, it stands solidly because of its alluring pace. Sometimes nothing is happening, and at others, too much.
I would like to call the following first three films the growing phase. As a first-timer, Sofia Coppola spins genres and topics to her own radar. As almost experimental or film-twitter enough, these pictures are innovative, even though they are not for me.
In chronological order, we start off with The Virgin Suicides (1999). In pastel-colored settings and love-and-death quotes, this story about five young sisters living in the suburbs was soon romanticized for its clever wording and beautiful stills. However, filled with mystery and a clear history of mental illness, these private school girls' lives soon turn dark: lust, daydreams about escaping, and a boys-will-be-boys narrative. Set in the 70s, everything could be attributed to a conservative and elitist way of living. White, middle-high-class, and alienated from their privilege, life was simple.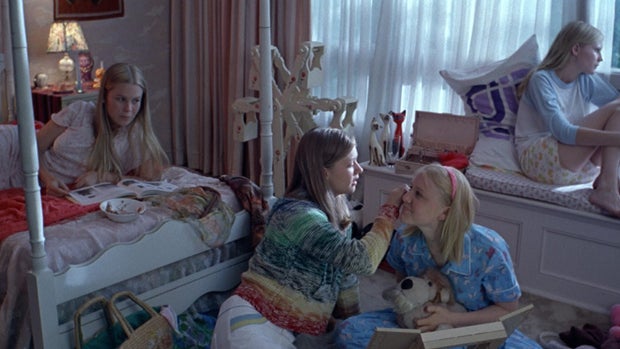 Paramount Classics Told from the perspective of a young–stalker–boy, it holds relevance in terms of girls being constantly sexualized and misunderstood. Coppola works with that in her favor, yet loses composure when the story derails from the individuality of each sister to them as a group. Evident plot holes, unfollowing events, and pointless details limit this movie's potential. But still, with this picture, I met the magic of the director's pace for the first time, a constant element throughout her career.
In Lost In Translation (2003), her second directorial feature, pace is the protagonist of this "love" story starring Bill Murray and Scarlet Johansson, as a famous actor in his prime years and a newly-wed graduated philosophy student, respectively. On a daily scope basis, the film presents how these two characters acknowledge each other on a trip that is both temporary and permanent. What seemed to be a nothing-is-happening picture is a tale of details and hidden messages.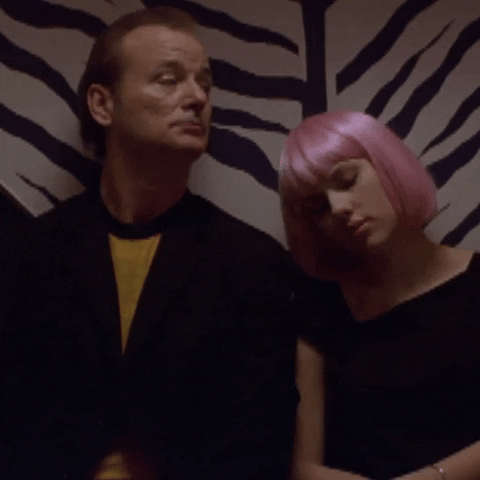 Focus Features / Giphy I've always been into slow-paced movies, but in Lost In Translation, time is heavy and slow. There's a constant pressure toward a relationship-building throughout the film (and excruciatingly), but the viewer is left without confirmation at the end. The dynamic between the two actors and their own lifestyles never collide, yet we see the repercussions of each. It's patient, yet, is it effective?
The same question is brought up in Marie Antoinette (2006), an anachronism of events that brings a new perspective about the queen of France during the 18th century. Marie Antoinette has everything it could have been: sophistication, a tight script, favorable cast and gowns, beautiful gowns. Aesthetics rule the film in different aspects: at times it converges with its mood board, and, at others, it encompasses the situation.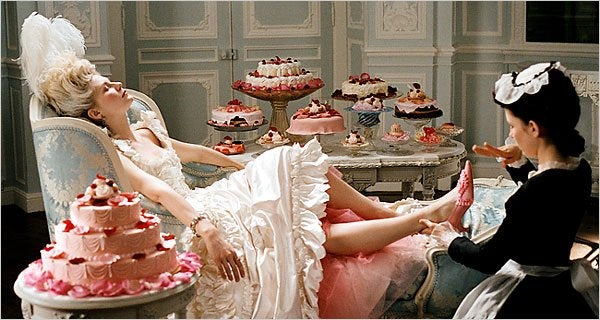 Leigh Johnson / Sony Pictures However, this fun dramedy is missing something from the very beginning. When the story begins to strive toward a more profound understanding, it abruptly takes a shallow turn and doesn't permit the development of an authentic catharsis. The extravaganza relies only on its appearance and, therefore, can't progress any further. 
The film captivates you from the first instance. Kirsten Dunst is hypnotizing, and subtle... way too subtle... THIS IS SUBTLE! This period piece lacks storytelling and character growth in a world where it was needed. Marie Antoinette feels superficial when it's supposed to be overwhelming. 
Sofia Coppola has a charm for third acts though, breaking the accustomed pace and wreaking havoc, as she should. Themes of consumerism, complete obliviousness from a privileged position, and female complexity are essential pieces for the development of the story. Something about these first three movies guaranteed a new wave of cinematic showcase, and she delivered.
I would like to call the upcoming three films the top three of Coppola's career. Their dynamisms wander moreover the same themes explored in the earlier installments, but with much more care and craft. These top three are the mold of what will determine her work as a fine director.
Somewhere (2010) is straightforward. For the first time, we encounter an effective use of pacing combined with its present setting. Something about Somewhere feels refreshing. Yes, we have heard this story before, but what makes it different from the others?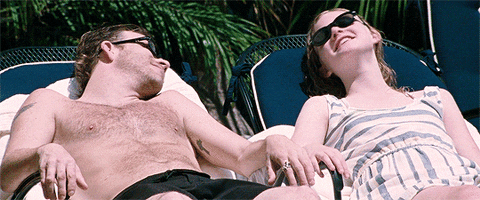 Filmin / Giphy Coppola as a director and screenwriter achieves, at last, the poise of simply expecting nothing. It's life, it flows; no big deal. Characters are real, even insufferable (right back at ya, Bob Harris from Lost In Translation) but portray the day-to-day of a famous actor beyond his prime years (once again, Harris). His emotional connection? His 11-year-old daughter.
The highs and lows of Californian life have made an evident appearance in her movies. From the famous to the "normies", the director paints realities with such ease. Even though Somewhere brings a human perspective to priorities, The Bling Ring (2013) makes an unprecedented surprise. The Bling Ring is a cultural reset. A nuance of pop culture and a reference to the luck of the privileged, it explores everything Sofia Coppola's features are about.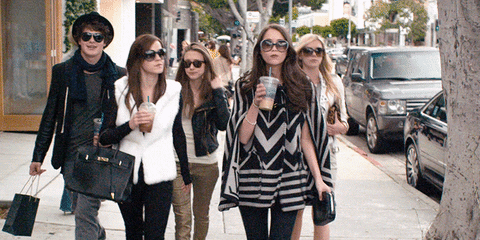 A24 / Giphy As audacious as it may sound, its production design, music soundtrack, and actual visuals bring Coppola at her finest. The film represents a segment of the population pictured as irresponsible and selfish. It hurts a whole generation, yet sheds a light on it. The combo of perfect light settings, incredible script, and portrayal of the deeply unsatisfied lives of California's most irrelevant help create a palette ridiculed on social media. This can be one of her most promising proposals to date.
Something Sofia Coppola has progressed into is her ability to capture emotions without the need to make them explicit. Her screenplays turn daring with landscapes and bold art choices that can easily translate to character traits or even wishes. The Beguiled (2017) is exactly all that turned into finery. Serving the talents of Nicole Kidman and Colin Farrell, and returning actress Kirsten Dunst, at last, are put to use when an already controversial story turns to its roots and is analyzed. Young stars are born with short, but breathtaking performances and the one-setting-ambiance helps build tension between the characters.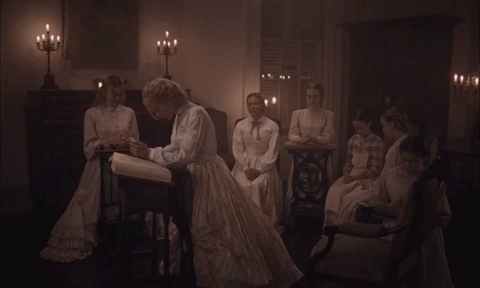 American Zoetrope / Giphy I managed to not spoil these movies, and I am proud of that. This filmography was attended with such detail and precaution so I could be as objective as possible. I confess that my admiration for Coppola started with just one film, but as I went through her catalog, it was a pleasure to enjoy her dedication to her craft from afar. Attention to detail, her witty jokes, her way of pronouncing emotions towards images… Visionaries are evolving from time to time and Sofia Coppola already has her own spot amongst Hollywood's greatest.
If you're looking for an in-depth analysis of some of the themes explored in her movies, you can check out this video that helped decide my journey through her filmography.