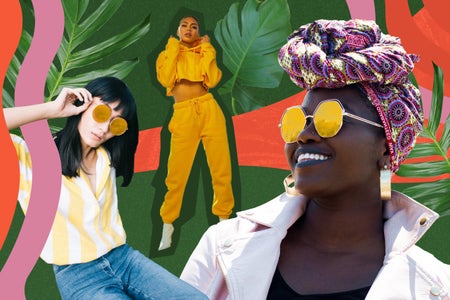 9 Summer 2020 Trends After Quarantine
Most of us have been living in loungewear for the past few months, with the occasional use of day-to-day clothes to keep in touch with our personalities or some sense of normalcy. Sweats, shorts, tanks, and t-shirts are reasonable pieces for indoor time-being, but there is a good reason we may feel different in our usual clothes. 
A phenomenon called the lipstick effect scientifically proves that wearing makeup and accessories are confidence boosters! 
For Summer 2020, fashion experts in Cosmopolitan and Glamour see an 80's energy comeback with hints of modern tastes for this upcoming June. Scratched down to a list, here's a set of trends to look out for: 
1.

Soft Prairie Girl Vibes

Although this trend has been circulating for a while, the premiere of Little Women back in 2019 surely fused the desire to dress like the March sisters, spreading all the way through to 2020. 

These square-toed shoes are ready to make a comeback for the warm weather. 

3.

Puffy Sleeves Are Still Here

The spring-summer transition last year brought back the milkmaid puff sleeves.  Accentuated with square necklines and floral prints, they help pull off the soft-girl look. 

Since the revival of 80's bikers, long-length shorts are here to stay. Switch around jersey shorts with classic denim shorts to get a sense of variety. 

Need I say more about this versatile feature? For a day under the sun or a night out (fingers crossed those quarantine regulations loosen up by then), you can never go wrong with this summer classic. 

6.

Drawstrings and Ribbed Tanks

This sporty element adds a flirty tone for tank tops and blouses, especially during warmer weather. 

7.

Color Palette: Pink, Orange, Butter Yellow, and Chartreuse

Pink and orange are a classic summer color block, while the nouveau butter yellow and chartreuse tones are making an entrance this year.

From single-prints to monochrome, trendsetters sported uniform-like loungewear during quarantine, as well as crop tops with matching bottoms. No surprise if this lasts throughout the summer. 

9.

Net, Macramé, Tote and Bucket Bags 

These airy accessories are made of lightweight material that helps you stay fresh on hot and humid strolls while keeping all of your essentials (wallet, keys, lip balm, mini fan, hand sanitizer, spare face mask) in one place. 
Fashion is more than frivolous sparkle or glam. It is a means of expression for the times, and when used responsibly, through ecologically sustainable choices, it can help you build the identity you want to communicate to others through aesthetics, as theorized by Roland Barthes himself. Get ready for Summer 2020 so you can hopefully rock those vacation vibes outside-- or at least appreciate them from the comfort of your own home. Remember to stay safe and fashionable this summer!