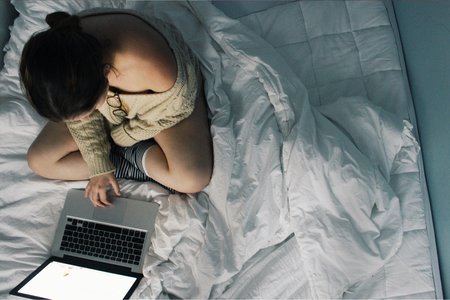 Anna Schultz / Her Campus
10 Recommendations for When You Just Really Need a Distraction
It's 2020 and we need all the help we can get to make it through this WAKING NIGHTMARE... which is why I've compiled my own sacred list of positive entertainment. These are podcasts, shows, movies, and Youtube channels that have helped lift my spirits these past few months. I promise you will find at least one suggestion here that will bring you some joy as well.
If you're not a regular podcast listener, this might sound like a depressing and violent listen. And it can be, but if you love true crime and comedy this one is top tier. For the faint of heart with a weak stomach, I would suggest episodes with more lighthearted or vintage stories - like the Great Molasses Flood of 1919 ( #144) or the Barbie Bandits (#203).

2.

How Did This Get Made?

Another iconic podcast, this one is great for self-proclaimed geeks and seekers of the insane. Join Paul, June, and Jason as they dissect one terrible movie after another and make comedy gold in the process. Some of my personal favorites are Beastly: LIVE! ( #197), Little Italy (#206), Hobbs & Shaw: LIVE! (#220) and Sleepaway Camp (#48).

3.

Middleditch & Schwartz

I may be biased because I'm in love with Ben Schwartz, but I'm certain this is the funniest special Netflix has put out all year. It's also unique because this is the first filmed improv special on the site, and Schwartz (Parks and Recreation, Sonic the Hedgehog) and Thomas Middleditch (Silicon Valley) are the best of the best. Due to the pandemic, there are currently only 3 episodes that take place in completely different settings: a parking lot wedding, a law class, and a job interview.

One of my favorite comfort shows, this series follows four teenage girls (and a British boy) in 1990s Northern Ireland during a period of conflict known as The Troubles. Once you turn on subtitles and learn some of the Irish slang, this show is full of hilarious and stressful hijinks, and surprisingly heartfelt moments. If you decide to check out one thing from this list, this is the best place to start.

If you're at all familiar with Buzzfeed Unsolved, then you'll love this series for Ryan and Shane, but I promise you'll still enjoy it even if you don't. While it sounds childish, it's not and if you want to be taught some cool history facts by the coolest professor ever, then go watch this show immediately. Oh, and it's also very funny and wholesome, which is the best combination.

This show has been on for 12 seasons, not including All-Stars or the UK and Canada versions, so it's a little hard for new viewers to know where to start. If you have Hulu, you can watch seasons 1-6, and the first two seasons of All-Stars - I recommend season 6 and All-Stars 2. If you have another service like Prime Video and are willing to pay for a more recent season, my other recommendations are season 9, 12, and All-Stars 4. If you're ready to be addicted to the cool runway looks, iconic quotes, and some questionable challenges, GO WATCH!

7.

UCB's CharactersWeclome

This is one of the first Youtube channels I go to when I'm looking for a quick laugh, and so far, none of these skits have ever let me down. If you don't know, Upright Citizen's Brigade is an improv theatre and school for up and coming comedians, and these videos showcase creative made-up characters and scenarios. Also "The Most Unpredictable Batman Villain Yet" is literally one of my favorite videos ever so, yeah.

8.

Have a Harry Potter marathon

Whether you're someone like me who hadn't seen a Harry Potter movie in a decade or an avid fan, it's never a bad idea to relive the magic (and also Draco...anyways). There are 8 movies in total that all clock in at least 2 and a half hours, so this will keep you busy for a while when you're bored at home. 

This animated Disney series is a great watch for literally any age, and it makes me very happy every time I watch an episode. On top of that, it has some of THE most fashionable characters on television - Grunkle Stan, Mabel, and (my king) Lil Gideon.

If you're like me and are constantly losing faith in people and struggling to see positivity in the world, a very easy solution to this feeling is to watch Robin Seplut's Youtube channel. It's full of countless adorable videos of him feeding and loving on stray cats around his city. These videos are also a great way to motivate yourself to volunteer and help out in your local area, whether it be with animals or any other cause that's important to you.
It's incredibly important to find healthy coping mechanisms to turn our minds off sometimes. I hope this helps!