Too Much Free-Time with Online Courses?
As we all know, the COVID-19 has completely taken-over social media, the news, our daily conversations, and even our ability to purchase toilet paper. Times are kind-of crazy right now! All of us Wildcats have been sent home to do online courses for a couple of weeks, leaving us with so much time on our hands. However, this extended time off campus does not necessarily need to be a bad thing! Yes, it is going to be tough not having a selection of coffee places at arms' reach (like Coffee Craving, Shack, Aroma Joes, The Works, Saxbys, Dunkin' Donuts… okay, you get it, Durham really has quite the selection). Yet – this can be a time for us ladies (and gents) to get outside of our comfort zones and try some new things! Here is a list of ten things that you can do to pass time in the comfort of your own cozy bedroom at home.
1. Start a New T.V. Series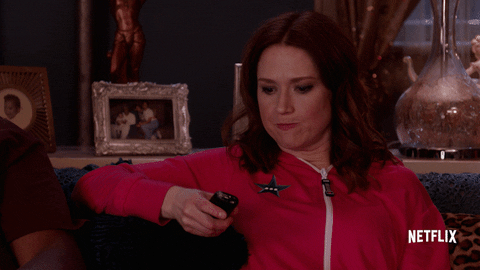 Netflix / Giphy
Want some recommendations from me? If you're a comedy kid, try watching Brooklyn Nine-Nine, The Office, or even Parks and Recreation. Is the romance or drama in your life kind-of dull? Try watching Friday Night Lights, One Tree Hill, or Gossip Girl – these plots have PLENTY of drama to share. Are you a true-crime buff like me? Start watching Conversations with a Killer: The Ted Bundy Tapes, or even Killer Inside: The Mind of Aaron Hernandez.
2. Make a Bucket-List for the Summer
Giphy Have you been dying to do a handful of things…but you just have not had the time to in the past? Well now is the time to plan it out! Put things that may scare you on your list (like cliff jumping) or some things that are more easily obtainable (like trying a new ice-cream flavor).
3. Learn a New Hair-Style (via. YouTube)
Giphy
YouTube is FULL of tutorials! If you've always wanted to learn how to do a French-braid or even how to curl your hair… now is the time to, my friend!
4. Try Online Shopping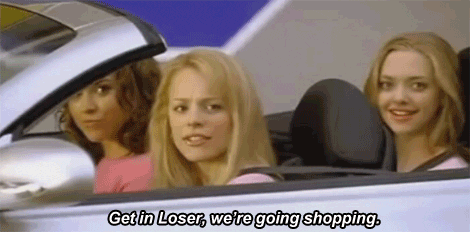 Paramount Pictures
We all have probably stalked some of those clothing and bathing-suit websites that have prices that seem almost too good to be true (like SHEIN, ROMWE, Zaful, etc.). Well, maybe it is finally the time to check them out. Place an order and have a fun, private fashion-show in the comfort of your own bedroom.
5. Finally Read that Book You've Been Putting Off
Giphy I know finding the time to read a book can always be difficult, but this is a great time to do it! I know some good books I have read and would recommend would be: The Giver, The Outsiders, and The Serial Killer Whisperer.
6. Try a New Recipe 
Giphy
Personally, I am not very interested in cooking. But this would be a great for people, like me, to try and cook something other than just bagels and cereal (is that even considered to be cooking?). Maybe we can "spice" things up and try cooking something like… pasta?
7. Make a New Playlist
Giphy
I know I am always hearing songs on the radio that I just have not had the time to download on my phone. This would be a great time to separate your "hype" music from your "feels" music.
8. Re-Arrange Your Room
Giphy Things looking a little "bleh" in your room? Maybe move your furniture around! Hang up some lights, update the photos on your walls, go crazy! I totally recommend checking-out Pinterest for some fun and easy DIY ideas.
9. Write a Letter
Giphy Know who would love to read a letter from you? Your grandparents or maybe even your bestie from campus that lives way too far away. All it takes is a pen and paper to make someone's day and they will love you for it.
10. FaceTime a Friend
Giphy Yeah, this one may seem basic – but we all know FaceTiming is a great way to pass time. Plus, you already know that you are going to be missing your gal-pals from Durham soon enough, so you might as well catch-up.