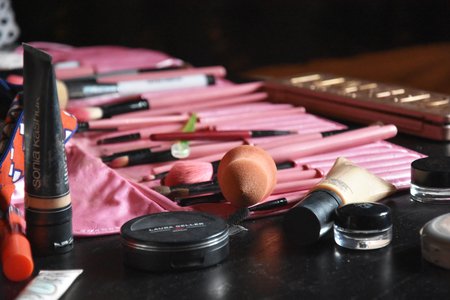 Anna Thetard / Her Campus
Let's Talk About Animal Testing
Cruelty-free is a label we see all the time on cosmetics but what does it really mean to be truly cruelty-free? Everyone has their own opinion about what is and is not CF. To me, a cruelty-free brand is one that does not test ingredients or finished products on animals ever, even where it is required by law (ex. China). This seems obvious but there are many brands that consider themselves cruelty-free but sell their products in markets where the government requires them to be tested on animals. For example, Estee Lauder claims to be cruelty-free because they don't test their products "except when required by law." In my opinion, this is false because their decision to sell in these markets is a conscious one and they are fully aware of the testing laws.
We all know PETA, right? They offer a process that brands can opt into that will give them a certification of being cruelty-free. This sounds pretty legit but when you look into it, you see that it is only an eight-question survey. The organization also accredits brands that test on animals where required by law; it does not confirm with ingredient suppliers whether they test on animals, and no audits are conducted. Basically, nothing is verified and it's pretty much based on the honor code.
That being said, you're probably wondering how are we supposed to know if a brand is actually cruelty-free if even one of the most well-known animal rights organizations is shady? Unfortunately, there is no concise answer but there are a few credible groups that can help. Here are two of my favorites:
Leaping Bunny is the most trust-worthy certification process available. Leaping Bunny confirms CF statuses with ingredient suppliers, does not accredit brands that sell where testing is required by law, audits are conducted, and re-accreditations are required. 
This is the Leaping Bunny logo! Brands have to pay to use it on their products, so if you see it, that product is authentically certified cruelty-free. 
Ethical Elephant and Cruelty-Free Kitty are two extremely informative and regularly updated blogs that help consumers to live cruelty-free. They both have very helpful lists of brands that are (and are not) cruelty-free to help us navigate the shelves.
Are you interested in learning more about cruelty-free beauty? Let's all make the switch and save the bunnies!
You can check out my Instagram to see the cruelty-free brands and products I love.