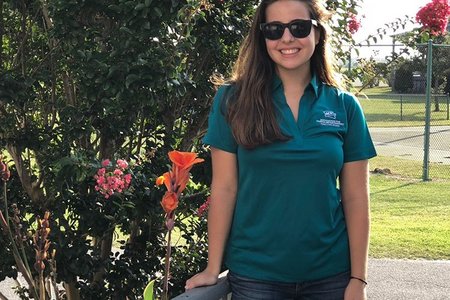 Courtesy of Emma D'Anjolell
Campus Celeb: Emma D'Anjolell
Name: Emma D'Anjolell
Major: Film and Communication Studies
Year: Junior 
Involvement: Association for Campus Entertainment (ACE), Orientation Leader (OL), and Flicker Film Society
Her Campus: How did you get involved on campus?
Emma D'Anjolell: I was encouraged to get involved during orientation. I loved the work orientation leaders did and was amazed by the number of organizations available at UNCW. I signed up for over 30 organizations in my first semester, but I wanted to find a group where I felt like I belonged. So, I ended up only sticking with a few.
HC: What are some of the organizations you're a part of?
ED: I'm currently the Activities Chair for ACE. Previously, I was the Spirit Chair for ACE, a general member, and an OL.
HC: I'm sure most students have seen ACE around campus, but can you tell us what ACE does?
ED: ACE plans and produces a variety of events for students: movies, concerts, gallery openings, Teal Tuesdays, homecoming, and other events. We want to give students the chance to take a break from school and have some fun on campus!
HC: Why is being involved important to you?
ED: Being involved has made me feel like I've made an impact on UNCW. I get to interact with all sorts of students and faculty. I like to think I help make students' college years a little better with the events ACE plans or the advice I've given students during orientation. Most importantly, getting involved as a student gave me a group that loves and supports me every day. I encourage students to get involved to make a place for themselves at UNCW.
HC: What's one you've done in your leadership roles that you're proud of?
ED: With ACE last year, I planned and ran Festapalooza, a traditional UNCW event that celebrates the last day of classes! We had everything from live music to free tank tops and food to some fun attractions! What's really awesome is that last year was the most successful Festapalooza we had! And, when I was an OL, I was told that one of my students felt encouraged to get involved and felt prepared for college because of me. Hearing that felt incredible.
HC: Are you looking for careers similar to what you do in ACE or any other leadership roles you've held?
ED: After being a part of ACE for so long, I'm leaning toward possibly working at a university in student affairs or event planning.
HC: Do you have any advice to incoming students who may want to get involved?
ED: Think about what you're passionate about or interested in and find an organization that does that or make your own! There are so many different things you can be a part of on campus. Try one; you may love it!