The BEST YouTube Channel for Halloween
Halloween is so close, you guys. For me, it's already here. I've been anticipating this for months and I've never been so ready. Due to my ridiculous excitement, I've been borderline binge-watching a YouTuber that I've loved for years. You may have heard of her—I hope you have because Mykie deserves all the love.
"Alexa, play Careless Whisper."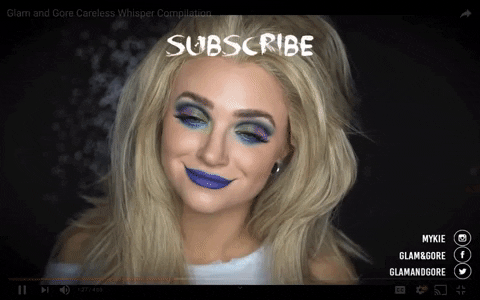 Mykie runs a YouTube channel called Glam and Gore (which currently has over 3.6 million subscribers) where she does makeup tutorials—usually with a twist. As her channel suggests, most of her looks can be categorized into either Glam or Gore or both. Mykie is a professional makeup artist in both beauty makeup and special effects makeup. She started making YouTube videos back in 2014, her first being "Mykie welcomes you to Glam&Gore!"
Over the years she has made roughly two-hundred and thirty videos, most of them being makeup tutorials (beauty and/or SFX). But she has also made some awesome videos about other things including making videos for YouTube (all aspects of production), some super helpful advice videos, and most recently GHOST HUNTING!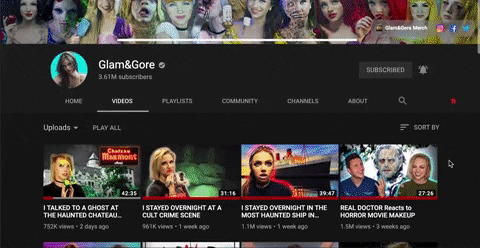 I was introduced to Mykie by my friend Sam (thanks, Sam). The first video I ever saw from the Glam&Gore channel was her 2015 NYX Face Awards Video—oh, yeah! That's pretty important! Mykie was NYX Beauty Vlogger of the Year in 2015. Those videos are beyond epic, so I definitely recommend checking those out if you haven't seen them.
As I mentioned before, she's been doing some Ghost Hunting recently, so given the time of year, I would love to talk a little bit about that. At the time of me writing this, she has released three for this year (with more to come) and they are all so incredibly fun to watch. The videos mostly consist of hilarious antics with her friends in some of the most haunted locations across the USA. 
So far, she has spent the night in the most haunted ship in the world (Queen Mary):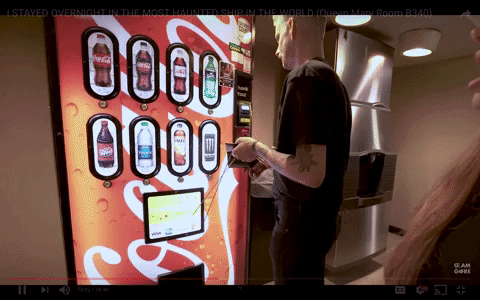 The most haunted hotel in Utah (with the beloved classic YouTube star Anthony Padilla):
and the Chateau Marmont (where there is actual footage of a ghost talking to her so it's definitely a must-see):
Currently, according to her Instagram Stories (@mykie), she is in Salem—so there's bound to be some epic ghosts to come.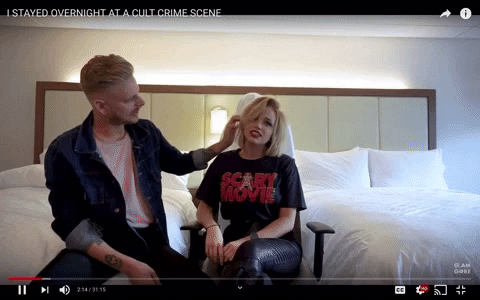 Last year's Halloween series was a collection of looks themed around some of the most haunted locations in the USA. There are more than pictured below:
Okay, so maybe you're not into makeup or SFX, or anything I've talked about so far. But, her videos are still definitely a necessity in your life, even if it's only for her adorable, vocal, and spectacular puppy Ripley.
GO SUBSCRIBE/FOLLOW/ADORE:
https://www.youtube.com/user/GlamAndGoreMakeup/featured
https://twitter.com/glamandgore
https://www.instagram.com/mykie/
Despite this article's title saying "for Halloween" Mykie is really perfect for the entire year. Go subscribe and enjoy! 
[Photos courtesy of Glam and Gore YouTube channel and Instagram]
[Gifs created using Giphy from clips of Glam and Gore videos]