8 Cool Places in NC to Put on your Bucket List
When I moved to North Carolina, I didn't know much about the state or the many beautiful destinations within it. I decided to get to know the state I've been living in a little more, and share the incredible places within North Carolina that are definitely bucket list worthy!
1.

Great Smokey Mountains National Park

The state's national park, the Great Smokey Mountains, is a must-visit in this state. It has incredible scenery and hiking trails, and is home to the Road to Nowhere, a mountain highway that ends in a tunnel. Its prompt ending resulted after environmental issues halted construction and it was deemed too expensive to finish, leaving the road with an unfinished sense of adventure.

The Outer Banks is the classic North Carolina vacation destination, with plenty of things to do. Visit the piers and boardwalks, the lighthouses, the horses on Currituck Beach, or the Inn at Rodanthe also called Serendipity, a scenic vacation home right on the edge of the water.

Cameron Smith / Her Campus

Grandfather mountain is a state park in the Blue Ridge Mountains, and is home to the famous Mile High Swinging Bridge, attracting tourists from all over. It also has a nature museum and would be a great day trip!

4.

Hanging Rock State Park

Another state park, Hanging Rock has a campground, hiking trails that end in beautiful views, and rivers leading to flowing waterfalls. It's also home to many rocky overlooks that I'm sure would be a blast to explore.

5.

Chimney Rock State Park and Lake Lure

Chimney rock state park is named for the huge rock rising out of the ground, resembling a chimney, and hosting some of the best views in all of North Carolina. If heights aren't your thing, the gorgeous Lake Lure is nearby and open to tourists who want to enjoy a wide range of water activities, from kayaking to water skiing.

This iconic destination in the Pisgah National Forest may have a long line, but the fun is worth the wait! Throw on a bathing suit and slide down the rock into the chilly stream below, a great way to cool off in the summertime.

Slightly eerier than the other places on this list, the abandoned Land of Oz theme park's yellow brick road is still intact on Beech Mountain, and is open a few times each year for visitors to walk down. The park was only open for 10 years, but the abandoned theme park is now a favorite destination for many fans, and is a unique sight to see.

This is the site of the first gold discovery in the country, and the beginning of North Carolina's gold rush, which was the largest in the country before the rush to California. Although it's no longer a functioning mine, it's now been restored and turned into a tourist destination, with tours that take visitors through the actual mine tunnels and even a place to pan for gold yourself!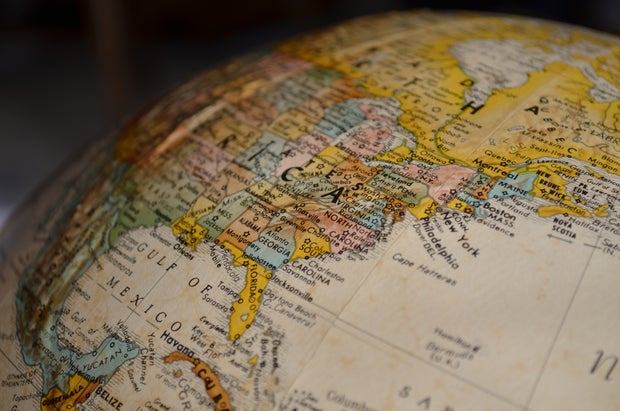 Photo via Pixabay on Pexels If you're in North Carolina, even if it's just for a couple of days, be sure to check out a destination or two from this list, or find another scenic destination! No matter what you want to see, there's something to be found in North Carolina! A day trip to the Reed Gold Mine, or a weekend visit to Grandfather Mountain would be the perfect relaxing break from a busy semester.