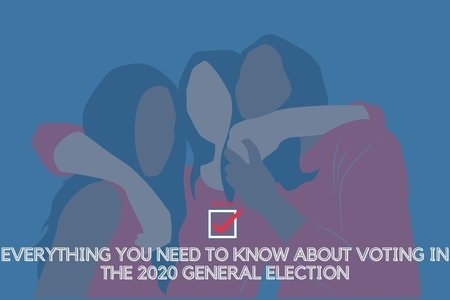 Design by Camrin Buchholz
Your Guide for the 2020 General Election
Earlier this year, I released an article telling you everything you need to know about voting for the 2020 Primary Election. I received a lot of feedback from college students saying that this helped them be prepared for the election. Now, there's even more at stake. A seat in the Supreme Court will be filled, many Americans are still financially suffering from the global pandemic and Missouri is only a few weeks away from the election. Last Tuesday was National Voter Registration Day and in honor of that, here's everything you need to know about voting in the 2020 General Election.
The deadline to register to vote in Missouri is Oct. 7, 2020. If you have moved, changed your name or are registering for the first time, click here. To make the process easier, select that you are using a phone or tablet so you can apply 100% online instead of printing and mailing a PDF. If you are unsure of your voting status or just registered to vote, check your registration status online here to see if you're ready to vote, where to vote and what will be on the ballot. The polls are open from 6 a.m. to 7 p.m. on election day. If you need help getting to the polls, ask a friend or family member. Some ride-sharing services such as Lyft will offer free rides to polling locations. Remember to bring your mask and your ID to vote!

This has been a touchy subject lately in American Politics. Our president has cast doubts in the mailing system and news across the country has spread of mail-in ballots being tossed for something as simple as an envelope tear or a missing hyphen in the name. My advice is to vote in whichever way that you feel the most comfortable. If an absentee ballot is the safest option for you, go for it. That being said, be very careful in following the directions and write your name the exact way that it's registered. If you live in the state of Missouri, you can find your absentee ballot application here. The deadline to apply is Wednesday, Oct. 21, 2020. Please apply sooner to allow for the appropriate time for the Secretary of State's office to process your application, send your ballot and for you to find a notary and mail your ballot. If you're struggling to find someone to notarize your ballot, UMKC's website lists several on-campus options! 

Always look over your county's ballot prior to voting so you can thoroughly research each candidate before you vote. I recommend using multiple media sources, both right and left-leaning. If you'd like to learn more about what's going on in Missouri, check out electiononline.org for information on absentee ballots, the board of elections and more.
Your vote is needed now more than ever. I hope this gives you all of the resources you need to be an active and mobilized voter. See you at the polls on Nov. 3!