Studying Abroad Without Traveling: Queen Sweets and Mediterranean Grill
Last summer, I studied abroad in Amman, Jordan for four weeks, learning to speak Arabic after two years of study at UMKC. It's stereotypical, I know, but my study abroad experience really changed my life. I learned so much about the Arabic language and Jordanian culture in four short weeks, and I marvel now at how many new experiences I had in that time. One of those experiences that I miss terribly is learning Arabic words for local dishes, then going to a local restaurant with my classmates and teachers to put our learning to good use. In America, we categorize all food from countries near the Mediterranean Sea as "Mediterranean," but in reality, there is so much diversity. For example, I thought the Yemeni food I tried while in Jordan was closer in style to Mexican food than Middle Eastern food, and my host family's salad recipe was more similar to a salad I'd make in America than the tabouli salad I'd get at a Greek restaurant. 
Knowing this diversity, I was extremely excited to try Queen Sweets and Mediterranean Grill, a local Jordanian restaurant. Based in North Kansas City, Queen Sweets and Mediterranean Grill now has another location in Lenexa under the same name. They're open for indoor dine-in, delivery and pickup from 11 a.m. to 8 p.m. Sunday to Monday. 
When I entered the restaurant, I was transported back to Amman. From the Arab music to the slideshow of a distinguished man (probably a famous singer), it reminded me of the cafes I spent my weekends studying in, drinking tea and people watching. The server was prompt and friendly, getting our order in quickly and checking on us occasionally. 
For an appetizer, my friend and I got the baba ganoush, which I can describe best as an eggplant dip that's slightly thinner than hummus. The portion was huge, the dip was just thick enough to stay on the pita bread and the spices and tahini elevated the dish to the next level. When it came to entrees, we got the lamb shawarma and the falafel plate. The shawarma was "the best in the United States," according to my friend (I cannot independently verify this claim, but you should go and try for yourself!).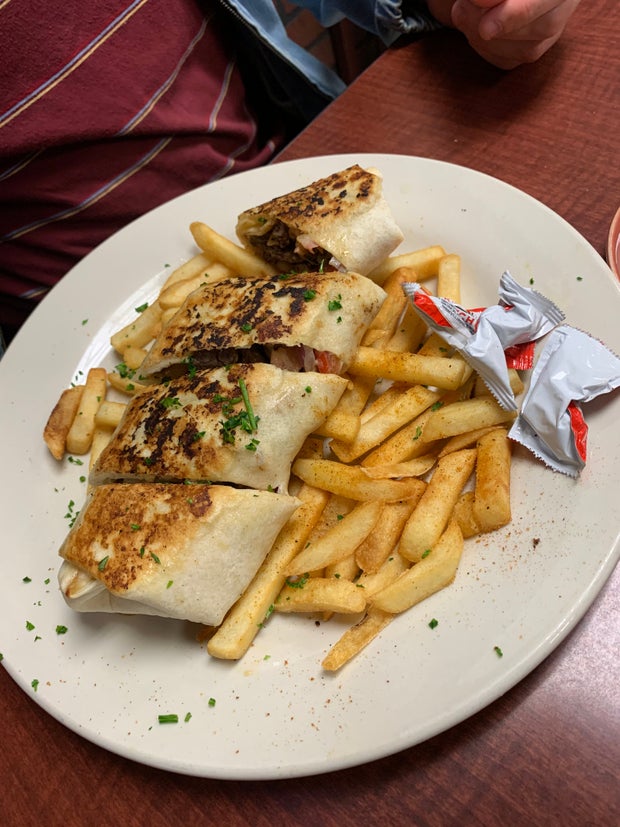 Original photo by Caroline Moriarty
My falafel was crispy on the outside and moist on the inside— a perfect combination. I love sauces, so between the baba ganoush, falafel sauce and hummus on my plate, I was in food heaven. The fresh vegetable salad had the perfect light oil-based dressing and balanced the fried chickpeas well. We also shared a mint tea, which had fresh leaves in the cups and a mild flavor. My only complaint from the whole night is that they didn't have my favorite dessert, knafeh, but honestly, I was so full from falafel that it wasn't an issue!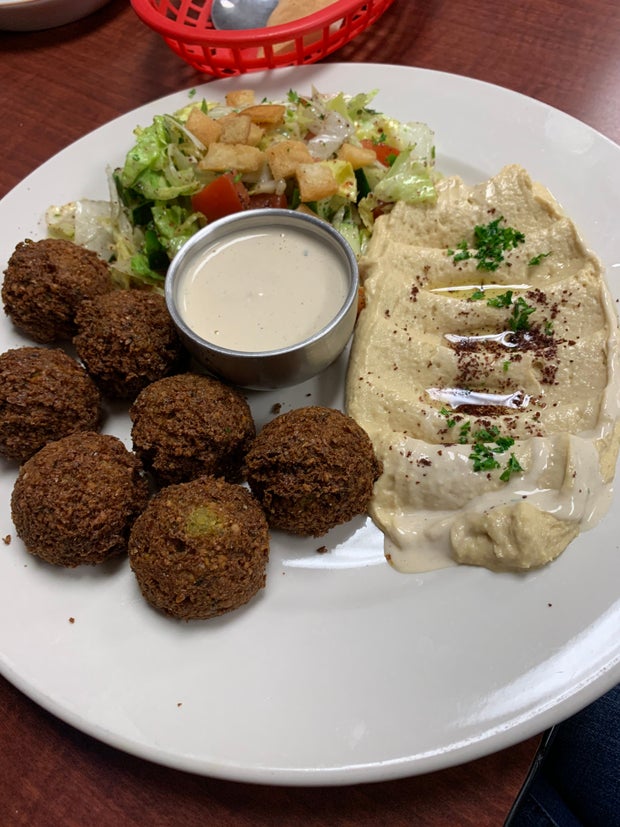 Original photo by Caroline Moriarty
Queen Sweets and Mediterranean Grill gives you the opportunity to have an authentic Jordanian culinary experience without traveling across the ocean for it. Their restaurant has amazing food, classic Arab vibes and great customer service. I know I'll be going back again soon, and I hope you'll try it too.