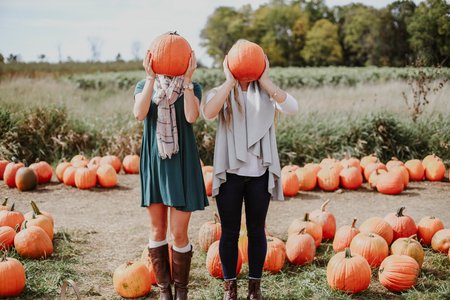 Breanna Coon / Her Campus
Fall Fashion Trends for 2020
Fall is arguably the best season of all. One of the main things that I love about it is the fashion. Cooler weather means wearing more sweaters and taking advantage of being able to show off more of your fashionable pieces by layering up. Each season, there are new trends that everyone ends up raving about and shopping for. By the time many of us find out about it, the trend is almost over and it's not even worth purchasing those items anymore. Here is your chance to get ahead of the game this fall. 
These are as comfortable as they are stylish! They're perfect for staying chic during those colder outdoor activities like visiting pumpkin patches, haunted hikes or corn mazes. They're easy to incorporate into your outfits by pairing them with your favorite pair of jeans and some cute booties. Put one on and you're bound to feel like a bougie, richer version of yourself.

Personally, this one isn't much my style; however, adding fringe to your favorite basics definitely adds some flair. Whether it's on a jacket or the bottom of a pair of pants, fringe is bound to spice up your fit. The only downside I can think of is that fringe on your sleeves may end up getting in the way, depending on the activity. 

These can be incorporated into your outfits in a number of ways, but I recommend sticking to having jewel colored tops or jackets. These are also a great way to transition your wardrobe from summer to fall, since they provide a burst of color in your outfits. Your shades of citrine, emerald, sapphire and ruby are sure to have heads turning.

This is a fairly broad category. My go-to: plaid pants, paired with a chic black sweater and chunky boots. Not a fan of the plaid pant look? Other ways to incorporate this trend into your wardrobe include wearing dark colors and pleated miniskirts!

Adding more metallics to your outfits is a subtle way to add some flair to your look, and I'm not talking about jewelry. Heavy metal tones like gold, silver, copper and bronze are an easy eye-catching twist on pieces. If this isn't really your thing, I suggest adding small metallic pieces to your outfits, like a purse or shoes that fit the trend!
Fall outfits and wardrobes are the easiest to dress up or down. It's important to have fun with it! If you're very into fashion, I highly suggest trying to incorporate some of these trends into your fits to be fashion-forward. If you're not someone who follows fashion but you want to add something extra to your wardrobe, I recommend any of these tips! At the end of the day, make sure you're wearing something that you love and feel comfortable in.