The Top Five Café Crazes in Chicago
There's nothing better than sipping a warm cup of your favorite french vanilla latte. Try mixing it up a little and going out of your comfort zone at one of the top rated cafés in Chicago. Have cookies and coffee by a toasty fireplace, while relaxing with a good read. Dive deep into the heart of Chi-town!
Seeking brilliance? Caffé Streets in Wicker Park has a modern European vibe that screams inspiration. Its tall, wooden ceilings and greenery make up the aesthetic appeal. It is an adequate study zone, due to its comfortable seating, wifi providing, and thought-provoking atmosphere. Although attractive, Caffé Streets would be nothing without its alluring coffee choices. The menu features a wide variety of inexpensive flavors and brews, including specialty drinks. For starters, try their Monkey Latte (with real organic banana, agave and molasses), Homemade Chai (with organic spices, black tea, agave and molasses) or their famous Spicy Hot Chocolate. Whether you are looking for something fruity and refreshing or warm and inviting, Caffé Streets has it all.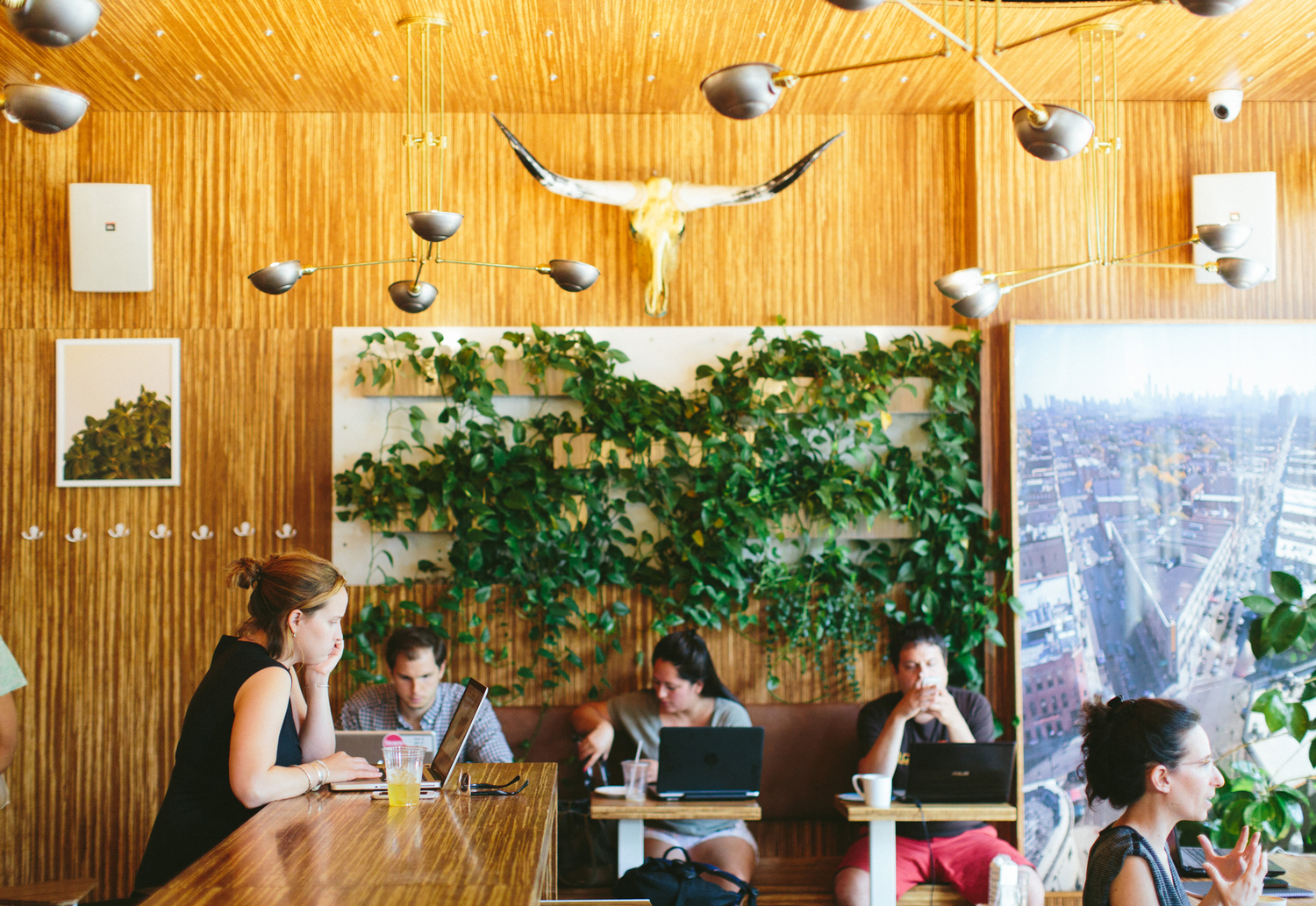 With all of those meetings, phone calls, appointments and activities, Big Shoulders Coffee knows you are busy. That is why they are known to be one of the preferable choices when scavenging for a quick cup of joe. Customers have reported to be in and out in a matter of only four minutes! That's impressive. A brisk stop off of the Chicago Blue Line makes it conveniently reliable. In contrast, if you are someone who likes to leisure at a cozy and quaint café, Big Shoulders has unlimited free refills- perfect for all the caffeine cravers!
Unleash your inner artist at Dark Matter Coffee in Chicago. Creativity is key, and that is what makes them unique. Beginning with the atmosphere, painted images on each wall envelope the room in an azure blue, crimson red and sage green blend. Each location is a little bit different, with its own accent of decorative string lights, hanging potted plants or neon lettering. Dark Matter Coffee is like no other, due to their ¨Black Magic'' specialty lattes. Their drink menu consists of Drip Coffee, Red Eye, Cortados, Americanos, Lattes, Espressos and various flavors of Iced Coffee. They are also known to be highly rated for their signature coffee of the day, keeping customers on their toes to see which blend will be featured next.
Intelligentsia, located in Millenium Park (as well as its other various Chicago locations), is wildly famous for their french roasted coffee. Award-winning coffee combinations will erupt your senses with their beautifully designed brews. Intelligentsia knows that brewing is the last but not least important step in your coffee's journey. Therefore, each cup is hand-crafted with technology such as a french press, cafe solo, V60 & Pourover, and/or a Chemex machine. Discover excellence. 
Coffee for nearly five stars? Count me in! This highly-rated beverage can be found at Metric Coffee Co. Whenever you are looking for luxury, your cravings will guide you here. Espresso drinks, warm baked goods, and industrial-chic are the ingredients to a pleasant experience. Metric Coffee is specifically recognized for their house-roasted beans, served both toasty or chilled. There is also the option to purchase coffee grounds online, such as the Colombia Drigelio Becerra, Colombia Nelson Chaves or Ethiopia Wolichu Wachu. These coffees can produce more of a summery, flowery vibe, with the sweetness of a Sunday morning.