Many times when we think of a fangirl, we imagine a pre-teen girl with a Harry Styles obsession. While in a sense that is true, the depth of what a fangirl truly is, is oftentimes disregarded. There is a significant difference in just being a fan and then being a fangirl. So what is a fangirl? To put it simply, we are the groupies of the 21st century. Our lives are dedicated to supporting a human and their art that we have yet to meet. It is not an individual concept, it comes with multiple communities that live respectfully side by side one another usually through social media platforms. 
I was 10-years-old when I was first introduced to the One Direction fangirl community. I was sitting on my cousin's staircase when I came across a song called "Stand Up" by One Direction. After the first listen, the British and Irish boy band had me hooked. I needed to find a place where I could share my love for them and their music without being judged. Tumblr and Instagram did just that for me. I would follow fan accounts that dedicated their pages to announcing the bands new music, merch, and events.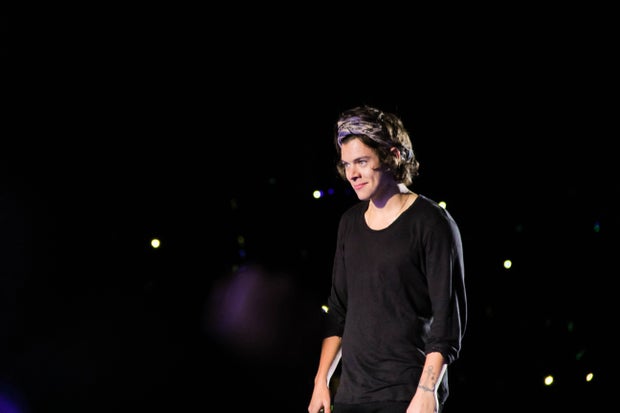 Photo by Javierosh distributed under a CC BY 2.0 license
Although these fan accounts were usually run by high schoolers, they held power and had a purpose. Some fan accounts consisted of 100,000 One Direction fans commenting and liking unseen photos of the artist. Not only would these accounts update the fans about the band's life, but they also began to profit from their accounts by making their own merch that they would sell to other fangirls. Some of my favorite accounts include Infinitelyharry that is dedicated to updating fans about Harry Styles's life, career, and music, Sunflowerdesignco_ that is centered around embroidered crew necks with some of the bands famous lyrics, song titles, and album covers. 
Fan accounts are not the only outlets fans would use to express their love. Some may recognize the movie After as a classic teen romance that centers around the typical bad boy and the good girl. However, every Harry Styles fan will recognize the movie After was originally a fanfiction written by fangirl Anna Todd. Todd's story was originally a Harry Styles inspired fantasy that fangirls would indulge in. The main character, Harden, who is seen in a black t-shirt and tattoos is meant to resemble 2015 Styles. Without the passion the fangirl community had for Styles, Anna Todd's series After may have never happened. 
It is clear that being a fangirl is not simple and rather a full time job. Hours are spent crafting, writing, and researching in order to keep the fan base updated. The dedication that these communities hold have led to books being published and movies being made. So, the next time you meet a fangirl, thank them!