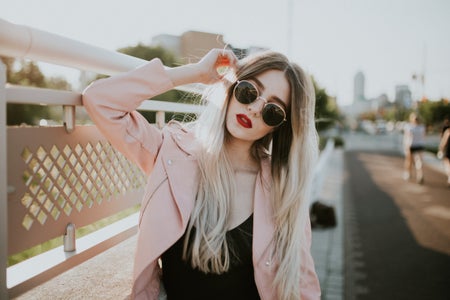 Arianna Tucker / Her Campus
A Guide To Spring Fashion
Spring fashion is all about bright colors and fun patterns. It is about feeling free-spirited and empowered, ready to start new beginnings. OOTDFash.com is where you can find stylish, seasonal attire, from date-ready rompers to workout-ready activewear. This site is exactly what every girl needs to kick off her spring wardrobe.
This Luna Dress is light and form-fitting, to accentuate all of your feminine curves. A red, flowery pattern is drizzled upon the white backdrop of the dress, tied with a small knot upon the chest. A simple, trendy touch. Feel free to spice it up with your favorite matching pair of a translucent tote bag and sandals. A gray or tan sun hat will top it all off, and soon, you'll be ready to enjoy the sunshine and sweet weather.

Spring is a time for new beginnings, meaning new styles and chic designs. It's no doubt that this black and dark amber Roxy Set checks our fashion wish list! Off the shoulder, trumpet sleeves are bold and sophisticated. The matching, high-waisted skirt has the same pattern, with a lettuce edge trim. Adding a high, messy bun will give it a snatched, fresh look, especially paired with dangly earrings. Black or tan accessories complement this set effortlessly, such as a nude handbag. This outfit screams drinks with the girls, or a night out downtown. 

 

Take on spring fashion with a splash, in this unique Kylee Smocked Dress. The sleeves are loose and comfortable, coming together at the wrist, then bursting out at the ends. With an adjustable drawstring detail and unusual linings, this dress is truly like no other. Want to level up your outfit? Stack some silver jewelry or coin necklaces, with muted extras.

Done with dresses? Try these new Tobi High Rise jeans and Kinley Snake Print top, from ootdfash.com. As the weather gets hotter, so does your style! Tall, midnight black, open toe boots are truly making a statement here, especially when you rock them with confidence. Gold jewelry and a Gucci handbag are exactly what your closet desires.

When glamour meets informal, the two worlds collide into a pink, satin Linda top. This piece can be styled up with a skirt, or dressed down with ripped jeans. A material like this is made to be worn with poise. After you include a long, mini purse and short booties, you will have the finalized look.

Who said that comfort can't also be cute? Whether you're running errands or having a chill movie night, this THREE piece Nichole Set is a must have! The soft, ribbed material is a nice break from uncomfortable jeans. Offset the nude tones with a muted green handbag and matching open toe heels. Loose waves or a messy bun is exactly what this outfit calls for. These natural colors will allow the focus to be on you, instead of your vibrant clothing.

Pop off in this insta-worthy attire! Mint green will steal the scene like never before, as it is a perfect shade for spring's color scheme. This new Karly Set features a laced-up, criss-cross tie in the front, calling a spotlight to the trendy, puffy sleeves. After the complimentary crop top, a similar skirt follows in suit. It is high-waisted, with an alike look to it. The only accessory that can bring this outfit from ordinary to extraordinary is a milky white, pearl purse. No matter how your day is going, you will always feel ready to take on the world with this item.

Picture yourself cruising the sea on a catamaran. What are you wearing? An all-white, beachy yet chic, Jessie Set. If you are searching for an outfit that is both sexy and sweet, hop right into the dressing room and try this on! Delicate, lettuce detail on the neckline meets a loosely fixed bow. A tan hat or summery headpiece will bring some life back into the outfit. Don't forget to match your manicure!

9.

Easy Like Sunday Morning

Light orange and lemonade yellow are the most lively, seasonal colors. Next time you are hanging out with the girls, try styling an oversized t-shirt with ripped jeans and your favorite heels. You can make the outfit seem more put together by having your hair and makeup look presentable. That wired, push-up bra was starting to get uncomfortable, anyway!

In black or white, this Tiffany Dress will steal the show, as all eyes will turn to you. It will even match your date's suit! The silky material is lavish and lush, fit for a woman of style. Prepare for a romantic evening, wearing nothing but the best.