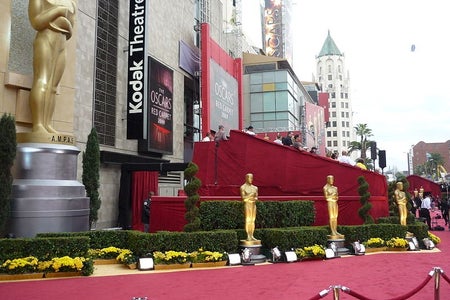 92nd Annual Academy Award Predictions
The 92nd Oscars are set to air February 9th at 7pm CST. Most people don't pay attention to the Oscars; I for one am admittedly one of them. However, this year is a year that can't be ignored! Very many phenomenal actors, actresses, producers, directors, and many more have been nominated for such outstanding work, I believe this will be one of the most difficult ones to date! If you haven't already seen the 2020 nominees, allow me to announce them for you!
Best Leading Actor:
Antonio Banderas "Pain and Glory"
Leonardo DiCaprio "Once Upon a Time...in Hollywood"
Adam Driver "Marriage Story"
Joaquin Phoenix "Joker"
Jonathan Pryce "The Two Popes"
For these nominations, I would really like to see Joaquin Phoenix win this award. His portrayal of such a grotesque and wretched character was so incredibly well-done. He depicted this character with such conviction, I wouldn't be surprised if Phoenix won this one.
 
Best Supporting Actor:
Tom Hanks "A Beautiful Day in the Neighborhood"
Anthony Hopkins "The Two Popes"
Al Pacino "The Irishman"
Joe Pesci "The Irishman"
Brad Pitt "Once Upon a Time...in Hollywood"
Have you ever seen such a star-studded nomination list with so many greats? From Joe Pesci to Tom Hanks, the list is definitely a hard one to choose from. If I had to personally pick one, I would pick Tom Hanks to win this one for his portrayal on Mr. Rogers. Tom Hanks has not won an Oscar since 1995 for his role in Forrest Gump. 
I believe his portrayal of such an iconic character (especially one that many of us grew up with) deserves a well-merited Oscar.
 
Best Leading Actress:
Cynthia Erivo "Harriet"
Scarlett Johansson "Marriage Story" 
Saoirse Ronan "Little Women"
Charlize Theron "Bombshell"
Renée Zellweger "Judy"
I don't think there is a clear-cut winner for this category, but I would like to see Renee Zellweger win this one. Zellweger has not been consistently on the acting scene since 2016. While she has been in a few movies here and there since then, she has made it a point to announce her full-fledged return in her new movie "Judy" about the belated Judy Garland. Many know Garland's story was filled with hardships and suffering. Renee Zellweger has not won an Oscar since 2004 for Cold Mountain. 
I think it would be pleasant to see her win an award to welcome her back into her acting career.
Best Supporting Actress:
Kathy Bates "Richard Jewell"
Laura Dern "Marriage Story"
Scarlett Johansson "Jojo Rabbit"
Florence Pugh "Little Women"
Margot Robbie "Bombshell"
Not sure how I would vote for this one as I feel this is a tie. I really liked Scarlett Johansson in "Jojo Rabbit" but Margot Robbie in "Bombshell" was phenomenal as well. Neither women has won a Golden Globe or an Oscar, so I would be pleased if either received an award for their tremendous work.
There are so many more nominees and categories that I won't waste energy with a breakdown of each category. For my remaining picks to win on Sunday, I will underline my preferred winners.
Best Animated Feature:
"How to Train Your Dragon: The Hidden World"
"I Lost My Body"
"Klaus"
"Missing Link"
"Toy Story 4"
 
Best in Cinematography:
"The Irishman"
"Joker"
"1917"
"Once Upon a Time…in Hollywood"
 
Achievement in Costume Design:
"The Irishman"
"Jojo Rabbit"
"Little Women"
"Once Upon a Time…in Hollywood"
 
Best Director:
"The Irishman"- Martin Scorsese
"Joker"- Todd Phillips
"1917"- Sam Mendes
"Once Upon a Time…in Hollywood"- Quentin Tarantino
"Parasite" - Bong Joon Ho
Best Music Score:
"1917" - Thomas Newman
"Joker" - Hildur Guðnadóttir
"Little Women" - Alexandre Desplat
"Marriage Story" - Randy Newman
"Star Wars: The Rise of Skywalker" - John Williams
These are just a few of my predictions set for the 92nd Annual Academy Awards. It will be interesting to see if I'm correct with any of these categories. Will I be right? Will I be absurdly wrong? Well, we will find out on February 9th! I did leave out many categories and nominees, so if you are interested, you can find the full list here.