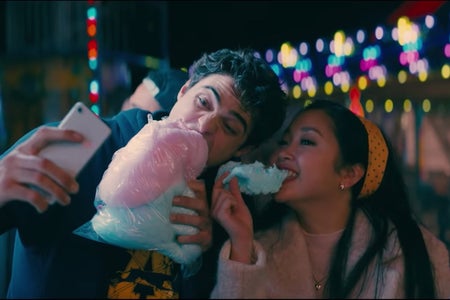 You've Seen The Movie, But Have You Read The "To All The Boys I've Loved Before" Trilogy?
I'll admit, I saw the movie before I read the book. I fell in love with this story when I pressed play on the Netflix movie I had never heard of before. Peter Kavinsky was undeniably charming and handsome, though Noah Centineo's social media can get a bit cringy. Laura Jean Song Covey is the perfect young adult character and Lana Condor's portrayal of her is quite honestly spot on, and her wardrobe is to die for. The costume department for this movie really went above and beyond. Overall, the casting was impeccable. I love John Corbett. Just like in one of my other favorite films, Ramona and Beezus, he always plays the lovable, tries-his-best-but-always-falls-a-little-short dad. Kitty is adorably mischievous and Margo looks like the wise older sister who knows all. I could not have imagined any of these characters better in my head.
I was obsessed with the movie, and I talked about it way too much to anyone who would listen or even pretend to listen. That's when my very own Peter Kavinsky, except blond instead of brunette and more the artist/singer type than a lacrosse player, decided to buy me the book. I read it in one day. I rewatched the movie, and this time I appreciated just how great of a job they had done adapting the story to the new medium. Then I dove into the second novel. This one is currently in the works being made into another Netflix masterpiece, and the anticipation is building. This time, the story is complicated in new ways. What happens when you're perfectly content in this version of life and then someone comes along from the past that shakes things up a little? We are excited to see how John Ambrose McClaren, who we got just a glimpse of in the first film, shakes Lara Jean's world like a snow globe. His looks are known to rival Kavinksy's, and having two handsome boys in one film is not something to complain about. Every girl that loves a good YA novel appreciates a love triangle. It's basically a part of the genre's formula! We will also get some deeper explanations of why Gen is so horribly horrendous, see sweet moments between our favorite Covey family and see how Lara Jean blossoms in her new role as Peter's official girlfriend. Her future also includes lots of new friends and high school experiences she wouldn't have otherwise.
Finally, we desperately hope that Jenny Han's third and final book of the series, Forever and Always Lara Jean, will get its own movie adaptation. Perhaps I am alone in this, but this was hands-down my favorite book in the trilogy. It didn't have flirty newness of the first story, when Peter and Lara Jean first haphazardly fall in love by accident. It doesn't have the changing friendship dynamics and love triangle complications like in the second story. In fact, it is more of a slice of Lara Jean's life: senior year, trips, the last of her big high school experiences, loss, a new member of the Covey family, and simple, sweet, memorable days with Peter Kavinsky.The relationship has grown and blossomed into something more real than either of them ever imagined. It's honest. The reality of college decisions and dreading the life changes that are inevitable in one's senior year. It's comfortable. I felt like I was living alongside Lara Jean as she baked dozens of chocolate chip cookies for Kitty, asked Margo for countless pieces of advice, watched television with her dad and went on road trips and movie dates with Peter. She's fearful of the future and rejection. Everyone seems suspicious and doubtful that the love the two teenagers have for each other cannot survive a 3-hour drive between their respective colleges. I'm not going to lie, it gets messy as the two try to navigate how love can transform and endure new phases, but first, they have to decide if it's worth it.
While we are talking about Peter, let's discuss the fact that this character development is on a whole different level. Lara Jean makes Peter soft. She's cute, witty, intelligent and complicated. He can't quite figure her out and he loves it. Whether he admits it or not, she is way out of his league. Peter goes from the unemotional, only known for being hot and athletic, popular, cool guy heartbreaker to a real person who puts his heart out there enough to actually be afraid of getting hurt. Like the Grinch, his heart grows three sizes that day he first sees Lara Jean differently than all those years as kids when they were friends. He is caring, thoughtful and protective of Lara Jean, her family and her reputation. We love this new and improved, softer version of THE Peter Kavinsky.
It all comes down to this. This is why you should read these incredible books: Lara Jean is so freaking lovable. She finds joy in the tiniest details of life. She loves scrapbooking, planning the most aesthetically quirky outfit and tweaking a recipe 14 times until she's absolutely perfected it. She loves her family with her whole heart. She's relatable: her thoughts are messy and jumbled, they revolve around food and cute boys and college acceptances. She's a great big sister. She's a planner, but through the relationships she has with Chris, Kitty, Peter and Stormy, she learns to be a bit more spontaneous.
Lara Jean is lovable and Peter Kavinsky, the too-cool-for-school guy who never liked to show his emotions, is head over heels in love with her. The romantic gestures he pulls in the third book are something you could've never expected from the Peter Kavinksy in Jenny's first novel, and that's just it. Her novels say more than we might originally give them credit for. It's about more than young love and teenagers falling in love right as life begins to be more complicated.These books are about more than a high school girl you can't help but root for no matter how many times she embarrasses herself. It's more than a story of loss and how a family evolves as sisters become little mothers and life goes on, but never quite the same. It's about how love, of any kind, brings out the best in you. Sometimes you love someone so hard and you spend so much time around them that it's hard to imagine who you were before you met them and to be honest, you really don't want to. Lara Jean would not be Lara Jean if it weren't for her dad, Margo, Kitty, Stormy, Chris, Gen, John, Josh, Ms. Rothschild, or Peter. She is more than herself because she is the little pieces of all the people she loves and who have loved her along the way. Without a doubt, Peter Kavinksy would not be who he is without Lara Jean.Hurry and read these books quickly so we can obsess together! You won't be able to put them down! I hope you grow to love these characters and their endearingly messy lives as much as I do.