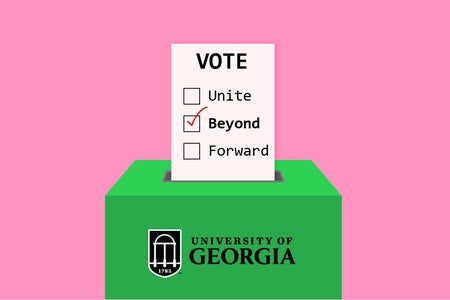 SGA Executive Office Elections: An Interview with Beyond
Voting for UGA's executive ticket elections begins on Feb. 24 at 8 a.m. and will run through Feb. 26 at noon on the UGA Involvement Network! Beyond is one of the three tickets running, consisting of Briana Hayes, Hannah Payne and Matthew McDaniel. Hayes is a health promotion major with a minor in health policy and management from Baxley, Georgia, who started and leads RISE, a club that empowers and connects rural students. Payne is a public relations major with a minor in political science minor and a public affairs certificate from Rome, Georgia, who has been involved in SGA since her freshman year and is also involved with Alpha Gam. McDaniel is an accounting major from Snellville, Georgia, who is involved in HEROs, a group on campus that works to improve the quality of life for children affected and infected by HIV/AIDS. Beyond's campaign seeks to "create, engage and uplift a unified voice for the student body." Her Campus UGA interviewed Briana and Hannah to gain a deeper understanding of what Beyond stands for and who they really are.
1.

Why did you choose to run on an SGA Executive Ticket?

Briana Hayes: Someone once told me to always ask questions. Questions like: Why do I look like what I look like? Why do I come from where I come from? There were times in my life where I didn't always know the answer. As a little girl, I remember being unable to understand why the color of my skin make my teachers or my friends treat me differently. My first year of college, I didn't understand how someone who came from a small town like I did could find a community and her space here at UGA. If someone were to have told me back then that I would have found a home here, become Miss UGA, and even find the courage to run for Student Government Association president, I don't know that I would have believed it. Now I know the answer to the question of why I look like what I look like and why I come from where I come from. I needed to be able to feel isolation and insecurity for a season of my life in order to be a sincere and passionate advocate for others who have felt what I've felt myself. It's why I started RISE. It's why I volunteered in this community through Extra Special, Thomas Lay and Campus Kitchen. It's why I carried a milk jug around my hometown as just a little girl to raise money for the Boys & Girls Club my family built from grassroots. Now, it's the reason I'm running for SGA president. I realize that the difference to be made extends beyond myself, and I want to continue advocating for this place that I love.

Hannah Payne: When I came here my first year, I had all kinds of expectations. I wanted it to be the best four years of my life. I wanted to be successful. I felt what a lot of first years feel — the pressure to check off the checklist that means "success." This pursuit was overwhelming. When I look back at my journals from that time, I see words like "I feel rejected," "lacking community" and "I don't belong." It wasn't until someone saw those feelings in me and asked if I should talk to someone that I realized it was okay to not be okay. Working through that with someone was a game changer for me. And that's why I am running. I want to share that with others. A mentor of mine put it best when she said to me, the most powerful thing you can say to someone in their struggle or situation is, "I do too." I want to hear people's stories on this campus and tell them mine. I want to tell people that while we may not have the same struggle that I do, I am with them and for them. It's time UGA has an intentional conversation about the realities of student's struggles and what true success is . This starts with engaging the community. That's why I chose to run. I will say that that choice to run was also extremely impacted by the person who asked me to do it, Briana Hayes. I have been friends with Briana since my first month on this campus freshman year and there are few people that inspire me more. When she called and asked me to do this, I couldn't tell her no because I know that she is what this campus needs and that she is in this for the right reason. Bri is in this to uplift community and that is a cause worth sharing.

2.

What other organizations are you involved in on campus?

Briana: Dean William Tate Honor Society, Miss University of Georgia Competition (Miss UGA 2019), Campus Kitchen and UGArden.

Hannah: The Dean William Tate Honor Society and Alpha Gamma Delta.

3.

How does it feel to be running for a prominent position within SGA as a woman?

Briana: It is very humbling. I never would have imagined that I would be in this position, but my hope is that through doing this, a woman running for office doesn't become something that is out of the ordinary.

Hannah: Honestly, it comes with a lot of pressure. We as women represent the majority on this campus and there are a lot of issues that directly impact us. While I understand that I cannot represent every woman on this campus, I also know it is my duty to make sure a woman's perspective is heard and we have a seat at the table. When it comes to sexual assault, mental health or other prominent issues, it's our obligation as women on this campus to speak up because no one advocates for us better than we do for ourselves.

4.

What advice do you have for women who desire to serve in leadership positions?

Briana: My advice for girls and women is not to limit themselves. Take it from a "pageant girl"—you're so much more than your hair and your makeup, your clothes and your size. It's your mind that's beautiful and your drive that attracts people to you. For the past three summers, I've competed in the Miss Georgia Pageant and then traveled for modeling before finishing up my summer working at the welding business my grandmother owns and my mother manages. With that being said— go for that position. Strive to occupy that space that is not typically held by women. I cannot promise that problems will not arise. There are still days during the summer when I feel like my mom, grandmother and I have to go the extra mile to prove to our customers that we're qualified to run the business that we do, but I know that it's not in vain. With every woman and every girl that takes a step of faith toward a new position, we make the path clearer for the women and girls that will follow us.

Hannah: As women, people sometimes treat you differently and place different expectations on you. Recognizing this, I have always lived by the motto that even if I have to create my own seat at the table, I deserve it. In everything, my advice would be to represent your truest self. Your leadership begins with who you are in your daily life and how you stick to your values while also having a mind that is open to learning from others.

5.

At the SGA Executive Ticket Debate, you supported existing institutions like the Senate and the UGA App. How do you plan to expand the reach of platforms like these?

Briana: Every year, Student Government turns away bright individuals with brilliant ideas from Freshman Programs. I believe this contributes to the conception that SGA is exclusive. Under my tenure, I want to expand SGA's reach by implementing the "President's Task Force" in which first-year students who are not offered a position within Freshman Programs can work directly with me on special projects around campus and in Athens-Clarke County. I am confident that this is an efficient and effective way to include the perspective of more students in student government. Additionally, a part of our platform is to implement a "University Community Roundtable" which would give student leaders outside of student government the opportunity to directly correspond and collaborate with Administration. We want to give multicultural groups, NPHC, IFC, Panhellenic and organizations from all corners of campus the chance to advocate for themselves.

6.

How do you plan on making SGA more visible and accessible?

Briana: One of the platform points that we're most excited about is "#WTFSGA" which stands for "What to Fix?" We want to place tablets across campus that students can use to send us a message about a part of campus they think needs fixing. We believe this is a simple and convenient way to make SGA more accessible to every student. Additionally, we want to start "Listening Nights" in which a representative from the Student Government Association will attend another student organization's general body meeting to simply listen. We think that it's important for us to make the first move in creating relationships with organizations. We also want to extend invitations to student organizations to attend our Senate meetings in attempt to work on legislation that benefits them and advances their unique causes.

7.

What is your best advice for freshmen?

Briana: Be yourself because who you are is enough. If someone were to have told me that I would serve as Miss University of Georgia and have the opportunity to run for Student Body President, I know that I wouldn't have believed it. I'm a minority student; my family literally lives on a dirt road. I think that what granted me these unique opportunities is that I never shied away from that. Yes, I have an accent. No, I'm not a part of the majority, but that's what has made room for me. Authenticity is what draws people in. Be unapologetically you and be patient; you will find yourself in places you never would have imagined. 

Hannah: Lean into discomfort. This was a piece of advice given to me back in my Dawg Camp days, but it has defined my college career. Coming to a new place, with new people and new ideas can be a little uncomfortable, but that is what makes UGA so special. When you lean into discomfort, you will learn more about yourself and the communities around you than you ever thought possible

8.

What would your advice be to a student who is interested in getting involved with SGA, but doesn't know where to start?

Briana: Student Government is where I first found my community at UGA, and I couldn't recommend it more. Now, candidates are running for Senate seats; however, every year, many seats are not filled by the end of elections. Students who are interested in becoming a part of SGA should visit https://sga.uga.edu/ and look out for applications to appointed Senate seats. Also, applications for Cabinet positions will open later in the spring semester. Students can visit the website to apply for those as well!

Hannah: My first piece of advice is to vote. Each student is already a member of the Student Government Association because they represent you. If you want to be even more involved, then contact your senator or the current exec about opportunities to work on a project or collaborate. As an organization, SGA sometimes fails to serve as a resource for students, so I would also say vote for the ticket that will not only invite you to the table but pull up a chair for you. Beyond is all about getting others involved and not promoting ourselves, but the community as a whole. Community is how you bring people together and uplift the places every student calls home. 

9.

​How do you think your background and experiences have contributed to what you are advocating for?

Briana: When I was 8 years old, my best friend was having a birthday party and a sleepover. She told me that her mom was going to allow me to come to the party but that I wouldn't be able to spend the night because I was black. I remember being told that I couldn't be the princess in the Disney movies because I was black. I couldn't be smart because I was black. I wasn't pretty because I was black; my mom always had reservations about putting me in the school pageants because girls of my complexion were never really given a fair chance. These are the things that I experienced throughout my childhood that made me think the color of my skin was a misfortune. I remember wishing that I could look differently and change who I was. With everything, I wish that I could've told myself to look up. I do what I do because, if I can help it, I don't want other black children to grow up thinking that they can't be intelligent, beautiful, handsome, talented and worthy because of the color of their skin. They need to see role models. They need to see black presidents, black valedictorians, black doctors, scientists, lawyers and even beauty queens so that they know that there's room in the world for them to be successful. This is part of the reason that I'm so passionate about dedicating the Chapel Bell to Dick Cary and Sam Watkins, two enslaved peoples who were required to ring the bell for the University of Georgia back in the 1800s. For me, this would be a way for our institution to send a message to children of color across the state to say that there's a place for them here because we care about them and value their perspective and what they have to bring to the table. 

Hannah: I came to the University of Georgia like I think a lot of students do: feeling the pressure to check off a checklist and be "successful," but it was overwhelming. That year, with the encouragement of someone in my life, I talked to someone about how I was feeling. Doing this helped me work through the transition to college and realize that my time here was what I made it. While this was a hard time for me, it reminded me that everyone struggles in life. Students can only be their best when their health is supported mentally, emotionally and physically. This is why I want to advocate for students to have more accessibility to physical and mental health resources. If I had a one-hour bus ride to go to seek mental health resources, I probably wouldn't go through with it.  No student should have finances or accessibility as a barrier to seeking help. 

10.

Now, some fun questions! What is your favorite study spot (on or off campus)?

Briana: The turtle pond on South Campus is the most peaceful place, and I can get a lot of work done there! 

Hannah: The MLC Jittery Joe's

11.

What is your favorite restaurant in Athens?

Hannah: Cali N Tito's is the best, by far.

Briana: I'm with Hannah on this one; Cali N Tito's is the best! 

12.

What is your favorite UGA bus route?

Briana: I'm personally a fan of the Health Sciences bus route because it takes me to the Niche (one of my favorite spots), and it also stops right in front of my favorite nail salon! 

Hannah: I honestly love to walk to campus. UGA is so beautiful and getting to walk through campus every morning is always the best way to start my day. However, if I need to get somewhere quick, I will usually rely on Orbit to have my back. 

13.

What are you currently watching on Netflix?

Briana: Empire is currently my best friend.

Hannah: The West Wing

14.

What is your go-to coffee order?

Briana: All of my Paw Points are gone this semester because of Starbucks caramel frappuccinos.  

Hannah: Medium roast black coffee is always my go to!
You can visit Beyond's campaign website here. Make sure to check out our articles about the other tickets running, and don't forget to vote on the Involvement Network before February 26 at noon. The winners will be announced the same day at 5 p.m.