Meet the Women Leading UGA's Student Government Association
These interviews were conducted by Maggie Cavalenes, current Her Campus UGA Campus Correspondent and UGA's Student Government Association Executive Director of Communications.
For the first time since 2011, UGA has a female student body president. Senior Rachel Byers leads the executive branch of the Student Government Association, and four of the six remaining spots on the executive board are filled by women. This article is meant to help students get to know more about the women leading UGA's SGA!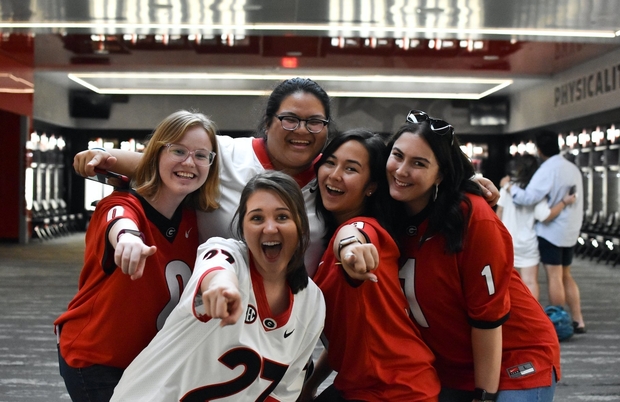 From left to right: Maggie Cavalenes, Johanna Mercurio, Rachel Byers (below), Melissa Hevener, Hayden Kolodziejcyk
Maggie Cavalenes, Executive Director of Communications
Hometown: Cumming, Georgia
Major: Public Relations
Johanna Mercurio, Executive Director of Student Engagement
Hometown: Dacula, Georgia
Majors: Psychology, Human Development and Family Science
Rachel Byers, President
Hometown: Monroe, GA 
Major: Political Science
Minor: Communication Studies
Melissa Hevener, Vice President
Hometown: Biñan City, Philippines
Majors: Public Relations, Political Science
Hayden Kolodziejcyk, Chief of Staff
Hometown: Roswell, GA
Major: Political Science
Minor: Criminal Justice

What's a fun fact about you?
MC: I was very briefly on the Today Show in July of 2019.
JM: I can solve a Rubix Cube in under one minute!
RB: Ben Rector sang "Happy Birthday" to me on my 18th birthday!
MH: I have never been to Taco Bell. 
HK: I spell my last name incorrectly more than I spell it right!
What does your role in SGA entail on a weekly basis?
MC: In my role as the Executive Director of Communications, I oversee everything that goes out on our social media channels (follow us on Twitter, Instagram, and Facebook)! I also direct the communications team which is comprised of eight students, and act as a liaison between other members of student government and the students I direct, like the photographers, videographer and graphic designer. 
JM: As Executive Director of Student Engagement, I oversee 20 members in cabinet and their projects and initiatives. A main part of my role is to make sure my people have the resources and direction to carry out their goals and projects, so I'm usually texting, emailing, and meeting with my cabinet members to make sure this is being carried out.
RB: Lots of meetings! One unique part of my specific role is that I serve as the student representative on various university and state-wide boards such as the UGA Alumni Association Board, UGA Foundation Board of Trustees, University Council Executive Committee, and University System of Georgia Student Advisory Council. Outside of these commitments, I spend the rest of my time meeting with administrators and faculty from various departments to work together to improve campus and implement our platform.
MH: I wouldn't say there is a "typical" SGA week; every week is very different depending on upcoming programming, projects, or other things going on in the community. I will say that quite a bit of my week entails emails, setting up meetings, or working on programming. My role is unique this year from previous years in that I take on a more non-legislative role. My focus now is mostly on the special projects and programming pieces.​
HK: My role within SGA involves a lot of different moving parts. On the most basic level, my job is to manage all of these moving parts—whether that be our members, upcoming projects, in-progress projects, or anything else under the sun. It is also my job to stay constantly in the know with all of these moving parts. Therefore, a lot of communication regarding SGA consumes my day. 
Why did you want to be a part of SGA?
MC: When SGA reached out to me about this role, I was surprised because I hadn't been involved with it before. I had always followed the elections through The Red & Black but never pictured myself involved in the group. Saying yes opened me up to a whole new community of people and a ton of great experience working with students and faculty all across campus. I still feel like I should pinch myself sometimes when I look around the meetings and wonder if I'm really on the same team as people I used to read about! 
JM: I was first told about SGA because a family friend encouraged me to join freshman programs during my first year. I was looking forward to meeting people and make some friends during my first months at UGA, and the community building along with the ability to pour into community service was a huge draw for me to join SGA through Forum. After my first year, I was more interested in creating policies to enact change, so I joined senate for two years before transitioning to my role in the executive branch this year!
RB: Coming from a small school with few resources for students, I was amazed by the opportunity and number of resources and support provided to students at UGA. SGA plays a huge role in creating new resources or improving current ones, so I wanted to play a part in that tangible change that can happen on campus. As a senior now at UGA, I can speak first-hand to the value and opportunity to make the student experience better through SGA. Making UGA home for every student has become my personal goal this year, and I am excited to see what all we will accomplish!
MH: I wanted to be part of SGA my first year at UGA because I wanted to specifically improve the Spring welcome experience. Coming in as a Spring student, I saw an area for growth to improve the Spring start experience for undergraduate students. I initially wanted to address this sole concern, however, after realizing the impactful platform SGA provides, it was easy to continue to advocate for students that tend to be underrepresented.​
HK: To be honest, at first I wanted to join UGA's Student Government Association because I was a member of a similar organization in high school. However, as I grew up through SGA over my four years here, the reason I kept coming back was because of the people and the drive that they have to make a difference. 
What's your favorite part about being in SGA?
MC: The people! I never would have met a lot of people who I am so happy to be friends with now without this opportunity. Being the new person in an established club can be scary, but it has been totally worth it. Everyone has the common goal of making the student experience better and it's awesome. 
JM: My favorite part about being in SGA is seeing how ideas can transform into tangible things that positively affect life here at UGA. I think it's cool seeing the enthusiasm, hard work, and grit transform into things that will last way beyond our time here at UGA.
RB: My favorite part about SGA is the community. Seeing so many different students from diverse backgrounds come together with the common goal of making campus better is an encouraging thing to witness. When students with different perspectives and experiences come together, the opportunity to make a difference on our campus is so great. SGA has given me not only my best friends, but my greatest mentors who continue to guide me and pour into me beyond my involvement in SGA.
MH: My favorite part of SGA has and continues to be the people. The people involved in SGA are invested in improving the experience at UGA. Being surrounded by a community that challenges me to do more to advocate for others continually pushes me to be a better person. Furthermore, through advocacy in SGA, I've grown to appreciate the community at Georgia more through the varied lived experiences of others.​
HK: Again, it's the people. While my job is mostly making sure things go smoothly and making sure other people get their work done—I am able to see the drive and the passion. They constantly inspire me to do more and be more.
Learn more about the Student Government Association here.