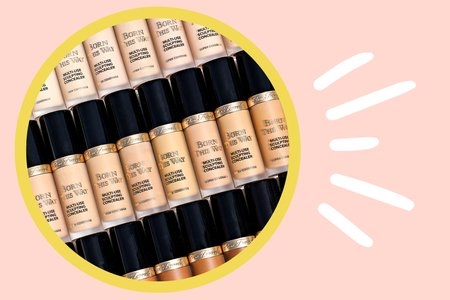 I Tried a High-End Concealer and I'm Never Going Back
This Christmas, I was lucky enough to get a Sephora gift card from my family. I knew immediately what I wanted to use it for, but I was definitely nervous to try and find one that I liked. I'm usually pretty cheap when it comes to makeup so I get drugstore brands, but my concealer was almost gone (and was also too yellow for my skin— especially in the winter). I entered Sephora on a mission, and I was definitely successful. I've tried Tarte products before and really liked them, but I didn't love the price tag. Since I had the gift card, I tried on a few options but ultimately ended up splurging on the Rainforest of the Sea Aquacealer Concealer ($26)! 
The name is kind of a mouthful, but I really loved how buildable it was. It's fine to wear alone when I've got some blemishes but also when I'm doing a full face of makeup! Tarte is also known for their Shape Tape Concealer ($27), but that was a little bit heavier than what I was looking for. My shade is fair-light, and as you can see from the pictures, it does a really good job of covering up my chin acne. I only used the concealer on my chin in the second photo—I'm all about quick and easy makeup looks (aka, some concealer and maybe a swipe of mascara or two) to give me a boost of confidence! I didn't realize how much my previous drugstore concealer was truly lacking until trying on Tarte concealers!
Tarte is a very ecologically mindful company. They're committed to cruelty-free, vegan products with no parabens, phthalates, or mineral oil in their ingredients. Tarte was founded by Maureen Kelly, a Columbia University PhD dropout who wanted to create an eco-chic makeup brand. In a note to her customers on the release of Tarte's Athleisure brand, Kelly said, "I believe that feeding your skin with essential nutrients is just as important as nourishing your body…why should you have to choose between beauty that works & beauty that's good for you?"
After I made my purchase, I looked more into Tarte and found out that the company landed in some hot water a few years ago when they were accused of having too little diversity in their shade options. They have since added more shades to their Shape Tape foundation and concealer products in an effort to be more inclusive. Their Shape Tape line currently has 30 shades available in their concealer and 50 in their foundation, but there's still only 12 shades in their Rainforest of the Sea concealer (but there are 30 shades in the line's foundation!). Seeing as it's 2020, I hope Tarte adds more shades to make this concealer inclusive as well . More people deserve access to this line! As a consumer, it never hurts to be knowledgeable about the brands we support so we can have a full picture of what the brand stands for. The next time you're at Sephora or Ulta, don't forget to check out Tarte's offerings of foundations, concealers, and other makeup must-haves!
Photo courtesy of Laura Cavalenes.