12 Badass Black Girls On Television
Black girls are so cool. The way they handle tough situations, navigate relationships, save lives and make us laugh all while being beautiful, smart and interesting is nothing short of magical. Television has been showing black girls in unique and genuine roles that show them being brave, talented and quirky. But they're all bosses at the end of every episode. Here are 12 (or more) of the most badass black girls on television right now.
1. Anissa Pierce, Black Lightning
Anissa is an activist, an educator, a med student, a lesbian and a superhero. We get to see her lean into her powers as Thunder and are truly blessed to see her light up our screens and shake all the tables. She is smooth AF with girls (hello?! We've already seen her get with at least three girls on screen, amazing?!) super determined and always has a new, fierce hairstyle each episode. The duality of her intersectional identities never feels forced or awkward to watch, and despite her powers, she's incredibly relatable and admirable.​
2. The Pussycats, Riverdale
Look, we know Riverdale is a terrible show. And we're right, it is. But I appreciate the fact that they decided to turn this famous girl group into a powerhouse of black girl magic. Look at their various skin tones! Their hair! Their relatable desire to be successful and collectively intolerate anyone's crap! This group is amazing and deserves to be celebrated despite being doomed to being written by Riverdale writers!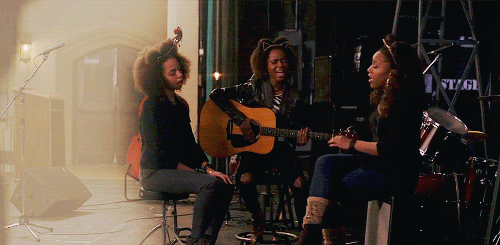 3. Zoey Johnson, Grown-ish and Black-ish
I do believe that Grown-ish as a show fumbled the bag a bit with what they could have done with the modern college setting, but Zoey is extendedly relatable to Gen Z black girls and the show is only on its second season. She has to navigate the world of (stupid) boys, social media and transitioning to university life all while being a fashionista. It's hard to balance life as a college freshman, but watching Zoey do it is like watching a richer, more fashionable, more put together (but not at all put together) version of yourself do it!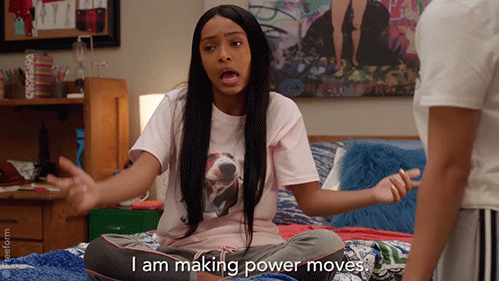 4. Kat Edison, The Bold Type
In the words of John Mulaney, we do not have time to unpack all of what makes Kat Edison such a wonderful character that I would die for. She's a bi disaster (a teasing term used to describe bisexuals as they are understood to be incredibly awkward no matter which gender they're courting) and we get the satisfaction of watching her grow into her sexuality and her leadership position as the head of the Social Media Department for Scarlet Magazine. Kat is honest, funny, outgoing, the absolute rock of her friend group and is probably one of the most authentic depictions of the modern black girl on television.
5. Olivia Pope, Scandal
Years from now, black women everywhere will be saying that Olivia Pope and Annalise Keating (she will show up later) are what inspired them to go into law or public relations. Olivia Pope up until about season six uses her brain, her law degree and her superior communication skills to clean up political scandals each week. She's well spoken, educated and quick on her feet—but even she needs time to relax in her apartment with red wine and chocolate from time to time. Watching her shoulder wild burdens and make tough decisions makes it easy to root for her again before season six and is enough to make us jump for joy whenever her inevitable victories happen.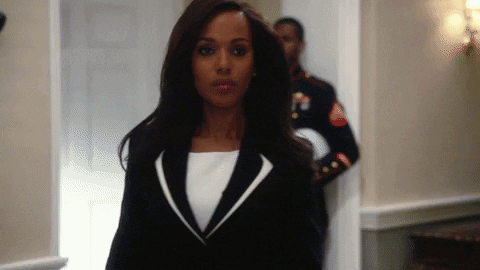 6. Annalise Keating, How To Get Away With Murder
Annalise Keating is not here to play any games with anybody at any time. She is here to teach her students how to get away with murder, cover up murders and try to shine the light of justice in the darkest of corners all while battling her alcoholism. She and Olivia even did a crossover once! It was badass. And the world combusted for a moment when those two met, I swear.
7. Iris West, The Flash
I didn't like Iris at first; I thought she was awkwardly miswritten and mishandled for the majority of her screen time. She's grown on me lately, though. As a journalist she's quick on her feet and always searching for the truth, and is practically the leader of Team Flash now. She and Barry are (finally!!) married, and watching their romance makes my heart warm and my eyes a little bit teary.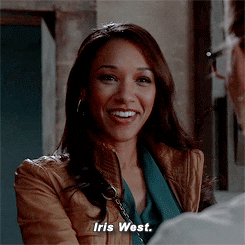 8. Missy, Big Mouth
This show is a bit raunchy, but Missy is the cutest, most awkward cutie pie I've ever seen. She's a bit of a nerd, so watching her awkward interactions with Andrew and with life in general is a treat because she's almost eerily relatable. Missy is you, you are Missy. She's the cutest, weirdest thing but she is amazing and she and her little fro must be protected at all cost.
9. Grace Greenleaf, Greenleaf
I feel like Grace overall and this show alike are terribly slept on, but outside of that tragedy in and of itself, Grace is amazing. She's had to deal with the death of her sister, the agony of a mother that criticizes her every move, jealous siblings, difficult ex-husbands and an unstable dating life. We watch her advocate for change within the Christian community, like accepting and protecting LGBTQ church members and domestic violence victims, and fight for justice for her dead sister. She's multifaceted, complex and super cool. 
10. Jennifer Pierce, Black Lightning
Jennifer is such a teenage girl. She sneaks out of the house, she's worried about her conversations with her friends, she's always on her phone and has a huge crush on a star athlete. However, she unlocks her superpowers when she least expected it, and now life is a little bit more complicated than she bargained for. One of my favorite things about Jennifer besides her sassy commentary and her adorable relationship with her sister is her delicate relationship with Kalil. I've personally never seen two soft, black teens have Romeo and Juliet-esque qualities, but here they are! Ready to be the first! She's adorable, sassy and funny—it's a treat to watch her get to know herself as a person.
11. Issa Dee, Insecure
Issa Dee is probably one of the most socially awkward characters I've ever seen in my life, and I am a socially awkward character. The world appreciates her because everything about her is so authentic. She lies, she makes mistakes, she hates her job; but she's trying. She's trying really hard to develop her passions, discover herself in her late twenties, be a good friend and find what she's looking for in a relationship. Which is what we are all trying to do.
12. Honorable Mentions: Penny Proud, The Proud Family; Raven Baxter, That's So Raven and Raven's Home; Every Woman in Black Panther
Penny Proud and Raven Baxter aren't on television anymore, except Raven now being on Raven's Home. But when they were on TV, they thrived. Penny was hilarious and often made poor decisions as every teenager does, but she was a joy to watch and we always learned something new at the end of the day. Raven Baxter always found herself in the most ridiculous situations because of her ability to see into the future, and her meddling only made it worse, but much more entertaining for us. Shuri is the Disney princess I never knew I needed but now that she's here, I love her so much and I am so proud that she's canonically the smartest person in the Marvel Cinematic Universe. Okoye and Nakia are the backbone of Wakanda itself and it shows, and we are fortunate to see them and all these other black girls come to life so beautifully and intricately.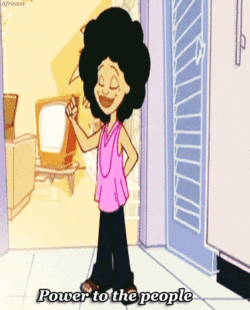 Time to start celebrating powerful black females in television!