Wednesday Wisdom: Remaining a Child at Heart
My 20th birthday is coming soon (and by soon I mean in a couple of months). I remember it being yesterday that I was still a doe-eyed 18-year-old, entering college in both terror and awe. Fast-forwarding to the present, I often ask myself, where did the time go? Sometimes, I'm afraid of looking in the mirror and finding gray hairs or wrinkles, both of which I know I have a long way to go before I actually start getting. At times, I get told that I'm too old to watch cartoons or go on that kiddie ride at the amusement park. It strikes me as odd—I mean, although I am getting older, deep down, I know that my heart is still filled with childlike wonderment. Not everyone can find their inner child, but with these fun tips, it'll be an easier discovery.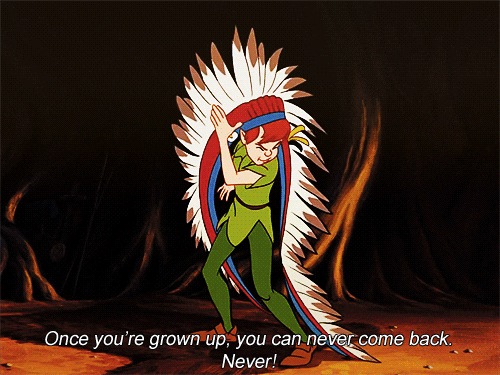 1. Go crazy with Disney movie binges.
I admit i —I'm a sucker for Disney movies. From the classics to the modern ones, I watch them all.  I'm sure almost everyone had a moment in their childhood where they would excitedly wake up for their favorite cartoons in the morning and watch them until noon. On a Friday night (or even a Saturday morning) with that same childlike excitement from several years ago, pop in a movie (or even go on Netflix) and binge until the kid in you is satisfied.
2. Wear that onesie with pride.
It's 2016, and onesies are so in. Whether you decide to wear it in public or private, the softness will take you back in time. Why not pop it in the dryer for a couple of minutesto feel warm and fuzzy inside and out? After all, who doesn't like wearing clothes straight out of the dryer? Buy the craziest, cheesiest onesie you can find. Whether it's got pizza all over it or even a unicorn horn, all onesies are cool, no matter what's on it.
3. Build a fortress.
Well, not literally. Grab some pillows and a large blanket and build a DIY fort with your friends! Release the inner child in you and add fairy lights, multiples pillows and even a teddy bear army to guard you while you're busy ruling over your Netflix kingdom of the Goonies, Lizzie McGuire and Kim Possible. You can't go wrong with anything from the 80's, 90's or early 2000's.
4. Go all-out on dessert.
Forget about the calories, the sugar, and all the other health-conscious facts that come with desserts. Go out and get the largest bowl of ice cream you can eat and don't skimp on the caramel, fudge, gummies, sprinkles, or anything else that gets you excited. After all, here in the swamp nation, it can get pretty hot sometimes. Why not knock out two birds with one stone by cooling off and satisfying the inner child in you?
At times, it seems as if the world is spinning faster than you can keep up. But I've learned that you don't have to keep up, you can grow at your own pace and still be a child at heart. I mean, you're never too old for something until you actually decide that you are. There should be no one else to tell you that but you. So go out and be a kid again, even if it's just for a day.
Photo credit: quotesgram.com, giphy.com